*These articles, DVDs and books are available to members of dementia Australia library - if you would like to reserve them please email the Library on
nsw.library@dementia.org.au
Australian Journal of Dementia Care
Vol 7 No 3 Jun/July 2018
LAUGH: Co-design for people living with advanced dementia Pg 22 - 26
Researchers in Australia and the UK have been working with people living with advanced dementia to develop/create a collection of sensory objects to engage, comfort and bring pleasure and fun to their lives.
As part of the process, a toolkit to support people putting together such sensory objects was created: Compassionate design: how to design for advanced dementia. This is available from the LAUGH website: www.laughproject.info/home-2/toolkit-for-designers/

.
The approach in creating the designs was for the objects to provide multisensory engagement, be personalised and compassionate. Kenning discusses the process, the objects created and the positive and unexpected impact of the project.
The smile within [DVD]
The Sydney Multisite Intervention of LaughterBosses™ and ElderClowns (SMILE) Study is the world's first high quality large scale research project that examined the effects of humour therapy on older people with dementia.
This 40 minute film documents the study, and follows comedian Jean-Paul Bell as he delivers the humour intervention to residents in aged care facilities. We also meet staff from the aged care sector, family members of the residents and the academics and researchers who initiated and ran the study, Professor Henry Brodaty, Dr Lee-Fay Low and Dr Belinda Goodenough.
Playfulness and dementia : a practice guide
by John Killick
John Killick explores the nature of playfulness and the many ways in which it can enrich the lives of people with dementia, including as a means of maintaining relationships and communication, supporting communication and generally lifting the spirits. Specific approaches already in existence are described, including improvised drama, clowning and laughter yoga, and a chapter on the playful approach to art and craft activities is also included. Personal accounts of playfulness by individuals with dementia, relatives and an actor with a decade's experience of using playful approaches with people with dementia offer rich first-hand insights into its transformative potential. Throughout the book, the importance of spontaneity and of being with the person with dementia in the present moment is emphasised, and the reader is encouraged to develop a playful mindse
Balancing Compliance and Care in Dementia Practice Pg 27 -30
Following their published research on the effects of regulation on aged care services for people with cognitive decline, Simon Biggs and Ashley Carr discuss their key findings at the system and organization levels. They discuss the effects of regulation on daily practice and the ways in which care workers respond to regulation in residential care.
·
Project updates and viewpoints:
Mooving and Grooving Pg 10
Moove and Groove is a specialised silent disco experience for older people (in which individuals wear headphones) incorporating dance, music and exercise. Alison Harrington discusses the program, its successful trial and benefits. Dementia-specific classes are now running in several aged carer homes in NSW. Following much interest, a train-the-trainer program is being launched in June 2018 with a view to expanding the program.
The article examines connections – as people lose the power to communicate verbally – it examines "widespread good practice" and "enriching lives" …p. 20-21
Alive inside: A story of music & memory [DVD]
Alive Inside is a joyous cinematic exploration of music's capacity to reawaken our souls and uncover the deepest parts of our humanity. Filmmaker Michael Rossato-Bennett chronicles the astonishing experiences of individuals around the country who have been revitalized and awakened by the simple act of listening to the music of their youth.
Eat Walk Engage: delirium prevention for acute care Pg 13
Cahill, Lee-Steere, Mudge and McRae explain how clinicians in Queensland have created an evidence-based, multidisciplinary program called Eat Walk Engage, to help prevent delirium and facilitate the speedy recovery of older patients in hospital. The authors discuss the sustainability of locally adapted process changes by multidisciplinary staff in every day practice, despite the challenges of staff turnover and competing priorities; dementia-friendly environmental improvements; family involvement, and education and leadership.
related resources include:
Dementia & delirium care hospital volunteer training
This guide incorporates a plan to guide services through the steps and considerations for implementing a person centred volunteer program aimed at supporting the needs of patients with dementia and delirium or at risk for delirium.
The guide also includes forms and templates to support the implementation. The implementation guide outlines other resource and governance implications that need to be considered for implementation.
Kinecting through group digital games Pg 15
Digital technologies offer lots of opportunities for people with dementia to enjoy games and engaging activities. Erica Dove and Arlene Astell researched

how people with dementia can best be introduced, taught and supported to use motion-based technologies; what the effects are of repeated practice on learning skills during play; and how using Xbox Kinect in a group setting affects the activity. They discuss their findings.
Australia launches world's largest music therapy trial Pg 17
Felicity Baker, University of Melbourne, reports on the planned world's largest music therapy trial for people with dementia. She explains why the project could be a game changer for music therapy, dementia care, and residential care; the goal being to reduce depression and improve wellbeing for people with dementia and those caring for them. More information regarding the trial is available at: https://bit.ly/2rvHpQU .
Music, Mind and Wellbeing Pg 18
The Music, Mind and Wellbeing Research Group at the University of Melbourne has studies underway as part of its commitment to developing novel music therapy-informed interventions to improve the quality of life for people with neurological disorders. To register interest contact Carol Fountain at Uniting Age Well on 03 92515997 or CFountain@unitingagewell.org
Music and Mood Study Pg 18
Dr Sandra Garrido from Western Sydney University is conducting two studies, Mood Regulation Using Music: A Community Health Strategy for Improving Quality of Life in People with Mild Dementia, and Investigating the power of music to help people with mild to moderate dementia who are experiencing difficulty in activities of daily living. To inquire about participation in these studies, email Dr Garrido at s.garrido@westernsydney.edu.au or call 0403870050
Music remembers me - Connection and wellbeing in dementia

brings to life the experience of people living with dementia and their interaction with music through an Australian-first project involving more than 700 aged care residents.
While a diagnosis of dementia may be stressful and challenging, this book equips people living with dementia and those who support them with positive, meaningful ways of using music to enjoy experiences together-maximising feeling and connection.
Music remembers me includes moving stories from music engagement - along with practical advice and tips about introducing music into daily care. Author Kirsty Beilharz has woven together fascinating insights into music, our brains and dementia with practical advice on music engagement. This ground-breaking book is written with the general reader in mind and is certain to be a vital resource for supporting people living with dementia in Australia and around the world.
*lists of music include classical; the crooners; folk and country early rock and roll and R&B and pop and rock !
Among my souvenirs : therapeutic songs for people with dementia
CD's contain professionally prepared and recorded songs to help people with dementia participate in meaningful activities and improve their mood.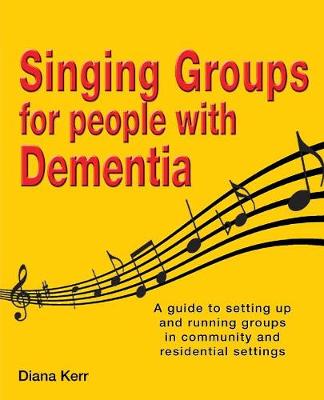 Singing Groups for People with Dementia : A Guide to Setting Up and Running Groups in Community and Residential Settings
everything you need to know about setting up and running these includes;
Chapter One: What is so good about music? 3
Chapter Two: What is so good about music for people with dementia? 7
Chapter Three: What do you need to know about dementia? 11
Chapter Four: Preparing yourself 21
Chapter Five: Preparing others 22
Chapter Six: Roles of people involved 29
Chapter Seven: Identifying a suitable venue 33
Chapter Eight: Fundraising 36
Something for everyone Pg 19
Dementia Canterbury ,in New Zealand's South Island, has trialled an alternative respite service model. The approach provides a broad range of community-based activity groups to help people living with dementia enjoy meaningful activities in normal social settings, while also supporting care partners. Campbell, Gee and Seabridge discuss the programs and their impacts. The program groups include the following: art gallery-based art appreciation (Artzheimers), library-based literary discussion, gardening, swimming clubs, cooking group, life story group and theatre group.
Understanding the barriers facing BAME communities Pg 31
Martinez and Wynne-Morgan devised a research project to find out what the barriers are that ethnic minority communities attending memory services confront. They discuss their results and the implications for practice.
Comment by Prof Richard Fleming , Executive editor Pg 2
Prof Flemming discusses the work, attitudes and challenges of Professor John Pollaers who heads up Australia's Aged Care Workforce Strategy Taskforce. His task is to steer the strategy that will provide sustainably better care to older people by high quality, happy staff.

His 15 strategic actions are described on the Taskforce website (http://bit.ly/2KuPP1Z)
Technology focus in Budget dementia Funding Pg 5
This year's federal budget included an injection of $5.3 million to improve care for people living with dementia, with an emphasis on using innovative technology. A number of key players respond including Maree McCAbe, Dementia Australia's CEO.
Study reveals keys to quality of life Pg 5
A University of Exeter study, published in Psychological Medicine in May has identified factors that can be targeted to support quality of life for people with dementia. For more information, visit www.idealproject.org.au
TBI and dementia link Pg 5
A University of Washington School of Medicine study has established an associated link between traumatic brain injury and risk of dementia.

A similar University of California based study has suggested that concussion without loss of consciousness can also increase a person's risk of dementia.
Funding boost for Aboriginal and Torres Strait Islander communities from NHMRC pg 6
Dr Kylie Radford discusses the 5 research projects.
Dementia-friendly activity - pg 7
Twenty-one organisations have received grants to develop dementia-friendly activities in their communities.
CarFreeMe trial in Queensland and the ACT Pg7
Dr Scott leads a team to run programs in Queensland and ACT, aiming to provide practical and emotional support for those advised to stop driving.
First festival of love and dementia Pg 8
Perth hosted Australia's first festival of love and dementia, LoveFest. More information is available on the Museum of Love website
Intervention reduces sedative use Pg 8
Letter Pg 9
Paul Williams discusses his concerns regarding the needs and barriers that family carers experience in accessing education to assist them in their carer role*
book reviews by Paul include:
Keeping Love Alive as Memories Fade
Authors: Deborah Barr, MA, Edward G. Shaw, MD, Gary Chapman, PhD
Reviewer: Paul Williams
Keeping Love Alive as Memories Fade
is a practical guide to help families and friends sustain their relationship with a loved one living with dementia.
The need for such a book stems from a person with dementia's dependence on others to care for their personal needs and progressive loss of verbal ability. Both events can lead to a breakdown in the relationship the between the family and their loved one.
However, a person with dementia, like any other person, has innate needs for comfort, social relationships, and engaging in activities they enjoy.
Adapted from Gary Chapman's book The 5 Love Languages® - The Secrets to Love that Lasts, Chapman specifies five types of interaction that enhance a person with dementia's quality of life:
·

Words of Affirmation that boost the person with dementia's sense of identity and of being valued.
·

Quality Time using good listening skills and sensitivity to the person with dementia's needs. It also includes helping them engage in meaningful activities suited to their current stage of dementia.
·

Receiving Gifts means actions that lighten up the day. For example, remembering anniversaries, or simply a chocolate treat.
·

Acts of Service will vary depending on the person's stage of dementia. In the mid and late stages of dementia acts of service may include helping with meals, dressing, personal hygiene, and medication.
·

Physical Touch, such as holding hands, or friendly hugs, to give a person a sense of identity and attachment.
Chapman notes that social upbringing and culture drive how we interact with others. Thus, love language works best when two people know each other's social sensitivities. He provides useful self-tests to help the reader match their interactions to their loved one's social preferences.
The book unravels nuances of the word "love" and its usage in dementia care, for example:
·

The apt Hebrew word hesed for a love that "intervenes on behalf of loved ones and comes to their rescue".
·

If there has been a strained relationship, how to discern emotional love from practical love for person in distress. In Gary's words "to distinguish between love as a feeling and love as an action."
·

Love language "do's and don'ts" during the stages of dementia
·

Detailed examples of applying love language
Keeping Love Alive as Memories Fade reflects Deborah Barr's gift as a health educator. She brings family carers the real-life experience of Dr Edward Shaw's care of his wife Rebecca, and Gary Chapman's application of love language to dementia care.
The book shows how love language benefits the person with dementia and the carer alike, for example:
·

The person with dementia will feel they are valued and their needs are respected
·

Reduces the effects of behavioural problems
·

Avoids the use of anti-psychotic medications
·

A carer will see the positive effects of their care in the eyes of their loved one
Of course, love language is not the only concern for family carers, and the authors list additional resources to cover other areas of dementia care.
Conclusion
Keeping Love Alive as Memories Fade fills a major gap in dementia care literature and will help family carers learn how to sustain their relationship with a loved one with dementia.
or download from our overdrive link
Book review
A Vanishing Mind - A Journey with Dementia
Author: Stan Doenau
Reviewer: Paul Williams
What the book is about - The author's purpose
From August 2008, Stan Doenau cared for his wife Kathryne who lived with dementia for four years until she passed away.
In his introduction to A Vanishing Mind - A Journey with Dementia, Stan accurately points out that family carers have no idea of what to expect after their loved one receives a diagnosis of dementia. Nor do many health professionals and the general community understand a person's experience of the dementia journey. Stan wrote the book in the hope that all in society will gain some understanding of the devastating impact of person's experience of dementia.
Having maintained a detailed record of Kathryne's progressive symptoms of dementia, he presents a chronology and personal narrative of her experiences of dementia up until the time of her death.
Symptoms and diagnosis
Beginning in August 2008, Kathryne's symptoms were a misuse of words and repeated questioning. After CT and MRI scans, Kathryne's GP referred her to a neurologist who diagnosed that she had suffered a slight stroke, (p4). Following a positive cardiologist report the specialist advised that, with time, she should recover most of her speech faculties.
Despite difficulties, Kathryne still enjoyed an active social life with Stan and her friends. Hence, the specialist scheduled a check-up for Kathryne at the end of 2009.
In the following months Stan noticed that, while Kathryne's misuse of words was decreasing, short and long-term memory problems were increasing. By the time of the 2009 check-up, Kathryne was having difficulty identifying or finding household items.
However, her neurologist expressed satisfaction with her progress and scheduled the next check-up for the end of 2010, (p39). However, this left Stan confused. He had expected the neurologist to comment on Kathryne's emerging signs of dementia.
His concerns increased when his records for 2010 showed a dramatic change in Kathryne's symptoms. They included increased memory loss, language difficulties, not remembering Stan or friends, wandering, weeping, delusions, and aggressive behaviours, (pp 73-82).
It is not clear whether Kathryne attended the scheduled check-up at the end of 2010. Instead, in June 2011, Stan asked Kathryne's GP for a referral to a geriatrician. Again, there was no diagnosis of dementia, but the specialist made a referral to a speech pathologist, (104).
From there until August 2012, Kathryne's symptoms increased until she went into palliative care at a nursing home. A specialist informed Stan that while a CT scan had shown no further strokes, the cause of death was likely to be a more a deep-seated obstruction of blood to the brain, (p127).
Summary
Although Stan suggested to both specialists his concerns about Kathryne's signs of dementia, they limited their diagnosis to a mild stroke. They further advised that her condition would improve if no further strokes occurred.
From Stan's evidence, it not possible to judge whether the specialists' sole diagnosis of stroke was to give hope to Stan that Kathryne could recover from her speech problems.
However, if they were aware that stroke is a risk factor that leads to vascular dementia, the specialists could have helped Stan gain early support from the Alzheimer's Australia Living with Dementia Program, or the National Dementia Helpline.
Conclusion
The book shows Stan cared diligently for Kathryne at home up until the last weeks of her life. His book reflects a sincere attempt to explain the dementia experience to others. It will be up to the readers to judge whether it improves their understanding of dementia.
Briana Lees reports on the latest published dementia research from Australia and worldwide.

Studies reviewed include
*

Successful transition into Care.
*

The effects of social interactions between people with dementia and care staff in long term residential care facilities on mood.
*

The effects of a 12 week visual arts program for people living with dementia.
*

The effects of facial and head massage on relieving agitation in people with dementia.
*

The prevalence of moral distress in nursing staff that care for people living with dementia in Canadian long-term care and assisted living residential homes.
*

Australian staff and family attitudes toward the use of fences surrounding many aged care homes.
·

Resource Reviews : Pg 37 - 39
Include books, brochures, education and training packages, cards, webinars and upcoming events.
Dementia Australia has released two new resources focussed on younger onset dementia available for download at https://bit.ly/2rvHX9G: an online training module called Understanding

younger onset dementia,

, and a brochure called Support pathways for people with younger onset dementia.
Dementia

Australia has also published a booklet aimed at people from Aboriginal and Torres Sraight Islander communities: Family friends and community.