Full text articles, DVDs, books, Books on CD and eResoures are available to members of dementia Australia NSW by emailing
NSW.Library@dementia.org.au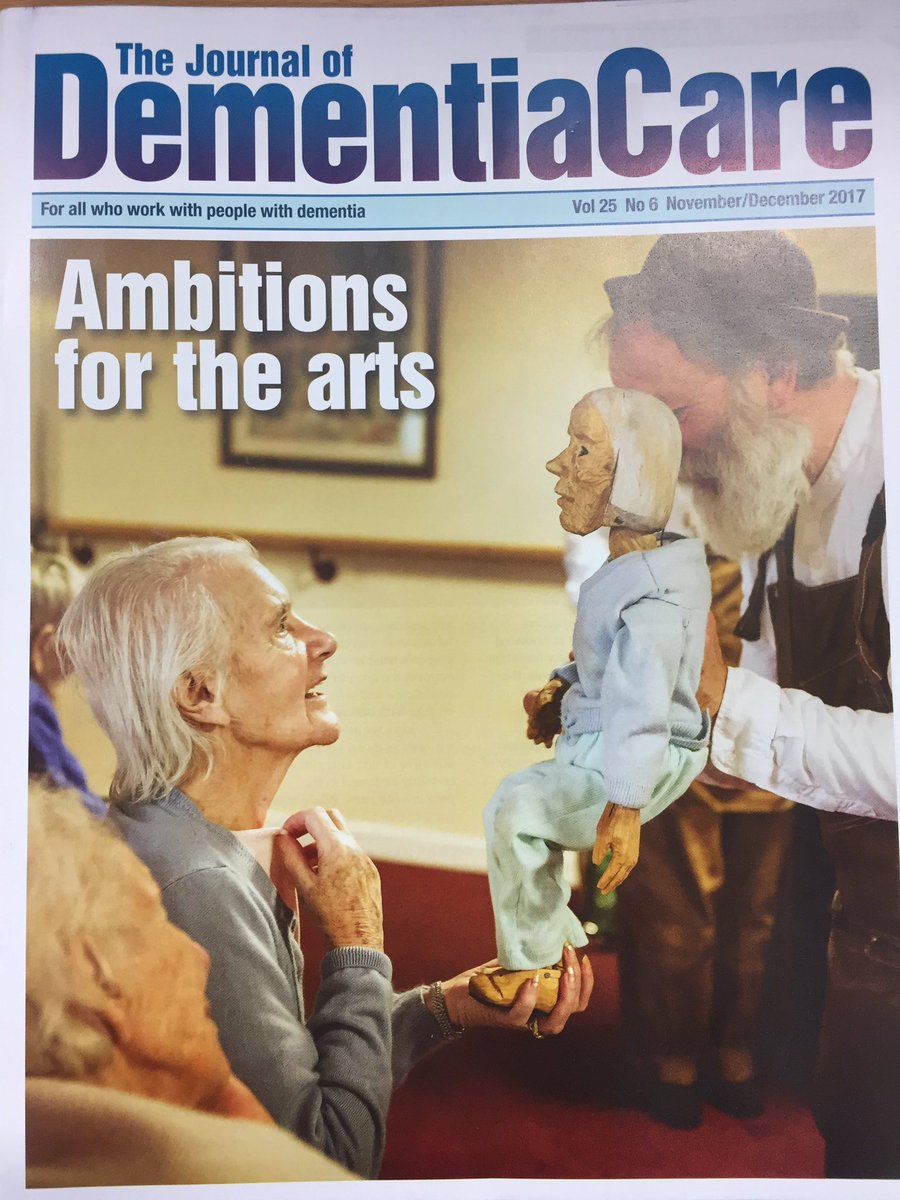 Journal of dementia care
vol 25 no 6 November December 2017
Antipsychotic use "unacceptable " says Welsh commissioner
…we have been stuck in a damaging cycle of prescribing antipsychotics for people with dementia, despite the fact that there are minimal benefits and despite the fact that there are there are lots of harms… P 7.
Antipsychotics and dementia : managing medications [DVD]
Professor Henry Brodaty (psychogeriatrician), Dr Julian Pierre (GP) and Tim Perry (consultant pharmacist) discuss the challenge of deprescribing antipsychotics for dementia patients and look for alternative solutions for symptoms.
LGBT and dementia : what we know?
LGBT people's need's are often over looked in dementia care…even when the laws change there it has not always resulted in changes in attitudes and behaviours …ALZ Society and the LGBT foundation advised on how to run workshops…Implications for practice included a 'safe space' and improved the visibility of LGBT people living with dementia – improved monitoring to inform services improved governance processes and specific training ..p12- 13
The lives of LGBT older adults : understanding challenges and resilience
Lesbian, gay, bisexual, and transgendered (LGBT) older adults have unique and varying physical and mental health needs. Yet their experiences have often been ignored in gerontological and LGBT studies. In this important and timely volume, Orel and Fruhauf bring together crucial research from leading experts in the field to shed light on the unique challenges facing this oft-overlooked but growing population. This book uses a life course perspective to investigate how LGBT older adults have been shaped by social stigma and systematic discrimination. Although many of their experiences are similar to those of younger LGBT individuals, LGBT elders grew up in a particularly oppressive time, which continues to impact their well-being. However, these individuals have also developed coping mechanisms to adapt to stigma, discrimination, and the challenges of aging. Thus, the book explores not only the challenges and needs of this population but also their strengths and resilience. The intersection of cultural factors and personal attributes is highlighted.
LGBTI People and Dementia [DVD]
For LGBTI people, often referred to as the invisible Australians, ageing and dementia place them in the vulnerable position of needing to depend on health and aged care services when a lifetime of discrimination and prejudice has taught them always to be wary and to conceal their sexual orientation or gender identity or conceal being intersex.
This training DVD invites you, your service or your organisation to begin looking at what kind of welcome you will offer them.
GLBTI & dementia, a person centred approach : report to the north coast GLBTI advisory committee
The Northern Rivers region of NSW has been identified as one of the main geographical clusters of Gay, Lesbian, Bisexual, Transgender and Intersex (GLBTI) populations in NSW (ACON 2006:9). As the population ages and government and society increasingly recognise the diversity within it, growing numbers of GLBTI people will be encouraged to be open about their identity and will require dementia specific and aged care services. This will also be true for those people of any age living with HIV who may experience Human Immunodeficiency Virus Associated Neurocognitive Disorders (HANDs), ranging from mild forms of cognitive impairment to HIV associated dementia (Denholm, Yong Elliot 2009:575). There is a need for increased community awareness about dementia, HANDs, early detection and special needs within the GLBTI community as well as clear referral and service pathways (Birch 2008:10). It is, therefore, important for Alzheimer's Australia NSW to collaborate with members of the GLBTI community to facilitate support and advocacy on their behalf to ensure access to culturally appropriate information, education and service provision. Initial steps to engage with the GLBTI community involved close liaison with the Client Services Officer from ACON Northern Rivers to develop the project scope, activities and outcomes and identify key stakeholders. As a result a GLBTI Advisory Committee was established to oversee the development of a pilot education module on GLBTI cultural awareness, ageing, cognitive decline and person centred practice targeting service providers.
Gen silent : a documentary film about LGBT aging [DVD]
Gay, Lesbian, Bisexual and Transgender older people who fought the first battles for equality now face so much fear of discrimination, bullying and abuse in the care setting that many are hiding their lives to survive. Thousands are dying earlier than their straight counterparts because they are isolated and afraid to ask for help. But a growing number of people are fighting to keep their elders from being silenced.
Gen Silent was filmed in the Boston area over a one year period. During that time, director Stu Maddux followed six LGBT seniors through their decision to either stay open about their sexuality or hide it so that they can survive in the long-term health care system.
Design and dementia ; when less is more
Home like environments with vibrant colours should be a key feature of care home design…
1.

Everyone is different there is no one approach
3.

Under and over estimation of the power of colour
4.

Achieving a home-like environment
Comfort care plans: a collaborative project
What is the best way to implement person-centred end of life care for people with dementia?... key lessons include
·

While the role of the clinician is to promote psychosocial interventions initially there may also be a need for medication to alleviate distress and discomfort
·

It was of great benefit that the GP had already had tan end of life discussion with family
·

Collaboration between mental health professionals and hospice staff supported the palliative care treatment
·

Care home staff felt supported
Included much information sharing - p. 18 – 19
Transforming power of creative arts
Looks at "Alive inside "
The article examines connections – as people lose the power to communicate verbally – it examines "widespread good practice" and "enriching lives" …p. 20-21

this is an amazing must see film!
Alive inside: A story of music & memory [DVD]
Alive Inside is a joyous cinematic exploration of music's capacity to reawaken our souls and uncover the deepest parts of our humanity. Filmmaker Michael Rossato-Bennett chronicles the astonishing experiences of individuals around the country who have been revitalized and awakened by the simple act of listening to the music of their youth.
Bringing arts interventions into care settings
Opportunities for arts activities in care homes are often limited and their values may go unrecognised – a more ambitious approach may be required… overall managers express positive attitudes towards arts related activities and some facilities personalise arts related activities according to peoples interests … 'expectations of residents' – some residents may be reluctant to get involved in art activities and also digital art activities ..thus obstacles need to be addressed and also include economic factors…discussion followed – p. 24-26
Dementia, disability and rights – new agenda
Articles covering key areas include
·

Health

·

Education

·

Employment

·

Access to justice

·

Personal security

·

Independent living

·

Access to information
Also see how austerity measure shave had an impact on dementia strategies … p. 30-31
Our dementia, our rights: making an impact at the UN
Standing up for the rights of people with dementia is a big ask… Keith Oliver looking forward to a good result p. 33-34
Book review
Person-centred thinking with older people : 6 essential practices
Person centred thinking with older people : 6 essential practices
Person-centred practices are a key way to provide the best possible care and support for older people and help them to be active and valued members of the community.
Each of the practices is designed to support the individual and put what is important to and for the person at the forefront of their care.
Each practice has been tailored so that older people can express more easily what does and does not work for them. By actively listening and making each person feel appreciated, the practices represent practical tools for frontline practitioners to form good relationships with people in their care. With supporting stories and full colour photographs to illustrate how person-centred thinking and practice is used in real-life settings, there are many examples to help practitioners to overcome challenges and to really implement positive, effective changes to care. This practical book will be a valuable resource for care staff, social workers and healthcare workers who want to learn about person-centred practices to deliver best practice care and support.
* Introduction. 1. One-page profiles. 2. Relationship circles. 3. Communication. 4. Histories. 5. Wishing. 6. Working and not working. 7. Person-centred thinking and care and support planning. 8. Circles of support. Final Thoughts.