These resources are available for loan to members of AANSW - if you would like to reserve them please email the Library on
nsw.library@alzheimers.org.au
*this book is available in 3 formats - paper back on CD or download on your overdrive app
The things we keep
An advantage of using fiction to learn about dementia is that it puts a context around the person living with dementia and their families and the community or residential care facility.
It can let you see the way different attitudes towards dementia may impact on peoples behaviour and it adds other people lives into the mix so it's may not be as intense as just reading about dementia.
This book explores love and sexuality and families attitudes in trying to keep their family members safe possibly at the expense of their happiness.
It also shows how different people communicate with people with dementia and the impact it has on them and and their lives, all in a subtle way. Plus it's a great read/story!
eBooks on communication also include:
*this book is available in 3 formats - paper back on CD or download on your overdrive app
Their application of the five love languages creates a new way to touch the lives of those who have Alzheimer's, as well as their caregivers.
Barr, Shaw and Chapman explain an underlying principle of hesed love, and emphasize that it is an imperative component of dementia care. With no cures or permanent treatments for dementia, hesed love is the only hopeful solution.
This collaborative work between a healthcare professional, caregiver, and relationship expert will: provide an overview of the love languages and Alzheimer's disease; correlate the love languages with the developments of the stages of AD; discuss how both the caregiver and care receiver can apply the love languages; address the challenges and stresses of the caregiver journey; and offer personal stories and case studies about maintaining emotional intimacy amidst AD.
The easiest way to read an eBook is to simply choose "READ IN BROWSER"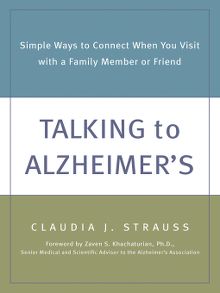 This book offers a wealth of practical things you can do to stay connected with the person living with dementia in your life.
It offers straightforward suggestions and invaluable do's and don'ts, with advice on everything from dealing effectively with the inevitable repetition that occurs in conversations, to helpful strategies for saying no to unrealistic demands.
It also includes thoughtful tips to remind you to take care of your own feelings and suggestions for helping children become comfortable with visiting your friend or loved one living with dementia.