email
nsw.library@alzheimers.org.au
to borrow resources
The connections activity program for people with dementia
Enjoy the benefits and reduced stress that come from reconnecting people with dementia to lifelong activities they love. Using a strength-based approach, this guide shows step by step how to design meaningful, individualized activities that can be performed by a person with memory loss as independently as possible. Helpful assessment and implementation tools guide your efforts to identify a personaEURO (TM)s optimal leisure activities and then tailor them to current skill levels. The resulting activity plans will effectively promote the well-being and self-identity of each person with memory loss. Downloadable resources include: Communication strategies and conversations starters. Assessment forms Step-by-step implementation guides Sample activities adapted for early, middle, and late stages of dementia.
Visiting the Memory Cafe and Other Dementia Care Activities Evidence-based Interventions for Care Homes
Activity and engagement are vital to our well-being throughout our lives and this continues to be just as true of people living with dementia.The activities presented in this book have been designed to provide meaningful engagement for residents, while respecting each individual resident's readiness to engage and participate. This approach to person-centred care has proven to be extremely effective: activities such as Namaste Care and Memory Cafes have engaged residents who had previously not responded to interventions, demonstrably showing an increase in their levels of well-being.Supported by case studies, each chapter will also recommend the best way to implement the ideas discussed in the care home environment and beyond.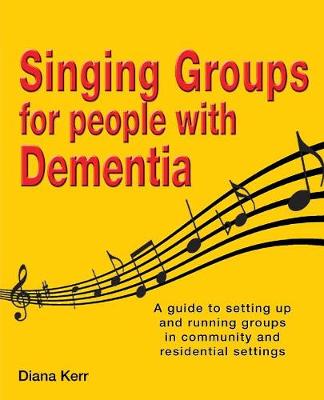 Singing Groups for People with Dementia : A Guide to Setting Up and Running Groups in Community and Residential Settings
everything you need to know about setting up and running these includes;
Chapter One: What is so good about music? 3
Chapter Two: What is so good about music for people with dementia? 7
Chapter Three: What do you need to know about dementia? 11
Chapter Four: Preparing yourself 21
Chapter Five: Preparing others 22
Chapter Six: Roles of people involved 29
Chapter Seven: Identifying a suitable venue 33
Chapter Eight: Fundraising 36
Positive communication : activities to reduce isolation and improve the wellbeing of older adults
A collection of over 100 structured activities for use with groups of older people that are designed to improve overall physical health and emotional wellbeing. Each activity comes with specific instructions for delivery along with helpful handouts and additional resources.
The effects of social interaction and engagement with older people have been proven to considerably improve quality of life and emotional wellbeing. This book comes packed with ready-to-use activities for groups of older people, aimed at connecting individuals, developing their self-esteem, and encouraging personal expression and independence.
The activities are intended to be led by facilitators working with groups of older people in residential homes, drop-in or day centres, hospices, clubs for older people, hospitals, or support groups. The activities range from creative arts to storytelling to sports, and are all designed to keep both bodies and minds sharp, while encouraging positive relationships with others.
Studies have shown that reading in a melodic and rhythmic voice can produce positive changes in mood, emotion and behaviour in those with dementia. This technique - known as bibliotherapy - is used in this book and has been tailored to help those who grew up during the 1930s through to the 1960s, as well providing for people of all cultures. While traditional literature, such as Dickens and Shakespeare, might be beyond the literacy skills of many readers, and while poetry may not interest all, this book presents short stories, prose prompts and biographies which are written in a rhythmic and lyrical way to make communicating easier and more enjoyable. A focus on using short sentences, repeated language features and striking imagery which appeals to all the senses captures moments in time or action - short stories which are printed in large, clear font to suit readers who have limited vision or who may struggle to maintain attention; and language to suit a lower reading level, but appropriate and respectful of adult readers. The book is designed to be used by people who have some experience in working with clients who have dementia, but who do not have specific training in bibliotherapy. They may be running a group session, working in a library or caring for a family member at home. There is a need for 'reading in the moment' - sharing a story, a piece of prose, a biography - for the simple pleasure of sharing a moment in time together.
The hen that laid the golden omelette : a guide to art classes for people with dementia: the experiences and learning of two volunteers over ten years
Even when the memory and senses fail, people with dementia may experience the joy of creativity through watercolour painting. This is the liberating message of Barbara Davison and Barbara Potter's inspiring Sefton Art Project. In The Hen that Laid the Golden Omelette, the outline the philosophy and techniques that evolved during their ten years of assisting people with dementia to express themselves in watercolour. Illustrated with the exuberant and often moving images of the artists themselves, this book challenges the assumption that people with dementia can no longer live productive lives and offers practical advice to those who may follow in their path.