Cognitive daisy in residential care
Cognitive daisy is a simple guide to the cognitive status of care home residents thus care can be better adapted to the residents' needs …
The Cognitive Daisy (COG-D) is an innovative assessment system created to provide healthcare staff with an instant snapshot of the cognitive status of older adults in residential care. The COG-D comprises a flower head consisting of 15 colour coded petals depicting information about: visual-spatial perception, comprehension, communication, memory and attention.
Each colour represents a facet of cognitive function, whilst each petal corresponds to a specific ability. A coloured petal indicates that the individual has a deficit in this ability, whilst a white petal means the ability is intact. Below are the abilities corresponding to each petal and colour;
After the assessment is completed, a unique daisy is made for the patient that indicates their results. A copy of each resident's COG-D is then placed in a discrete area of their room, in their care plan portfolio and is displayed in the office of the care home manager. The primary aim of the COG-D is to remind care staff at a glance of the severity of problems within different cognitive domains. These can then be used to adjust interaction with the resident, thereby improving communication, reducing agitation and enhancing personcentred care. P 12-13
Percussionist Dame Evelyn Glennie used your listening skills to make meaningful connections with care home residents with dementia … p 14- 15
ARCH: active residents in care homes
Too few care home residents get the chance to engage regularly in meaningful activity despite the powerful impact on wellbeing - the programme will:
·

improve the health and quality of life of residents
·

increase the confidence and skills of staff
·

identify environmental barriers to activity
·

create a culture where meaningful activity is considered intergral
·

staff training and actions from the getting to know you
·

resident assessment and development of activity plans implementation of activity plans and consolidation of staff learning
·

hand over and continuation of programme
(Active Residents in Care Homes (ARCH): study protocol to investigate the implementation and outcomes of a whole-systems activity programme in residential care homes for older people
Objectives To evaluate the effectiveness, acceptability and costs of Active Residents in Care Homes, ARCH – a programme aiming to increase - opportunities for activity in older care home residents.
Conclusions Providing evidence of effectiveness and acceptability of ARCH, and documenting factors that impede/facilitate implementation will help us identify ways to enhance the care and quality of life of older people in residential care, and our understanding of how to implement them.)
It ain't what you do it's the way that you do it
Pre-assessment counselling is helping to minimise anxiety surrounding the diagnostic process – see a discussion of findings from early intervention services
Survey results 88% of respondents felt in control or very much in control of decisions that were made 89% were satisfied with the explanation of their diagnosis and 96% felt listened to and understood …p 18 -19
Young dementia: together in perfect harmony
Singing in harmony creates togetherness and belonging among people with younger onset dementia
Benefits of the choir – include reducing stigma; feelings of pride; the expression of emotions … books on choirs include :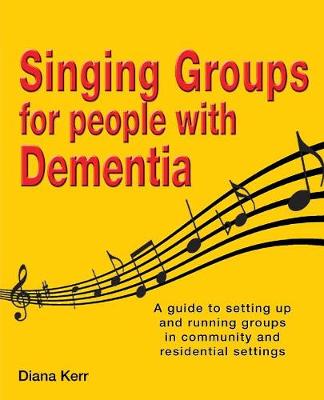 Singing Groups for People with Dementia : A Guide to Setting Up and Running Groups in Community and Residential Settings
everything you need to know about setting up and running these includes;
Chapter One: What is so good about music? 3
Chapter Two: What is so good about music for people with dementia? 7
Chapter Three: What do you need to know about dementia? 11
Chapter Four: Preparing yourself 21
Chapter Five: Preparing others 22
Chapter Six: Roles of people involved 29
Chapter Seven: Identifying a suitable venue 33
Chapter Eight: Fundraising 36
Music & memories of the 20th Century
10 CDs in a folder compiled and narrated by John Hyde, Radio Blue Skies.
The greatest songs, stories, social, sporting and historical events of the century.
and
Music remembers me - Connection and wellbeing in dementia brings to life the experience of people living with dementia and their interaction with music through an Australian-first project involving more than 700 aged care residents.
While a diagnosis of dementia may be stressful and challenging, this book equips people living with dementia and those who support them with positive, meaningful ways of using music to enjoy experiences together-maximising feeling and connection.
Music remembers me includes moving stories from music engagement - along with practical advice and tips about introducing music into daily care. Author Kirsty Beilharz has woven together fascinating insights into music, our brains and dementia with practical advice on music engagement. This ground-breaking book is written with the general reader in mind and is certain to be a vital resource for supporting people living with dementia in Australia and around the world.
*lists of music include classical; the crooners; folk and country early rock and roll and R&B and pop and rock !
Among my souvenirs : therapeutic songs for people with dementia
CD's contain professionally prepared and recorded songs to help people with dementia participate in meaningful activities and improve their mood.

Among my souvenirs : therapeutic songs for people with dementia [CD]
and
As time goes by -- and the band played on -- click go the shears -- good night Irene -- interactive dialogue -- the happy wanderer -- heart of my heart -- he's got the whole world in his hands -- I belong to Glasgow – Let me call you sweetheart -- Michael row the boat ashore -- moonlight bay -- my blue heaven -- Pokare Kare Ana -- School days -- sweet Rosie O"Grady -- Till the boys come home -- when you were sweet 16 -- the yellow rose of texas -- how great thou art – thank you and farwell
Beautiful dreamer -- the bells are ringing -- cockles and mussels -- Danny boy -- Don't dilly dally on the way -- Galway Bay -- Home on the range -- I do like to be beside the seaside -- Lily of Laguna -- Ma he's making eyes at me -- my Bonnie lies over the ocean -- my grandfather clock -- now is the hour -- oh what a beautiful morning -- oh you beautiful doll -- pack up your troubles -- there's a tavern in the town -- waiting at the church -- you made me love you -- onward Christian soldiers
Alive inside: A story of music & memory [DVD]
Alive Inside is a joyous cinematic exploration of music's capacity to reawaken our souls and uncover the deepest parts of our humanity. Filmmaker Michael Rossato-Bennett chronicles the astonishing experiences of individuals around the country who have been revitalized and awakened by the simple act of listening to the music of their youth.
The effects of singing in a choir compared with participating in a reminiscence group on reducing depression in people with dementia - thesis
Carers of people with dementia are known to suffer stress and may be helped by psycho-educational interventions. This study investigates one model of intervention, comprising a structured package of six session of training focusing upon education, stress management and problem behaviour management in a group setting.
David Sheard explains why the quality of interior engagement in care homes is so important…
small domestic households
matching people at a similar point in the dementia experience
personalised bedroom doors
life areas such emphasising DYI, nursery, dressing up
themes linked to peoples past lives – domestic, work, travel and leisure
removal of all us and them eg no staff and service notices
trolley carts get a domestic facelift
encouraging staff to wear clothing that adds a sense of engagement
bring the outside garden closer
his books and DVDs include :
Real culture change: the Butterfly Care Homes experience
In the lead-up to his Australian speaking tour in June, David Sheard outlines the butterfly Household Approach to achieving real culture change in dementia care homes, based on a model of emotional intelligence as the primary competency
Loving, the essence of being a butterfly in dementia care
This book focuses on changing cultures in dementia care homes offering a practical approach on how to increase connections with people living with a dementia. The book identifies what it takes to ensure the essence of living is at the heart of a care home. The metaphor of a 'Butterfly' is used to describe the way in which people can connect in a variety of ways throughout the day, bringing colour and being loving to 'care'. Each essence of being a butterfly in dementia care is explained and includes a wide range of simple but effective ideas for transforming a care home.
Experiencing the truth in dementia care : Learn how to improve the quality of dementia care with a simple, easy to use method of observation
This DVD demonstrates the power of undertaking an observation within a care setting. It is a learning tool demonstrating why all staff should be given the opportunity to sit in a dementia care home lounge really seeing, hearing and feeling the lived experience of people.

This DVD focuses on ENABLING staff to be feeling based in dementia care. It comprises of a live dementia care workshop where David Sheard
Key Learning Messages

• Listening to the lived experience of people is what matters most

• Implementing together the three elements of group living, relaxed task orientation and being person centred is achievable

• Valuing quality of life moment by moment has to count in person centred dementia care

• Ensuring real qualitative observations occur regularly can transform future care
Making each day count : a guide to day care services for people with dementia
Alzheimer's Society
Essential information for anyone working in day care, providing a hands-on guide to setting up new services and making the most of existing ones. This book emphasises the importance of: careful and effective planning; feelings and emotions; understanding individuals; communication; daily activities. It is packed with useful tips for managers and practical ideas for day care staff.
The 50 point action checklist

David Sheard - Dementia Care Matters
This Checklist is a rough guide to some of the key features in Inspiring Action in Person Centred Dementia Care. The checklist can also be used to create discussion amongst team members on each other's understanding of the items. The purpose of the Checklist is to focus on inspiring and improving culture change in dementia care.
Make a difference in dementia care training : resources that are effective, meaningful and fun!
The purpose of the manual is to provide a range of training materials to complement and add value to the trainer's own approaches and to help the trainer generate ideas. All the material has been designed to be fun. However, the learning points identified in the exercises keep trainers and participants focused on the key messages of dementia care training.
Dementia and sight loss : a challenging combination
With education and awareness people with dementia and sight loss can be supported to live well…
·

Make the most of existing sight eg wear their glasses cleaned
·

Find out more about their eye condition and the effects it will have on the person
·

Regular eye examinations
·

Improve communication by using the person's name
·

Tell the person what you are doing and use short simple sentences
·

Consider technology such as talking clocks, audio newspapers, big button telephones etc
·

Adapt activities – one on one and by making the most of the other senses
Cataracts are a very common eye condition in older people. Most people with cataracts are over the age of 60 and they become more common as people age. Dementia is also a condition that mainly affects people over the age of 65 and becomes more common as people get older. It is thought that there are at least 100,000 people in the UK with both dementia and sight loss. Not everyone with dementia has cataracts nor do all patients with cataracts have dementia, but a significant number will have both conditions. Because of this many people may face having a cataract operation while also dealing with dementia.
Eye examinations for people with dementia
This factsheet provides information on eye examinations for people with dementia. It will be useful for people with dementia, their families, carers and professionals. There are also factsheets about wearing spectacles with dementia, and dementia and low vision.
Wearing glasses with dementia
Lots of people need to wear glasses to make their sight clear and in focus. Glasses make sure you can see clearly and wearing the right glasses makes everyday tasks easier. For some people life without their glasses would be difficult. When you have dementia it is important to make the most of your sight. Wearing any glasses you need, enables you to make the most of your sight. Without glasses some people would have to cope with blurred vision all the time. Blurred vision may also worsen the symptoms of dementia and may increase a sense of isolation and confusion. This factsheet is about the issues people with dementia who need to wear glasses may face. It will be useful for people with dementia, their families, carers and professionals. There is another factsheet about eye examinations for people with dementia.
Dementia & Low Vision Factsheet
This factsheet will be useful for people with dementia, their families, carers and professionals. There are other factsheets about eye examinations for people with dementia and wearing glasses with dementia.
Sight, perception and hallucinations in dementia
Causes of visuoperceptual difficulties
Visuoperceptual difficulties in people with dementia
How to support someone with visuoperceptual difficulties
Hallucinations in people with dementia
Music therapy : positive results, changes that last
Explains how music therapy can help care professionals respond better to the needs of people with dementia, reducing distressing symptoms and improving quality of care..
Describes what music therapy is
Clarifies cause and effect
Discusses why to have music therapy…as it is a non-drug therapy has no side effects; helps regulate emotions and promotes verbal facial and other expression; allows people to experience control over their environment …p 28-29
Living with PCA : just take everything day by day
This relates to a rare form of dementia known as posterior cortical atrophy (PCA).the damage is to the back of the brain the parietal and occipital lobes and the occipitotemporal region…usually caused by an atypical variant of Alzheimer's disease . PCA tends to affect people at an earlier age often in their 50s and 60s. People report gradual decline in vision and visual perception and difficulty in spelling writing and arithmetic – in contrast memory and language are relatively well preserved. It can be hard to diagnosis… P 30-31
Mnemonic techniques: how to CEASE stress and distress
By using different methods of teaching and learning – ie experiential learning and by simplifying key concepts – there is a potential to bring about change in a ways not previously achievable!
Using the stepped care model :
Step 4 : specialist interventions (individualised formulation led – for practitioners and care staff)
Step 3 : high intensity interventions (protocol led tailored to specific needs - for practitioners and care staff )
Step 2 : low intensity interventions
Emotional status of client
Occupation – all feeding into developing training … p 32-34
book review
Positive Psychology Approaches to Dementia
Foreword by

Christine Bryden.

Ageing, Health and Positive Psychology.

A Positive Psychology Approach to Dementia

Resilience and Living Well with Dementia

Creativity and Dementia.

John Killick.

Positive Psychology and Relational Dementia Care: Creating an 'Enriched Environment'.

Positive Experiences in Dementia Caregiving.

the book focuses on a set of character

strengths that contribute to human flourishing, but it has never been applied to deeply forgetful people. Herein we find chapters that for the first time carefully examine the experience of dementia with regard to well-being, hope, humor, creativity, resilience, spirituality and wisdom.

People with dementia really do draw on these strengths as they navigate their predicament, and they do so surprisingly deep into their illness.

Building on the tradition of Tom Kitwood, Steven Sabat, and myself, this book shows us with unmistakable clarity and good science that there is a deeper and more hopeful way of looking at the person underneath dementia that we often miss.

This book is a work of genius.

All who care about the dignity of deeply forgetful people should read with excitement! I can assure the reader that this is a bold, necessary and compelling new pathway for future research and for sensitive caring. Bravo on a well-researched field-creating book! -- Stephen G. Post, PhD, Author of The Moral Challenge of Alzheimer Disease and Founding Director of the Center for Medical Humanities, Compassionate Care, and Bioethics, Stony Brook University School of Medicine Whilst not underestimating the challenges dementia throws at the individual, this book highlights the crucial benefits of positive approaches in helping us to face those very challenges, as opposed to the medical view which is often very negative. -- Wendy Mitchell, living with dementia and blogger at Which Me Am I Today.