to borrow any of these resources - members please email
nsw.library@alzheimers.org.au
read or listen to this on CD
The Noonday Demon: An Atlas of Depression
Winner of the National Book Award and a Pulitzer Prize finalist,
The Noonday Demon
examines depression in personal, cultural, and scientific terms. Drawing on his own struggles with the illness and interviews with fellow sufferers, doctors and scientists, policy makers and politicians, drug designers and philosophers, Andrew Solomon reveals the subtle complexities and sheer agony of the disease.
He confronts the challenge of defining the illness and describes the vast range of available medications, the efficacy of alternative treatments, and the impact the malady has on various demographic populations -- around the world and throughout history. He also explores the thorny patch of moral and ethical questions posed by emerging biological explanations for mental illness. With uncommon humanity, candor, wit, and erudition, award-winning author Solomon takes readers on a journey of incom-parable range and resonance into the most pervasive of family secrets. His contribution to our understanding not only of mental illness but also of the human condition is truly stunning.
Darkness visible : a memoir of madness
A work of great personal courage and a literary tour de force, this bestseller is Styron's true account of his descent into a crippling and almost suicidal depression. Styron is perhaps the first writer to convey the full terror of depression's psychic landscape, as well as the illuminating path to recovery.
Reasons to stay alive
What Does It mean To Feel Truly Alive? Aged 24, Matt Haig's world caved in. He could see no way to go on living. This is the true story of how he came through crisis, triumphed over an illness that almost destroyed him and learned to live again. A moving, funny and joyous exploration of how to live better, love better and feel more alive, Reasons to Stay Alive is more than a memoir. It is a book about making the most of your time on earth. "I wrote this book because the oldest cliches remain the truest. Time heals. The bottom of the valley never provides the clearest view. The tunnel does have light at the end of it, even if we haven't been able to see it ...Words, just sometimes, really can set you free."
Stephen Fry
This short book that Haig has written is the best I have ever read on coping with depression. It is so RIGHT.

Defeat depression : 52 brilliant ideas for healing a troubled mine
.. average of 1 out of 18 people suffers from depression and yet most people don't really understand what depression is or recognize many of the symptoms that accompany it. Those that admit to suffering from it very often feel ashamed. Those that have never suffered from it think it's all a matter o 'getting a grip'. Defeat depression is written by a psychiatrist who offers a full understanding of the condition and practical, tried and tested techniques to help overcome it. As a medical student, the author suffered from depression and ended up in hospital. Drawing on her first-hand experiences and her medical expertise, Dr Dosani has put together 52 ideas, tips and strategies to help sufferers and their family and friends cope with this often difficult condition.Now updated in this second edition to include bonus chapters, Defeat depression is sympathetic, practical, pro-active and an empowering and positive tool for helping to heal a troubled mind.

Even when he's grey around the muzzle, the black dog of depression can still deliver a ferocious bite. Depression can strike at any age, and it may appear for the first time as we get older, as a result of life circumstances or our genetic makeup. While older people face the same kinds of mental health issues as younger people, they can find it more difficult to deal with them owing to the stressors which accumulate with age. There is also a high incidence of undiagnosed depression in older age, presenting extra challenges for carers.Managing Depression Growing Older offers a systematic guide to identifying depression in older people, supporting them at home or in an aged care setting, and the importance of diet, exercise and attitude in recovery. It is essential reading for anyone who works with the elderly.
Life is short ... wear your party pants : ten simple truths that lead to an amazing life

Loretta LaRoche has helped millions of people find ways to lighten up and overcome stress. Now, in Life Is Short—Wear Your Party Pants, she gives you the tools you need to not only reduce feelings of tension, but also to bring joy, passion, and gusto into your life. Her techniques are a brilliant blend of old-world common sense and the most contemporary research in brain chemistry, psychology, and mind-body studies. Loretta gives you dozens of proven techniques for recognizing the ten simple truths that will lead you to an intense, happy, successful life: resilience, living in the moment, optimism, acceptance, humor, creativity, moderation, responsibility, meaning, and connection.
and on eBook
or to borrow right now on eBook
You can download the digital resources 24-hours a day, 7-days a week from anywhere! And there's also no postage costs.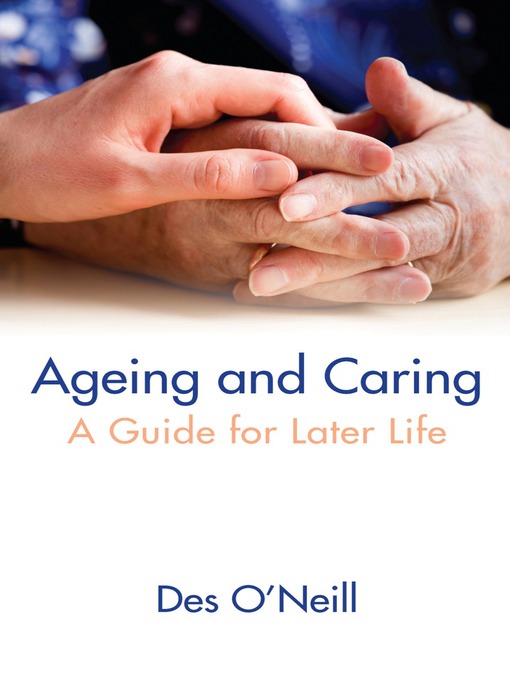 Ageing and Caring A Guide for Later Life
eBook