FEATURE ARTICLE SUPPLEMENTAL DATA
Functions and Value of Reminiscence for Nursing Home Staff
The purpose of the current study was to understand (a) the extent to which reminiscence is used among nursing home staff (RNs, licensed practical nurses, and certified nursing assistants), (b) the reasons nursing home staff engage in reminiscence activities with nursing home residents, and (c) the value they attribute to these activities. The degree to which engagement in reminiscence activities by nursing staff contributed to knowledge about residents was also explored. The most frequently used functions of reminiscence, as reported by nursing staff, were to calm anxiety, help residents see meaning in life, and reorient confused residents. Although nursing caregivers (

N = 43) found reminiscence activities moderately to very enjoyable (76.5%), less than one half (46.5%) reported engaging in reminiscence activities with residents frequently or very frequently. Nurses who engaged in reminiscence activities more often also reported knowing residents better—a hallmark of high-quality care for residents with dementia. [Journal of Gerontological Nursing, 43(6), 35–43.]
…For many nurses, the personal connections formed with patients and their families provide fulfillment and increase job satisfaction. In nursing homes, this dynamic is particularly pronounced, as caregivers often enjoy the opportunity to establish bonds with residents over the course of many months, celebrating holidays and sharing life events. Inherently, these personal connections can be more difficult to establish between nurses and residents with dementia. Further, as these residents begin to experience impaired language capabilities, connections between nurses and residents are often more difficult to maintain. Reminiscence provides a valuable means to foster a personal relationship, even as a patient's sense of identity and memory are diminished….
* you can use these resources !!!
Writing life histories : a guide for use in caring environments
Writing Life Histories is a practical handbook which gives clear guidance on how to put together life histories in supportive or residential settings. It provides: Step-by-step guidance. Ideas for different types of life histories. Activities, strategies and material for prompting memories. Helpful tools and writing tips. Suggestions for support and forming partnerships with other local services. Ideas for involving the person s family and friends. Discussion on ethical issues to be considered. The benefits of engaging a group or an individual in life history activities include an aid to memory; creative stimulation; a personalised identity when in a residential home; promotion of interaction and co-operation with others; continuity with previous life experience thus combating loss of identity as well as an excellent opportunity to pass on knowledge and experience to others. For staff knowing about past experiences will promote an understanding of behaviour, needs and outlook on life resulting in more personalised care. Staff have references for conversation with cognitive impaired individuals and knowledge about life accomplishments which promotes respect for individuals.
The handbook of structured life review

Clear and concise, The Handbook of Structured Life Review synthesizes 30 years of research and practice using the Structured Life Review process. Structured Life Review is a one-on-one therapeutic technique that guides people in reflecting on their lives from early childhood to the present. This approach allows individuals to learn from past experiences, settle unresolved issues, and ultimately achieve a state of life acceptance. Participants benefit from increased life satisfaction, reduced depression, and the opportunity for reconciliation, acceptance, and serenity. Following this user-friendly handbook, Structured Life Review sessions can be easily led by professionals and non-professionals alike: social workers, counselors, activity staff, or even volunteers. The book thoroughly explains the role of the Therapeutic Listener and describes useful counseling and communication techniques. Step-by-step goals, instructions, and sample dialogue for eight separate sessions provide a blueprint for conducting life reviews. Handy appendices include assessment tools and a Life Review Form with recommended questions for each session. Structured Life Review is appropriate for people of all ages, including older adults in senior centers, assisted living facilities, skilled nursing centers, and home settings. The approach is especially beneficial for individuals experiencing stress, undergoing major change, or coping with grief or a traumatic event. Additionally, Structured Life Review not only fulfils current requirements for meaningful activities but meets the criteria for short-term therapy covered by Medicare and other insurance provide
Book review : Remembering yesterday, caring today : reminiscence in dementia care a guide to good practice
We all assume that reminiscing activities for people with early stage- mid stage dementia have positive outcomes. However for real evidence and guidance on how this can occur this book is really useful and filled with tried and true methods. The title of the book is the name of a wonderful project that involves the dementia clients, their carers, workers and volunteers. The people involved in the project meet many times and report their findings both positive and negative. This book records how using a series of reminiscing sessions based on retracing the life course these teams have very positive and enjoyable outcomes for carers and the client. The book is illustrated with photographs showing how the teams worked and one can see how using these methods how they all had a memorable time. The concept of working with both the client and the carer show the true benefit of a dual-purpose activity.
Chapters 1-3 cover the current theories on reminiscence therapy, which give credence to doing this type of work with clients. The topic headings and contents for the sessions that retrace the life course provide lots of ideas that could easily be adapted to the Australian culture eg "Starting work and working lives", "going out and having fun". There is also a great session on "reminiscence alone" groups.
This practical book is a very useful tool for dementia care workers and practitioners and students of recreation for people with dementia.
Lauretta Kaldor
Direct Care Workforce Training: Internet Accessibility and Acceptance
Evidence exists that web-based learning for health care professionals can improve topic-specific knowledge, increase access to training, and lower training costs. However, limited information exists on the value of online education for improving hands-on skills as part of personal care aide (PCA) training. New PCA training programs are emerging that are fully online or hybrid models that blend online with in-person instruction. Such programs require access to a computer and high-speed internet, which could prove difficult for low-income PCAs who are less likely to own a computer. The current study evaluated a PCA training demonstration that examined issues of internet access, use, and acceptability for PCA training. Results show most trainees prefer a hybrid online/in-person model, but there are gaps in access and acceptability, particularly related to reading ability. These findings have implications for health care providers who deliver training programs aimed at developing a qualified PCA workforce capable of providing competent care to older adults. [

Journal of Gerontological Nursing, 43(6), 46–52.]
Aspects of Self and Identity in Narrations About Recent Events: Communication with Individuals with Alzheimer's Disease Enabled by a Digital Photograph Diary
The ability to narrate autobiographical memories is important for maintaining the identity of individuals with Alzheimer's disease (AD). The current study explored how the sense of self is manifested in narrations about recent events, enabled via a digital photograph diary. Use of a digital photograph diary was tested with seven individuals with AD and their household members. Narrative analysis was used to analyze audiorecordings of the pairs' communication about recent events shown in the photographs. The results show how individuals with AD understand events illustrated in recent photographs in relation to their sense of self and associated skills and abilities that are facets of their selfhood. This type of digital photograph diary has the potential to support individuals with AD to maintain their sense of self and participation in everyday life, and strengthen their relationships with household members; it could be an important tool in person-centered care. [

Journal of Gerontological Nursing, 43(6), 25–31.]
CNE Quiz: Aspects of Self and Identity in Narrations About Recent Events: Communication With Individuals With Alzheimer's Disease Enabled by a Digital Photograph Diary
*you can use these resources !!
Focusing on the person : exploring the potential of photography for people with dementia
This pack explores the wealth of opportunities that photography can offer people with dementia and their carers. It does not focus on the technical elements of photography but rather looks at the potential benefits that the process of taking and using images can provide. Two booklets offer a series of practical starting points. The first booklet focuses on ways to support the person in taking photographs and the second explores ways of using these visual images. The CD describes further projects - great photographic feasts - where image making can be utilised.
Draw on your emotions : creative ways to explore, express & understand important feelings
This manual contains a series of structured "easy to do" picture exercises to help people of all ages express, communicate and deal more effectively with their emotions in everyday life. Providing a series of photo-copiable illustrations, it is a source of effective ready made material. This book contains exercises and pictures specifically designed to ease the process of talking about feelings. It helps to promote a new clarity of thought as a first step towards positive action and bring seemingly huge, un-manageable and insoluble problems into a new perspective. It offers opportunities to rehearse other ways of functioning by trying out alternatives safely on paper in exercises that can be adapted for any age range and ability.
This is a superb non-verbal counselling tool
. Dr Margot Sunderland is Director of Education and Training at The Centre for Child Mental Health London, Honorary Visiting Fellow at London Metropolitan University and Integrative Child Psychotherapist, Supervisor and Trainer with over two decades of experience in working with adults, teenagers and children. She is a First Prize award winning author, with 20 books in child mental health, published in nineteen countries.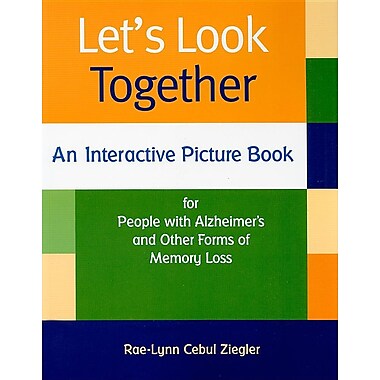 Let's look together : an interactive picture book for people with Alzheimer's and other forms of memory loss
Wake up" someone's brain with every turn of the page in this delightfully engaging resource. Featuring fun images of children, this picture book for adults is to be shared between a family (or professional) caregiver and a person with memory loss to encourage meaningful emotional connections and conversations through therapeutic brain stimulation.
Research demonstrates that sensory integration in the brain reinforces and excites neural connections. Using the principles of sensory integration, occupational therapist Rae-Lynn Ziegler presents photographs that trigger multiple and varied sensory reactions: visual, auditory, tactile, olfactory, gustatory, and vestibular and proprioceptive (motion and movement). Test with people with middle to late Alzheimer's disease, Ziegler's work demonstrates that spending time with an interactive picture book can help keep people with memory loss connected and engaged.
Users of
Let's Look Together
are encouraged to
Relate to the feelings suggested by the photos

Reminisce about situations triggered in the person's memory

Describe what might precede or follow in the photo's action

Tell a story about the child or image

Find pleasure in sharing the book together
Twenty-nine full-color photographs portray an array of easily recognized emotions and activities. Joy, tears, surprise, contentment, and stubbornness are interspersed with edible delights, unexpected encounters, nurturing family interactions, and more. Simple conversation starters are provided for each image. It all comes together to create a new visual and emotional journey for each person every time the book is opened.
Let's Look Together
is for use one-on-one or in groups—at home or in formal care settings ranging from adult day services to hospitals and nursing homes.
Through the seasons: an activity book for memory-challenged adults and caregivers
Mental stimulation has been found to offer demonstrable benefits for people with Alzheimer disease, dementia, or other memory impairment. Through the Seasons helps family members and caregivers engage memory-challenged adults in simple, enjoyable activities that provide stimulation and enhance communication.
Fun and easy to use, this large-format color picture book is divided into themes representing the four seasons. Each section describes several multisensory experiences—such as picking apples or raking leaves—along with related topics for discussion and activities to elicit memories and encourage new positive associations. The topics and activities incorporate all five senses to facilitate connections and conversations with memory-challenged persons across a wide range of cognitive function.
Designed by nationally recognized experts in gerontology, geriatrics, and memory enhancement, this workbook provides a scientifically sound, well-developed program that will help family caregivers and professionals maintain and enhance relationships with the persons in their care. It also helps memory-impaired individuals to retain dignity and remain active companions, even as their communication skills become increasingly limited.
Through the Seasons includes an introduction with instructions for family and professional caregivers as well as a resources section at the end of the book ..
New Report Provides In-Depth Details About National Statistics on Alzheimer's Disease
For the first time, total payments exceeded $259 billion for caring for individuals with Alzheimer's disease (AD) or other dementias, according to data in the 2017 Alzheimer's Disease Facts and Figures report.
The report provides an in-depth look at the latest national statistics and information on AD prevalence, incidence, use and costs of care, caregiving, and mortality.
·
Of the estimated 5.5 million Americans with AD in 2017, 5.3 million are older adults and approximately 200,000 are younger than 65 (i.e., younger-onset AD).
·
Barring the development of medical breakthroughs, the number of older adults with AD may triple from 5.3 million to 13.8 million by 2050.
·
Every 66 seconds, one individual in the United States develops AD. By mid-century, one individual will develop the disease every 33 seconds.
·
Approximately 480,000 older adults will develop AD in the United States in 2017.
·
Two thirds of American older adults with AD are women.
·
AD is the sixth-leading cause of death in the United States and fifth-leading cause of death for older adults.
·
AD remains the only disease among the top 10 causes of death in America that cannot be prevented, cured, or slowed.
The report also illustrates that the strain of caregiving produces serious physical and mental health consequences. More than one in three (35%) caregivers of individuals with AD or another dementia report that their health has worsened due to care responsibilities compared to one in five (19%) caregivers of older adults without dementia. In addition, depression and anxiety are more common among dementia caregivers than among those providing care for individuals with other conditions.
Source."New Alzheimer's Association Report Shows Growing Cost and Impact of Alzheimer's Disease on Nation's Families and Economy." (2017, March 7). Retrieved April 25, 2017, from

http://prn.to/2orSPFQ

.
Most Older Adults Inconsistently Take Vitamin D Supplements Following Hip Fracture
Only 45.7% of patients reported consistently taking vitamin D supplements following a hip fracture, according to a new study.
Researchers interviewed 573 hip fracture patients about their vitamin D intake during physician visits for 2 years following hip fracture surgery. Mean patient age was 74.1 years, and most patients (66.3%) were women.
Less than 50% of patients consistently took vitamin D supplements as recommended, 35.6% took supplements inconsistently, and <19 a="" additional="" adult="" and="" clinical="" close="" compliance.="" consistently="" d="" despite="" develop="" evaluate="" follow="" fracture="" guidelines="" hip="" in="" low="" need="" no="" o:p="" of="" older="" patients="" promote="" proportion="" strategies="" suggesting="" supplements.="" take="" to="" took="" trial="" up="" vitamin="" well-developed="">19>
New Program Helps Older Adults Adjust to Hearing Aid Use
More than one half of older adults experience some form of hearing loss, which impacts everyday life and significantly affects health and safety if left untreated. Hearing aids are the most common treatment for hearing loss; however, many adults fail to adjust to hearing aids and, as a result, stop using them. A new hearing aid adjustment program may significantly improve hearing aid wear time among older adults.
The Hearing Aid Reintroduction (HEAR) program is a systematically gradual method to support adjustment to hearing aids. With HEAR, the duration of hearing aid use increases slowly from 1 hour on Day 1 to 10 hours on Day 30. Sound complexity also increases, beginning with house sounds (e.g., fans, dishwasher) to complex listening situations (e.g., a restaurant or theater). The intervention is currently supported through a workbook that provides instructions, tips, and encouragement. Patients record their progress, as well as questions or concerns for their audiologist, in a journal.
Data from testing the success of HEAR will be used to create a complementary application, which will allow patients and audiologists to communicate more effectively regarding hearing aid use. Patients will be able to input their progress, which will be saved to their digital health records for their audiologist to view. In turn, audiologists will be able to answer questions and send encouragement.
Source."New Program Improves Hearing Aid Use for Older Adults." (2017, March 20). Retrieved April 25, 2017, from

http://bit.ly/2q0PsmC

.
Genetic Test Calculates Age-Specific Risk of Developing Alzheimer's Disease
An international team of scientists developed a novel genetic score that allows individuals to calculate their age-specific risk of developing Alzheimer's disease (AD) based on genetic information. Specifically, researchers combined genotype-derived polygenic information with known AD incidence rates from the U.S. population to derive instantaneous risk estimates for developing AD.
The team analyzed genotype data from more than 70,000 patients with AD and normal older adult controls who participated in the Alzheimer's Disease Genetics Consortium, the National Alzheimer's Coordinating Center, and the Alzheimer's Disease Neuroimaging Initiative. Data were examined for AD-associated single nucleotide polymorphisms (SNPs), which are variations of a single nucleotide or DNA building block that occur at a specific position in the genome. Some SNP variation exists in genomic information in all humans, which affects individual susceptibility to disease. In this case, researchers looked at SNPs linked to AD risk and for APOE status. Individuals with the E4 variant in the APOE gene are known to be at greater risk of developing late-onset AD.
Researchers then developed a continuous polygenic hazard score (PHS) based on this data to predict age-specific risk of developing AD, and tested it in two independent cohorts. They found that those in the top PHS quartile developed AD at a considerably younger age and had the highest yearly AD incidence rate. PHS also identified those who were cognitively normal at baseline but eventually developed AD. Even among individuals who did not have the APOE E4 allele, PHS informed age of onset; those with a high PHS developed AD 10 to 15 years earlier than those with a low PHS.
Source."Genetic Assessment Developed to Determine Risk for Age-Associated Alzheimer's Disease." (2017, March 16). Retrieved April 25, 2017, from

http://bit.ly/2q0U0JM

.
Food Scarcity and Poor Oral Health Leading Older Adults to the Emergency Department
A new study in the Journal of the American Geriatrics Society suggests that food scarcity and poor oral health are major risk factors for malnutrition that lead older adults to emergency department admission.
The study included 252 patients 65 and older seeking treatment in emergency departments in North Carolina, Michigan, and New Jersey. Participants were screened for malnutrition and then asked about the presence of risk factors.
Overall prevalence of malnutrition in the sample was 12%, which is consistent with previous estimates from U.S. emergency departments and approximately double the prevalence in community-dwelling adults. Of the three sites, patients in North Carolina had the highest rate of malnutrition (15%), and one of the highest rates of older adults living below the poverty line (ranked third of 50 states).
Of risk factors studied, poor oral health had the greatest impact on malnutrition. More than one half of patients had dental problems and were three times as likely to experience malnutrition than those without dental problems. Ten percent of patients experienced food insecurity, which was strongly associated with malnutrition. Other factors associated with malnutrition that may contribute to the problem include social isolation, depression, medication side effects, and limited mobility.
Researchers are now developing and testing interventions to link malnourished older adults identified in the emergency department to food assistance programs in the community.
Source."Poor Oral Health and Food Scarcity Major Contributors to Malnutrition in Older Adults." (2017, March 23). Retrieved April 25, 2017, from

http://bit.ly/2osnSRZ

.
Olfactory Ability Linked to Social Connectedness in Older Adult Women
A new study in Scientific Reports of U.S. older adults found that a woman's social life is associated with how well her sense of smell functions. The study found that older adult women who perform worse on a smell identification task tend to have fewer social connections.
Researchers analyzed data from the National Social Life, Health and Aging Project, a population-based study of health and social factors in the United States. Collected in 2005 and 2006 from a nationally representative sample of 3,005 American adults ages 57 to 85, the data include odor identification test scores as well as information about participants' social lives.
Researchers compared participants' odor identification scores with an aggregated "overall social life" score, which included measures such as participants' number of friends and close relatives, and how often they socialized. Data were adjusted to control for possible confounding variables, including education level, tobacco use, and physical and mental health status.
Findings revealed a clear link between a woman's olfactory ability and her overall social life score: older women with good olfactory ability tended to have more active social lives, whereas those with diminished olfactory function were associated with a poorer social life score.
The same association between olfactory function and social life was not found in older adult men. Longitudinal studies could help clarify whether olfactory loss directly influences social life and potentially allow researchers to identify the mechanisms involved.
Source."The Social Costs of Smell Loss in Older Women." (2017, March 20). Retrieved April 25, 2017, from

http://bit.ly/2q2ti6n

.
Upward Trends in Alcohol Drinking in Older Adult Women
Most American older adults drink alcohol. Given that this segment of the population is projected to double by 2050, there will likely be many more older drinkers in the United States. A new study examined trends in drinking status among U.S. adults 60 and older.
Researchers analyzed data from the 1997–2014 National Health Interview Surveys: 65,303 respondents 60 and older (31,803 men and 33,500 women) were current drinkers, and 6,570 men and 1,737 women were binge drinkers. Analysis of respondents by sex, age group, and birth cohort showed differing trends over time.
The observed upward trends in drinking among adults 60 and older, particularly women, are of public health concern. Among men, prevalence of current drinking trended upward an average of 0.7% per year, whereas average volume and prevalence of binge drinking remained stable. Among women, prevalence of current drinking trended upward an average of 1.6% per year, whereas average volume remained stable and prevalence of binge drinking increased an average of 3.7% per year.
These findings indicate a need for alcohol-related public health education, screening, and treatment for the growing older adult population.
Source."An Increasing Proportion of Women Who are 60 Years of Age and Older are Drinking." (2017, March 22). Retrieved April 25, 2017, from

http://bit.ly/2qaNkb6

.
Feasibility of a Family-Centered Hospital Intervention
Approximately one half of the 40 million family caregivers in the United States are regularly performing medical/nursing tasks, with very little training from clinicians. The goal of the current project was to encourage health care and social service professionals to proactively engage family caregivers as partners in care. The phases of the Professional Partners Supporting Family Caregivers project and results of an intervention are presented. Five hospitals were selected to develop a family-centered intervention. Patients' and family caregivers' hospital experience was examined, as well as nurses' perception of their work environment specific to care of older adults and caregivers. The sample included five intervention sites in which patients, family caregivers, and nurses provided baseline post-intervention data. The four comparison sites included post-intervention data from patients, family caregivers, and nurses. The family-centered intervention shows promise in improving patients' hospital experience and nurses' perception of caring for older adults and their families. [

Journal of Gerontological Nursing, 43(6), 9–16.]
Socioeconomic and Demographic Disparities in Caregiving Intensity and Quality of Life in Informal Caregivers: A First Look at the National Study of Caregiving
Informal caregiving is an integral component of the health care system, saving the national economy more than $522 billion annually. The current study examined how the association between caregiving intensity and caregiver quality of life varies by sociodemographic factors through a secondary analysis of the National Study of Caregiving. Generalized linear models assessed the associations among four aspects of caregiving intensity, three aspects of caregiver quality of life, and key sociodemographic factors. Compared to White individuals, Black individuals had higher levels of overall caregiving intensity (β = 0.293, 95% confidence interval [CI] [0.140, 0.447]), number of instrumental activities of daily living performed (β = 0.060, 95% CI [0.030, 0.090]), and hours spent caregiving per month (β = 0.025, 95% CI [0.002, 0.049]), yet experienced significantly fewer negative impacts on quality of life. Understanding how informal caregiving affects caregiver quality of life is critical to inform public health policies and programs designed to support caregivers and protect this critical component of the U.S. health care system. [

Journal of Gerontological Nursing, 43(6), 17–24.]
Xadago® Users Experience More "On" Time and Reduced Parkinson's Disease Symptoms
The U.S. Food and Drug Administration approved Xadago
®
(safinamide) tablets as an add-on treatment for patients with Parkinson's disease (PD) who are currently taking levodopa/carbidopa and experiencing "off" episodes (i.e., when a patient's medications are not working well, causing an increase in PD symptoms, such as tremor and difficulty walking).
Efficacy of Xadago in treating PD was shown in a clinical trial of 645 participants who were also taking levodopa and experiencing "off" time. Those receiving Xadago experienced more beneficial "on" time (i.e., when PD symptoms are reduced, without troublesome uncontrolled involuntary movement [dyskinesia]) compared to those receiving placebo. The increase in "on" time was accompanied by a reduction in "off" time and better scores during "on" time than before treatment on a measure of motor function. These results were replicated in another clinical trial of 549 participants.
Source
. "FDA Approves Drug to Treat Parkinson's Disease." (2017, March 21). Retrieved April 25, 2017, from

http://prn.to/2mMYT6b

.
Phase 1 Stem Cell Trial Successfully Completed for Alzheimer's Disease Treatment
Longeveron announced the successful completion of enrollment in the first phase of its clinical research trial of Longeveron allogeneic human mesenchymal stem cells (LMSCs
®
) to treat Alzheimer's disease.
Prior research shows that adult MSCs target and reduce inflammation, promote tissue repair, and improve brain function in mouse models of Alzheimer's disease. Longeveron's trial is the first U.S. clinical study of exogenously administered MSCs derived from the bone marrow of healthy adult donors for treating Alzheimer's disease.
The company will review safety data prior to proceeding with the second phase: a 25-participant randomized, placebo-controlled, double-blind study evaluating the safety, tolerability, and efficacy of LMSCs in early-stage Alzheimer's disease. The trial is taking place at the University of Miami's Miller School of Medicine.
Source
. "Longeveron Achieves Milestone in Groundbreaking Stem Cell Trial for Alzheimer's Disease." (2017, March 15). Retrieved April 25, 2017, from

http://prn.to/2oHRmaz

.