Living with Alzheimer's : managing memory loss, identity, and illness
Contents
Prologue: Lost in Translation
1. The Meaning of Memory Loss: Illness, Identity,
2. History and Technoscience: From Senility to Alzheimer's
3. Constructing Facts in Clinical Practice: Interpreting, Diagnosing, and Treating Memory Loss
4. Being Cognitively Evaluated: Learning to Medicalize Forgetfulness
5. Hearing "the A Word": The Road to Becoming an Alzheimer's Patient
6. Everyday Life with Diagnosis: The New Normal
7. Advocating Alzheimer's: Biomedical Structures and Social Movements
8. Forget Me Not: The Future of Alzheimer's
The exclusively negative portrayals of Alzheimer's are grossly inaccurate.
To understand what life with memory loss is really like, Beard draws on intensive observations of nearly 100 seniors undergoing cognitive evaluation, as well as post-diagnosis interviews with individuals experiencing late-in-life forgetfulness.
Since we all forget sometimes, seniors with an Alzheimer's diagnosis ultimately need to be socialized into medicalized interpretations of their forgetfulness.
In daily life, people with the disease are forced to manage stigma and the presumption of incompetence on top of the actual symptoms of their ailment.
The well-meaning public, and not their dementia, becomes the major barrier to a happy life for those affected. Beard also examines how these perceptions affect treatment for Alzheimer's.
Interviews with clinicians and staff from the Alzheimer's Association reveal that despite the best of intentions, pejorative framings of life with dementia fuel both clinical practice and advocacy efforts.
These professionals perpetuate narratives about "self-loss," "impending cures," and the economic and emotional "burden" to families and society even if they do not personally believe them.
Yet, Beard also concludes that in spite of these trends, most of the diagnosed individuals in her study achieve a graceful balance between accepting the medical label and resisting the social stigma that accompanies it. In stark contrast to the messages we receive, this book provides an unprecedented view into the ways that people with early Alzheimer's actively and deliberately navigate their lives.

Be with me today : a challenge to the Alzheimer's outsider DVD
Richard Taylor was diagnosed with dementia, probably of the Alzheimer's type, when he was 58 years old. Now 66, Richard speaks to the public about living with the disease and sends out a challenge to the Alzheimer's outsider.
Join Richard as he speaks from his heart, urging all of us to recognize that "THERE IS A PERSON IN THERE." It is a remarkable documentation of his presentation to aging services professionals, urging them to embrace the culture change philosophy of person-centered care. For anyone who knows, interacts with, works with, or provides services to people with dementia.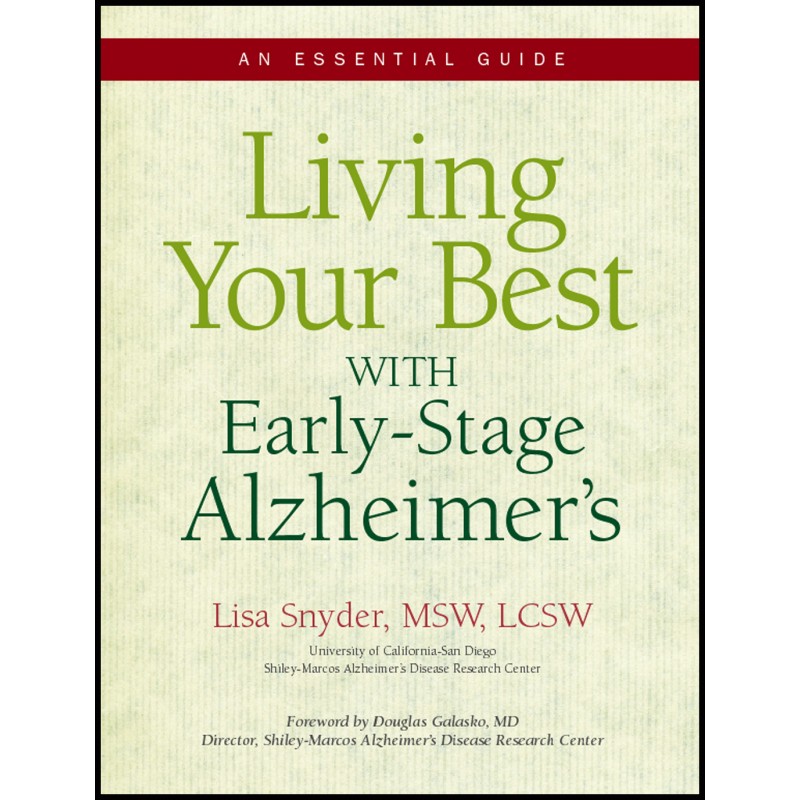 Living your best with early-stage Alzheimer's : an essential guide

Recent medical advances have made it possible to diagnose Alzheimer's when symptoms are mild and new drugs are under investigation to help slow progression of the disease.
Today, when a person is diagnosed, they may have many years ahead with only mild symptoms.
The result is that a growing number of people with early-stage Alzheimer's are seeking information about how to take charge of their lives, manage symptoms, and cope effectively with the disease. This book provides a thorough, practical guide on coping with the diagnosis, managing symptoms, finding meaningful activity, planning for the future, maintaining important relationships, participating in research, and much more.
This book is a working guide to help the person with Alzheimer's feel empowered to move forward in life in light of this challenging diagnosis.
Loretta LaRoche has helped millions of people find ways to lighten up and overcome stress. Life Is Short—Wear Your Party Pants, she gives you the tools you need to not only reduce feelings of tension, but also to bring joy, passion, and gusto into your life.
Her techniques are a brilliant blend of old-world common sense and the most contemporary research in brain chemistry, psychology, and mind-body studies.
Loretta gives you dozens of proven techniques for recognizing the ten simple truths that will lead you to an intense, happy, successful life: resilience, living in the moment, optimism, acceptance, humor, creativity, moderation, responsibility, meaning, and connection. In her work, Loretta has seen tens of thousands of people who live their lives as if they're sitting in a waiting room, hoping that their turn comes up next.
This book will show you that life is not something to be endured, but is something to be truly appreciated. We need to remember how to access our inner abundance, which allows us to be heart-centered, joy-filled human beings.