These resources are available for loan to members of AANSW - if you would like to reserve them please email the Library on nsw.library@alzheimers.org.au
Models and pathways for person-centered elder care
This critical resource explores the path to accomplishing organisational change. It guides by example and reveals what is possible and how to overcome the challenges to be faced when effecting change. For practitioners, educators, funders, advocates, surveyors, and professional staff from nurses to social workers to administrators, Models and Pathways for Person-Centered Elder care provides detailed accounts of what person-centered care looks like in practice, essential considerations for the workforce, tips and ideas for overcoming common barriers, a solid business case for implementing culture change and gaining competitive advantages, concrete perspectives on the issues and processes surrounding new ways of providing care.
Excellence in dementia care: research into practice
Ed. Murna Downs and Barbara Bowers
This scholarly yet accessible textbook is the most comprehensive single text in the field of dementia care. Drawn from research evidence, international expertise and good practice guidelines, the book has been crafted alongside people with dementia and their families. Case studies and quotes in every chapter illustrate the realities of living with dementia and bring the theory to life.
Fully updated with 10 brand new chapters, this landmark textbook has enormous breadth and gives an authoritative overview of dementia care.
The 2nd edition now includes chapters on the following topics:
Dementia friendly communities

Representations of dementia in the media

Younger people with dementia

Relationships within families or with family carers
With engaging and varied pedagogy in each chapter this authoritative and compelling textbook is an absolute must purchase for a range of professionals and academics. Those working or volunteering in health and social care, undergraduate and postgraduate students across a range of disciplines in health and social work, and anyone interested in the field of dementia care will find this text enlightening and essential.
Promoting high touch when nursing older people : a palliative care approach [DVD]
University of Western Sydney, School of Nursing and Midwifery
Promoting high touch in nursing older people: A palliative care approach, is an outcome of the project Avoiding "high tech" through "high touch" in end-stage dementia: Protocol for care at the end of life. The DVD is based on material developed by Geriatric Consultant, and Developer of the Namaste Care Program, Adjunct Associate Professor Joyce Simard.
This DVD features a series of short instructional films that outline an effective protocol for palliative care. The approach offers hope and a renewed sense of spirit for people in the last stages of life.

Reading in the moment - activities and stories to share with adults with dementia
Studies have shown that reading in a melodic and rhythmic voice can produce positive changes in mood, emotion and behaviour in those with dementia. This technique - known as bibliotherapy - is used in this book and has been tailored to help those who grew up during the 1930s through to the 1960s, as well providing for people of all cultures. While traditional literature, such as Dickens and Shakespeare, might be beyond the literacy skills of many readers, and while poetry may not interest all, this book presents short stories, prose prompts and biographies which are written in a rhythmic and lyrical way to make communicating easier and more enjoyable. A focus on using short sentences, repeated language features and striking imagery which appeals to all the senses captures moments in time or action - short stories which are printed in large, clear font to suit readers who have limited vision or who may struggle to maintain attention; and language to suit a lower reading level, but appropriate and respectful of adult readers. The book is designed to be used by people who have some experience in working with clients who have dementia, but who do not have specific training in bibliotherapy. They may be running a group session, working in a library or caring for a family member at home. There is a need for 'reading in the moment' - sharing a story, a piece of prose, a biography - for the simple pleasure of sharing a moment in time together.

Read a bit! Talk a bit! Series now including
Read a bit! Talk a bit! Car
This is a series of reading activity books intended for people with dementia and Alzheimer's disease.
The books start with a short article or story for the participants to read, followed by a number of questions for the facilitator to ask. These questions are formulated to engage the participants in conversation and to encourage personal and meaningful reminiscences to flow.
All the reading pages are in large type, 50 pt, and the text is only on one page per spread in order to help the individual to concentrate on the text and to minimize the constraints of visual impairment.
Memories recalled from earlier in life are often very therapeutic for people with dementia. They provide opportunities for positive and meaningful engagement with the past.
Remembering increases self esteem and a feeling of positive worth as the participants recall personal experiences. There are 10 books and they achieve this thanks to the range of familiar topics and questions to prompt and encourage discussion.
These resources are available for loan to members of AANSW - if you would like to reserve them please email the Library on
nsw.library@alzheimers.org.au
Spiddal road
other titles include:
Read a bit! Talk a bit! cake




Read a bit! Talk a bit! Films at the movies

Read a bit! Talk a bit! Garden

Read a bit! Talk a bit! Lawnmower

Read a bit! Talk a bit! Money

Read a bit! Talk a bit! Pencil

Read a bit! Talk a bit! Perfume

Read a bit! Talk a bit! Safety pin!

Read a bit! Talk a bit! Sandwich!

Read a bit! Talk a bit! Scissors!

Read a bit! Talk a bit! Soup

Read a bit! Talk a bit! Stamps

Read a bit! Talk a bit! Teddy bear

Read a bit! Talk a bit! Telephone

Multisensory rooms and environments : controlled sensory experiences for people with profound and multiple disabilities
by Susan Fowler
This unique, fully photocopiable resource offers guidance and materials to aid those developing multisensory environments - artificially engineered spaces that encourage relaxation, social skills and learning by stimulating the five senses. Particularly useful for those working with people with multiple disabilities, this resource explains the theory underlying multisensory environments, describes the different types, and outlines the practicalities of planning, setting up and equipping a multisensory space. The resource also features useful checklists and tools for creating multisensory experiences in both designed and everyday settings, such as the kitchen, bathroom, garden or beach. Multisensory Environments is published using photocopy-friendly lay-flat binding and is an essential tool for any professional working with individuals with multiple disabilities. It is the perfect complement to Sensory Stimulation: Sensory-Focused Activities for People with Physical and Multiple Disabilities.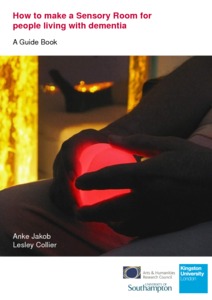 How to make a sensory room for people living with dementia : a guide book
The guide has been developed on the basis of a research study carried out in sixteen care homes in South England in 2013. The study looked into multi sensory facilities and environments currently offered by these care homes. This involved observation of sensory sessions and conversations with staff including managers, activity coordinators and care staff. Examples of good practice and useful suggestions were recorded in order to compile this good practice guide. Comments from many of the care homes are also documented in the section on What care practitioners said.
The Tea Group and S.E.R.V.E. : two small groups for persons with dementia
minimal cost, no need for special training, increases social abilities , helps decrease behaviors of concern, if you keep a log book - helps as an assessment tool,
helps staff to learn more about the person with dementia thus promoting person centred care
Persons with late stage dementia do not cope well in the regular activity programs offered within a facility, or in an environment that is fast-paced and highly stimulating.
The Tea Group and S.E.R.V.E. are specifically designed to consider the level of cognition and capacity for socialisation of residents with late stage dementia.
The benefits of these groups are priceless: residents with dementia socialise and experience feeling useful and successful, which improves their quality of life; staff learn more about the residents' personalities, past lives and present abilities, which can improve their daily interactions.