These five articles come from the activities director's quarterly
1.

Brain fitness exercises fort residents with low cognitive functioning
2.

Advanced dementia : what can we do together?
3.

Bright eyes : a sensory stimulation intervention for residents with advanced dementia
4.

Memory exchange : a reminiscence theme program
5.

Therapeutic use of dolls for older adults with Alzheimer's disease : Dear Aunt Polly and Dear Uncle Pete by Nancy E Richeson PhD
Alive inside: A story of music & memory [DVD]
Alive Inside is a joyous cinematic exploration of music's capacity to reawaken our souls and uncover the deepest parts of our humanity. Filmmaker Michael Rossato-Bennett chronicles the astonishing experiences of individuals around the country who have been revitalized and awakened by the simple act of listening to the music of their youth.
Jack : quality of life in dementia care [DVD]
Jack cares for the dolls which are real to him. He is now able to give care as well as receive it. It makes him feel worthwhile. Jack's story is about quality of life in dementia care.
It's about making a difference and finding the key to lighting a soul
.
In the film "Jack" health care specialists and family members talk about sensory stimulation through the use of multisensory and doll therapy to improve the quality of life of a person with dementia. Initially Jack was obviously unhappy, however after the introduction sessions and the use of dolls, Jack changed to be a happy and engaged resident.
Always wanted a fishtank,
but could never afford the price tag? Or maybe you just don't need all the hassle and bother that goews with maintenance. Then simply place The Aquarium into your DVD player, hit play and enjoy! With the choice of fishtank sounds or relaxing background music, you can now have all the enjoyment of a fishtank at home without the hassle.
from - Alzheimer Disease & Associated Disorders journal
The Influence of Aquariums on Weight in Individuals With Dementia
This study assessed whether individuals with dementia who observe aquariums increase the amount of food they consume and maintain body weight. The sample included 70 residents in dementia units within 3 extended care facilities in 2 states. The intervention included the introduction of an aquarium into each common dining area. A total increase of 196.9 g of daily food intake (25.0%) was noted from baseline to the end of the 10-week study. Resident body weight increased an average of 2.2 pounds during the study. Eight of 70 residents experienced a weight loss (=1.89 lbs). People with advanced dementia responded to aquariums in their environment documenting that attraction to the natural environment is so innate that it survives dementia.
Relaxing with nature : a music video
Commune with nature, enhanced with beautiful music.
Contents: 1. Kennerton Green - 7 minutes. A classic display garden at Mittagong, NSW -- 2. Tropical fish - 7 minutes. Colour, serenity and easy listening music. -- 3. Relaxing by the Billabong - 9 minutes. Enjoy the birdlife and water scenes. -- 4. Relaxing by the ocean - 17 mins; A grouping of 4 segments of fascinating wave action, an exercise in meditation. -- 5. Tropical fish 2 - 3 minutes. A different setting and just as enjoyable. -- 6. Relaxing with Dolphins - 14 minues. Be mesmerised by the slow, gliding action of dolphins playing in the bow wave of a boat.
The Tea Group and S.E.R.V.E. : two small groups for persons with dementia
minimal cost, no need for special training, increases social abilities , helps decrease behaviors of concern, if you keep a log book - helps as an assessment tool,
helps staff to learn more about the person with dementia thus promoting person centred care
Persons with late stage dementia do not cope well in the regular activity programs offered within a facility, or in an environment that is fast-paced and highly stimulating.
The Tea Group and S.E.R.V.E. are specifically designed to consider the level of cognition and
capacity for socialisation of residents with late stage dementia.
The benefits of these groups are priceless: residents with dementia socialise and experience feeling useful and successful, which improves their quality of life; staff learn more about the residents' personalities, past lives and present abilities, which can improve their daily interactions.

Meaningful activities for people with dementia
This DVD is clearly set out and would be a great aid to training. It covers activities for both early and late stage dementia as well as touching on behaviors of concern. Some of the activities include doll and pet therapy, gardening and cooking - showing how to incorporate different sensory aspects such as smell and touch. The format includes summaries in point form.
Contents: 1. Dementia and it's symptoms -- Types of dementia -- behaviors of concern 2. Needs of clients -- activities of daily living -- Assessing individual needs -- Emotional and physical well being -- 3. Planning meaningful activities -- Person centered care as a basis for developing individual activity plans -- 4. Activities: a. Group activities or individual -- Strength building -- news and views -- gardening -- cooking -- sensory activities -- other activities -- b. Activities for advanced dementia:doll therapy -- pet therapy -- reminiscing -- group activities and interacting with the community for people with early stage dementia -- 5. Summary. Teacher's Notes of same title in Kit and from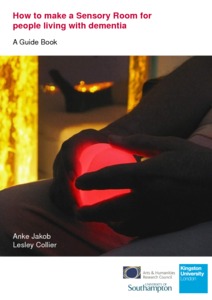 How to make a sensory room for people living with dementia : a guide book
The guide has been developed on the basis of a research study carried out in sixteen care homes in South England in 2013. The study looked into multi sensory facilities and environments currently offered by these care homes. This involved observation of sensory sessions and conversations with staff including managers, activity coordinators and care staff. Examples of good practice and useful suggestions were recorded in order to compile this good practice guide. Comments from many of the care homes are also documented in the section on What care practitioners said.
Multisensory rooms and environments : controlled sensory experiences for people with profound and multiple disabilities
by Susan Fowler
This unique, fully photocopiable resource offers guidance and materials to aid those developing multisensory environments - artificially engineered spaces that encourage relaxation, social skills and learning by stimulating the five senses. Particularly useful for those working with people with multiple disabilities, this resource explains the theory underlying multisensory environments, describes the different types, and outlines the practicalities of planning, setting up and equipping a multisensory space. The resource also features useful checklists and tools for creating multisensory experiences in both designed and everyday settings, such as the kitchen, bathroom, garden or beach. Multisensory Environments is published using photocopy-friendly lay-flat binding and is an essential tool for any professional working with individuals with multiple disabilities. It is the perfect complement to Sensory Stimulation: Sensory-Focused Activities for People with Physical and Multiple Disabilities.