from the article in
Journal of Dementia Care - Vol 25 No 2 March/April 2017
Spouse carers: the importance of motivation
Family carers are a crucial resource in the care and support of people with dementia, but their motivations for caring can make the difference between success and failure. William Tai discusses his study of support workers' views on the way motivations can change and undermine carers' health
Importance of carers' motivations plays an important role
The experience of caring for a spouse or loved one with dementia is unique
There has been little research exploring the motivations for family care giving in the advanced stages of dementia
Support workers interviewed for this study suggested that family carers start out with 'intrinsic ' motivations – such as 'I care because I love my spouse' and then move to a more 'extrinsic' view eg 'I care because I don't want to be judged by others'
Extrinsic motivations may take over from intrinsic motivations due to the cumulative impact of the condition
The dominating presence of the extrinsic motivations may hinder the prospect of continued caring by family and also due to poorer carer health as an impact of the role
Anticipating and targeting motivations, emphasising and reinforcing any intrinsic ones and through talk based modalities may have a role in the help we offer spouses
these are some resources that carers have found helpful in their journey as a dementia carer.
When someone you know has dementia : practical advice for families and caregivers
Providing practical information and support for people living with, or caring for someone with, dementia.
It also provides insight into what is happening when a person has dementia as well as describing what dementia is, how you can deal with it, and what you can do to keep dementia at bay.

Unlike the many other books that look at this condition purely from the perspective of caregivers, this guide, by one of the world's leading experts, provides insight into what it feels like to have dementia while giving attention to the needs of caregivers and families.
Packed with practical tips for providing what people with Alzheimer's disease or other forms of dementia want and need, this book will go a long way toward helping them stay well and happy as long as possible.




































Confidence to care : a resource for family caregivers providing
Alzheimer's disease or other dementias care at home
... is the essential handbook for the family caregiver offering practical insights to understanding, managing and preventing the behavioral symptoms associated with dementia and Alzheimer's disease.
Touching, personal stories combined with practical and easy-to-access tips and techniques drawn from decades of caregiving experience by internationally-recognized experts will help the family caregiver confidently deal with the most common issues associated with dementia. 'Confidence to Care' includes chapters offering caregiving strategies and recommends other resources for the family caregiver.







































A funny thing happened on the way to the nursing home: a different handbook for carers of dementia patients
This short, funny and sad book is a series of snapshots rather than a handbook as such.
It describes, with a mixture of humour and pathos, some of the experiences of caring for a spouse with dementia, and in so doing imparts practical and useful advice. It is one person's view of how to manage an increasingly common problem, and explains why a sense of humour, and indeed a sense of the ridiculous, are very necessary attributes for surviving the caring process.
The author's methods of managing his wife's difficult behaviour are excellent examples of lateral quick thinking. Dealing with an imagined visit from a duchess at 2 am, or the urgent need to plant a tree in the middle of the dining room floor, requires a good imagination and fast footwork - it contains some useful ideas for dealing with some of the more difficult behaviours associated with the dementia.

One day at a time : sharing life with dementia
by Dorothy Webb
Care partners are the essential ingredient in the life of a person diagnosed with dementia.
They enter this role unexpectedly, untrained and totally unprepared for their own mixture of emotions.
Dorothy shares her insights into learning how to cope, live and laugh as a carer of a person with dementia in order to help family, friends and the community to realise the emotional trauma of the early years as a carer.
Forgetiquette

What to do when someone you love begins to forget. Having a loved one with memory loss is no laughing matter, but a little humour can help.
With her sage advice and trademark irreverence, Joan Sauers helps to relieve the frustration of dealing with dementia sufferers while offering practical advice that will help you help them.
Above all she reminds you that, though it may feel like the loneliest job in the world, you are not alone, a very quick and helpful read!
Mindfulness for carers:
how to manage the demands of caregiving while finding a place for yourself
This book shows how simple mindfulness techniques can help caregivers to manage the stress, anxiety, depression and burnout that too often accompanies the care of people with physical, psychological or emotional needs. The enjoyable mindfulness exercises will help caregivers to regain control and maintain a positive outlook.
Mindfulness : an eight-week plan for finding peace in a frantic world
From one of the leading thinkers on Mindfulness-Based Cognitive Therapy, a pioneering set of simple practices to dissolve anxiety, stress, exhaustion, and unhappiness.In "Mindfulness," Oxford professor Mark Williams and award-winning journalist Dr. Danny Penman reveal the secrets to living a happier and less anxious, stressful and exhausting life. Based on the techniques of Mindfulness-Based Cognitive Therapy, the unique program developed by Williams and his colleagues, the book offers simple and straightforward forms of mindfulness meditation that can be done by anyone--and it can take just 10-20 minutes a day for the full benefits to be revealed.
Mindfulness for beginners


On Mindfulness for Beginners, this internationally known scientist, bestselling author, and teacher who brought mindfulness meditation into the mainstream of medicine and society gives you immediate access to a practice that can potentially add years to your life, and will certainly enhance the quality of your moments and your years.
Guided mindfulness meditation
Now with this four-part home training course, Jon Kabat-Zinn offers listeners the definitive mindfulness meditation practice on CD. We are not trying to actively achieve a state of deep relaxation—or any other state for that matter—while practicing mindfulness, he teaches. But interestingly, by opening to an awareness of how things actually are in the present moment, we often taste very deep states of relaxation and well-being of both body and mind.
The Mindful way workbook : an 8-week program to free yourself from depression and emotional distress
by John Teasdale, Mark Williams, and Zindel Segal
Mindfulness-based cognitive therapy (MBCT), has been tested and proven effective in clinical trials throughout the world. You can get the benefits of MBCT any time, any place, by working through this carefully constructed book. The expert authors introduce specific mindfulness practices to try each week, plus reflection questions, tools for keeping track of progress, and helpful comments from others going through the program. Guided meditations are provided on the accompanying MP3 CD and are also available as audio downloads.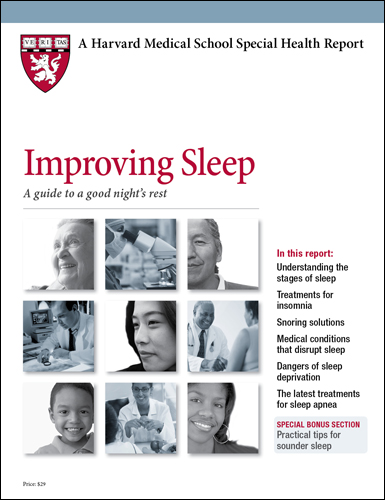 Improving sleep : a guide to a good night's rest
Do you have trouble falling asleep? Trouble staying asleep?
Remember when you could fall asleep as soon as your head hit the pillow and not wake up until the alarm went off?
This report from
Harvard Medical School
that explains why sleep often eludes us as adults. You'll read about those habits and conditions that rob us of peaceful slumber. And most importantly, you'll learn what you can do to again enjoy the satisfaction of a restful night's sleep.
You learn not only what triggers insomnia but also how new techniques and therapies are helping men and women get to sleep more quickly — without the use of medications. You'll read about the benefits of "strategic naps." You'll discover how to make your sleep surroundings more conducive to rest. And you'll be told about seven things you should do — and not do — before going to bed.
The Mayo Clinic handbook for happiness : a 4-step plan for resilient living
Discover 4 simple steps to live a resilient, joy-filled life.
The Mayo Clinic Handbook is like a treasure map that leads you step-by-step along a clearly marked path to an incalculable reward. Your reward is not a diamond mine, not a pirate's booty, but something far more valuable — a lifetime of joy and contentment.
... offers a straightforward plan anyone can implement across 10 weeks.
four-step self-help process is a joy to undertake and offers you wonderful rewards:
•In Step One, you'll learn how to better regulate what you think and perceive. This step is actually so enjoyable, it to "adding chocolate powder to your glass of milk."
•Step Two is truly powerful. It will "enhance your inner strength by making you emotionally resilient and happier."
•Step Three produces results that users say range from "momentary calm" to "ecstatic bliss."
•Step Four is designed to "help you decrease your stress and increase the energy available to you each day."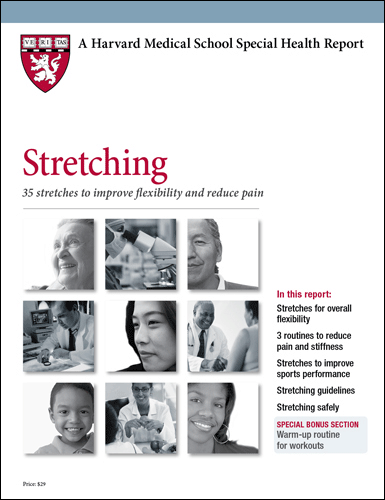 Stretching : 35 stretches to improve flexibility and reduce pain
Stretching is an excellent thing you can do for your health. These simple, yet effective moves can help you limber up for sports, improve your balance and prevent falls, increase your flexibility, and even help relieve arthritis, back, and knee pain.
Inside the Stretching Special Health Report, you'll find color photos and instructions for how to do 35 stretches, including:
•10 moves to improve flexibility and ease tight muscles
•9 stretches that help ease aching backs
•8 ways to loosen up stiff, sore knees
•The best stretches to improve posture and ease neck and shoulder pain
•Tips to help you customize any routine to make it easier or more challenging
•5 stretches that target key leg and upper body muscles vital for walking, running, and reaching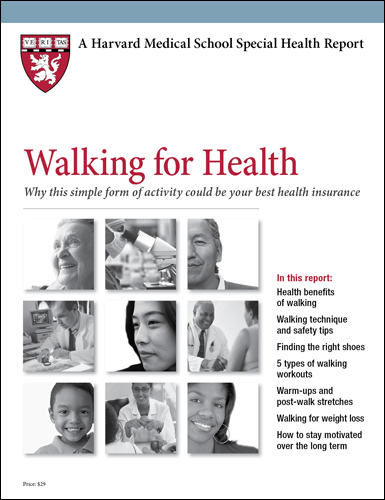 Walking for health : why this simple form of activity could be your best health insurance
Harvard Medical school...
In this report:
*Health benefits of walking
*Walking technique and safety tips *Finding the right shoes
*5 types of walking workouts
*Warm-ups and post-walk stretches *Walking for weight loss
*How to stay motivated over the long term