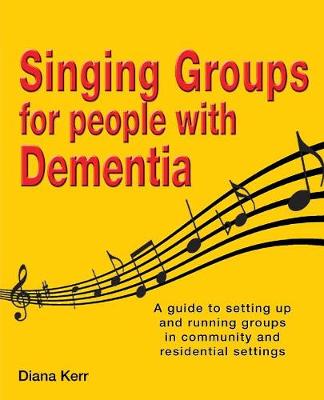 Singing Groups for People with Dementia : A Guide to Setting Up and Running Groups in Community and Residential Settings
everything you need to know about setting up and running these includes;
Chapter One: What is so good about music? 3
Chapter Two: What is so good about music for people with dementia? 7
Chapter Three: What do you need to know about dementia? 11
Chapter Four: Preparing yourself 21
Chapter Five: Preparing others 22
Chapter Six: Roles of people involved 29
Chapter Seven: Identifying a suitable venue 33
Chapter Eight: Fundraising 36
and much much more ...
Alive inside: A story of music & memory [DVD]
Alive Inside is a joyous cinematic exploration of music's capacity to reawaken our souls and uncover the deepest parts of our humanity. Filmmaker Michael Rossato-Bennett chronicles the astonishing experiences of individuals around the country who have been revitalized and awakened by the simple act of listening to the music of their youth.
and to get you started try these 10 cds...
Music & memories of the 20th Century
10 CDs in a folder compiled and narrated by John Hyde, Radio Blue Skies.
The greatest songs, stories, social, sporting and historical events of the century

.
and


The accumulative effects of music therapy on dementia‐related speech deficits in a sub‐acute hospital setting : PhD thesis
Loretta Quinn
Single blinded randomised control trial was conducted to determine the accumulative effects of Music Therapy on dementia-related speech deficits. The hypotheses to be tested whether a programme of MT will result in greater improvement in dementia-related spontaneous speech deficits (in particular naming), than a programme of DT and 2) whether a programme of either MT or DT will result in a reduction in dementia-related spontaneous speech deficits (in particular naming) compared to a non intervention (control) group.
Among my souvenirs : therapeutic songs for people with dementia [CD]
and
As time goes by -- and the band played on -- click go the shears -- good night Irene -- interactive dialogue -- the happy wanderer -- heart of my heart -- he's got the whole world in his hands -- I belong to Glasgow – Let me call you sweetheart -- Michael row the boat ashore -- moonlight bay -- my blue heaven -- Pokare Kare Ana -- School days -- sweet Rosie O"Grady -- Till the boys come home -- when you were sweet 16 -- the yellow rose of texas -- how great thou art – thank you and farwell
Beautiful dreamer -- the bells are ringing -- cockles and mussels -- Danny boy -- Don't dilly dally on the way -- Galway Bay -- Home on the range -- I do like to be beside the seaside -- Lily of Laguna -- Ma he's making eyes at me -- my Bonnie lies over the ocean -- my grandfather clock -- now is the hour -- oh what a beautiful morning -- oh you beautiful doll -- pack up your troubles -- there's a tavern in the town -- waiting at the church -- you made me love you -- onward Christian soldiers
The effects of singing in a choir compared with participating in a reminiscence group on reducing depression in people with dementia - thesis
Carers of people with dementia are known to suffer stress and may be helped by psycho-educational interventions. This study investigates one model of intervention, comprising a structured package of six session of training focusing upon education, stress management and problem behaviour management in a group setting.