A collector's year
This book started out as a weekly column for the Hobart Mercury.
It is structured by month, so, for example, the author uses April to write about collecting material related to war.
In December he talks about collecting Christmas related things.
It blends personal tastes, observations and reflections with tips for picking things up on Ebay, garage sales and antique shops.
It often includes details about how much some things are worth, what it means to be a collector as opposed to a hoarder, how to organize and display your things and so on."
Read a Bit! Talk a Bit! Cake
Read a Bit! Talk a Bit! Telephone
Read a Bit! Talk a Bit! Stamps
Read a Bit! Talk a Bit! Money
Read a Bit! Talk a Bit! Scissors
Read a Bit! Talk a Bit! Car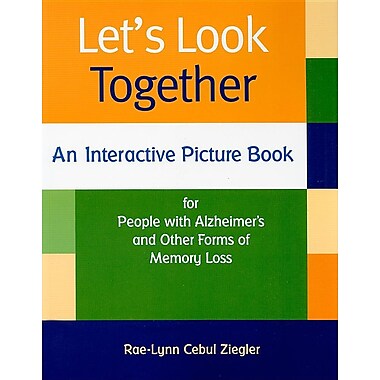 Let's look together : an interactive picture book for people with Alzheimer's and other forms of memory loss
Featuring fun images of children, this picture book for adults is to be shared with a person with memory loss to encourage meaningful emotional connections and conversations through therapeutic brain stimulation.
These are photographs that trigger multiple and varied sensory reactions: visual, auditory, tactile, olfactory, gustatory, and vestibular and proprioceptive (motion and movement).
T
est with people with middle to late Alzheimer's disease, Ziegler's work demonstrates that spending time with an interactive picture book can help keep people with memory loss connected and engaged.
Users of
Let's Look Together
are encouraged to
Relate to the feelings suggested by the photos
Reminisce about situations triggered in the person's memory
Describe what might precede or follow in the photo's action
Tell a story about the child or image
Find pleasure in sharing the book together
Creative connections in dementia care : engaging activities to enhance communication
This how-to manual is packed with guidance to help enhance communication, interactions, task breakdown, and problem-solving efforts while also encouraging the abilities of each participant.
People with dementia enjoy valuable benefits when they actively engage in a creative activity:
•memories can be accessed
•mood and self-esteem are elevated
•a sense of personal identity and achievement is experienced
Personal life history booklet - printable
A person's life represents the accumulation of a wealth of experiences which form their social and life history. Every person's memories are unique to that individual. This booklet has been designed to collect the unique social and life history of an individual with dementia. This life history will help individualise the care of the person with dementia and maintain their identity. It will also help people caring for the individual to know them and develop strong relationships with them.