Purchase price
$3,500

includes the game software and annual support of up to 15 hours, by phone and email. Discounted pricing packages can be arranged for multiple purchases.
IN THIS ISSUE: FEBRUARY/MARCH 2017
Cover story: Creative ways to care
Bethanie Care Group and Agelink Theatre in Western Australia have collaborated on a theatre, music and reminiscence project which culminated in a performance staged by and for people with dementia, in front of an audience of 300. P 11
Staff engagement and upskilling enhances job, care quality
WA's Brightwater Care Group's well-being mapping workplace innovation has shown tangible benefits in terms of job quality and quality of care.
The Alchemy Chorus is Canberra's first community choir for people with dementia and their carers
Addressing isolation through the arts – how to participate
And how to start a choir for people with dementia p 8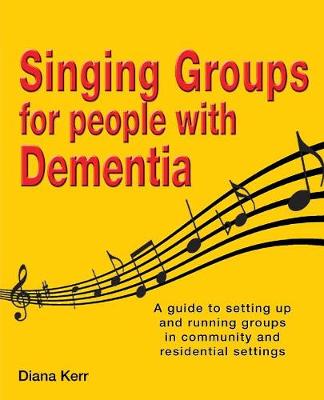 Singing Groups for People with Dementia : A Guide to Setting Up and Running Groups in Community and Residential Settings
everything you need to know about setting up and running these includes;
Chapter One: What is so good about music? 3
Chapter Two: What is so good about music for people with dementia? 7
Chapter Three: What do you need to know about dementia? 11
Chapter Four: Preparing yourself 21
Chapter Five: Preparing others 22
Chapter Six: Roles of people involved 29
Chapter Seven: Identifying a suitable venue 33
Chapter Eight: Fundraising 36
Living in care: an exercise to promote empathy
How an exercise in empathy helped staff gain a better understanding of behaviours that challenge eg imagining you become a resident, how would you respond to an experience this difficult ??? … looks at unmet needs model – Cohen-Mansfield
Using Montessori in community respite
A three-year study is examining the impact of using the Montessori approach in community-based dementia respite care services
Includes the principles and why they are important and how to apply them in a community respite centre and how to introduce and maintain the approach. p 25
CAUSEd: effective problem solving to support well-being
The CAUSEd problem-solving tool is designed to help carers shift focus from seeing behaviours as 'difficult' or 'challenging' and understand how physical and social environments contribute to responsive behaviours
This leads to a systematic approach and responds to unmet needs –also looks at how to put CAUSEd into practice .
A time for change? Rethinking dementia practice in hospitals
Explores the experiences of people with dementia in hospital, and the various approaches used to improve this experience – looks at updating the NSCHS standards - and Delirium clinical care standard - towards improving outcomes includes hospital initiatives eg the cognitive impairment identifier… "caring for cognitive impairment campaign"… and includes resources.
Prescription for Life: an interactive resource for YOD
A new interactive talking book to assist health workers provide meaningful care for younger people living with dementia – this is a great free resource
The story of dementia: Stephen Post and Julian Hughes
John Killick continues his series of articles exploring the history of dementia through the stories of individuals p 6
KT workshops support shift from 'thinking' to 'doing' in dementia care
Knowledge translation (KT) and change management principles can help dementia education workshop participants use what they learn..
DTA has strong linkages to dementia research organisations and consumer groups. This ensures ongoing commitment to timely knowledge translation – with training activities and resources reflecting contemporary best evidence in dementia care, and informed by the needs and preferences of persons living with dementia and their families.
DTA will strive to use best quality research to enhance the quality of care for people living with dementia, and to generate new knowledge about optimal approaches to delivering workforce education.
Plus the latest dementia research news, resources and events
After almost 3 years of development and testing the The Virtual Forest ™
The Virtual Forest™ uses a gaming technology to create a sensory experience, utilising a large interactive screen, and is designed to immerse the user in a peaceful and enjoyable virtual environment for people living with dementia. The Virtual Forest™ creates a beautiful nature setting which is calming as well as engaging and enjoyable.
"It is happy and easy going - I was captured by the forest, so 'beautiful' - It recalled the experience with my family."
The Virtual Forest™ presents an expansive park-like setting, with colourful flowers, trees and a river with a bridge. The seasons can change with a clap of the hands, and animals can appear and move around the scene with a wave of the hands. It is designed to give back some control to people living with dementia – it is their forest, and they can experiment with it and enjoy it. This is a deliberately personal experience, but one that can be shared with carers or other residents.

The Virtual Forest™ uses a

Kinect sensor

to allow users to provide input with nothing more than waving their hands. This means they can use natural, easy motions to control interactive elements in the forest. The Virtual Forest™ has a number of interactive elements for users to interact with.
These are:

Mother duck & ducklings

School of koi fish

Monarch butterfly

Dragonfly

Boat

Season change from autumn to spring
Purchase price
$3,500

includes the game software and annual support of up to 15 hours, by phone and email. Discounted pricing packages can be arranged for multiple purchases.
https://vic.fightdementia.org.au/vic/education-and-consulting/the-virtual-forest