These resources are available for loan to members of AANSW - if you would like to reserve them please email the Library on

nsw.library@alzheimers.org.au

bfn Michelle
memory sharpeners..
.
How to develop a brilliant memory week by week : 50 proven ways to enhance your memory
by Dominic O'Brien
This complete Brain Training Program by eight-times World Memory Champion Dominic O'Brien offers t
ried and tested strategies and tips that will expand your mental capacities at a realistic but impressive rate to make your memory bigger, better and sharper, week-by-week.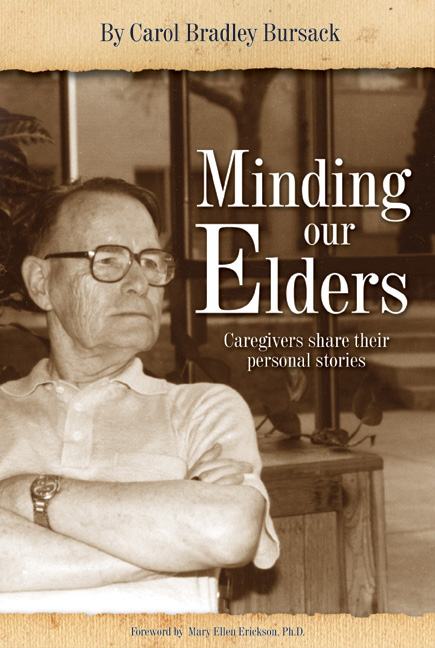 Minding our Elders: Caregivers Share Their Personal Stories
by Carol Bradley Bursack.
(Minding Our Elders" is used as a college text for gerontology and nursing home administration classes as a way to humanize, for students, the family caregiving experience. Bradley Bursack's award-winning Websites, www.mindingourelders.com
and www.mindingoureldersblogs.com
include links to helpful agencies, articles rich with information and comfort, links to chat groups, and resources for caregiver, boomer and senior needs. )
...is a portable s
upport group, a reminder that you aren't alone. Each story about caring for the elderly is self-contained. Each person telling his or her story knows the pain you feel in watching a loved one suffer, the joy of giving of oneself, and the emotional and physical exhaustion of the whole experience. Minding Our Elders is an intimate and powerful resource for caregivers, filled with true stories about seniors and aging parents.
It's the hope of the author that Minding Our Elders will become wrinkled from use and stained by tears. This book can be your own teddy bear to hold on to when the going gets rough. May you also find some shared humor and pass on any comfort you can. There is great need of it.
Whether you are a baby boomer, part of the sandwich generation, a spousal caregiver or any combination of the three, you will find help on this site, and on the Minding Our Elders Blog. Give caregivers you know a copy of this book. It's a way to show that you, too, understand.
Another way to break caregiver isolation is to secure outside help so the primary caregiver can have time for some self-care. There are good agencies in nearly every area of the country that can deliver care to the home. There are also adult day services and other care options.
How to protect your memory & brain health : 8 key strategies
Contents: introduction -- Memory and Your Aging Brain -- #1: Get Regular Exercise—Your Best Memory Booster#2: Protect Your Heart, Protect Your Brain -- #3: Get a Good Night's Sleep—Regularly -- #4: Eat a Diet That Builds Brain Health -- #5: Alcohol—in Moderation—Offers Some Brain Protection -- #6: Be Aware of Medications That Impact Memory -- #7: Keep Your Mind Sharp with Mental Activities -- #8: Eliminate Other Causes of Memory Problems
The memory prescription : Dr. Gary Small's 14-day plan to keep your brain and body young
What did you forget this week? Your car keys? Cell phone? A friend's birthday? Now help is here!
New research, pioneered by Dr. Gary Small, shows that you can improve your memory in just two weeks -- with a diet high in omega-3 fatty acids, combined with exercise, stress reduction, and a 15-minute-a-day program of memory aerobics.
This simple yet effective program is based on years of medical research.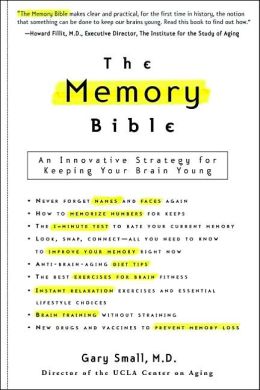 The memory bible: an innovative strategy for keeping your brain young
According to Dr. Gary Small, director of the UCLA Center on Aging, we can easily eliminate memory problems with his innovative memory exercises and brain fitness program.
This program has helped thousands of people improve their ability to remember everyday issues like where the car is parked, as well as the more important ability to think fast and maintain a healthy brain for life
.
When someone you know is living in a dementia care community
Life changes dramatically for the entire family when the decision is made to move a person who has dementia from home to community care. Rachael Wonderlin, a gerontologist, dementia care expert, and popular dementia care blogger, helps caregivers cope with the difficult behaviours, emotions, and anxieties that both they and their loved one may experience.
Writing from her own practice and drawing on the latest research in gerontology and dementia, Wonderlin explains the different kinds of dementia, details the wide range of care communities available for people who have dementia, and speaks empathetically to the worry and guilt many families feel. "Do not let anyone make you feel like you have taken the 'easy way out' by choosing a dementia care community," she writes. "You are still going to deal with a lot of challenging behaviors, concerns, and questions regarding your loved one's care."
the book is an accessible guide offering answers to such questions as:
How do I choose a place for my loved one to live?·

What do I do if my loved one asks about going home?·

How can I improve the quality of my visits?·

What is the best way to handle conflict between residents, or between the resident and staff?·

What do I do if my loved one starts a romantic relationship with another resident?
Remembering well : how memory works and what to do when it doesn't
How does memory change as we grow older and what can we do about it? T
his book discusses how memory works and how factors like hearing loss, stress, fatigue and drugs can affect it; what is part of normal memory change over the years and what is not; how we can manage the changes well.
Use it don't lose it : a mental fitness workbook
This workbook has 31 exercises in categories like Memory, Sketching, Trivia, Spatial Ability, Word Games, and Imagination. Some exercises have specific answers, while other depend on individual opinions or choices. Ideal for mental fitness groups or individual puzzling. Contents: introduction -- proverbs and memory -- imagination and sketching -- partners trivia -- spatial ability -- on the wind word game -- add subtract and multiple numbers -- imagination make a picture -- more trivia memory and the life of the honey bee -- can you read this word game -- pet peeves and brainstorming -- fill in word games -- more numbers -- rainbow and moonbeams word game -- brain teasers and spatial ability -- newspaper and memory -- using percentages -- work squares – palindromes -- names in common – things that bubble and imagination -- aging in place and word finder -- answers and resources
Learn to remember : transform your memory skills
Learn to Remember teaches highly effective memory systems based on imagery and association, as used by eight-times winner of the World Memory Championship, Dominic O'Brien. Puts improved storage, retention and recollection within the reach of all - your memory can be trained to peaks of efficiency that will amaze you. Illustrates a wealth of techniques and shortcuts - easy ways to recapture everything you wish to remember.