These resources are available for loan to members of AANSW - if you would like to reserve them please email the Library on
NSW.Library@alzheimers.org.au
Thankfully, during this past decade, because of technology along with other awareness efforts, caregiver support has exploded with resources and professional help. Still, caregivers long to connect personally with each other and share, on an intimate level, what they've learned. The stories below are examples of that sharing spirit. Caregiving will change your life both positively and negatively, but these caregivers make it clear that you don't have to go through it alone.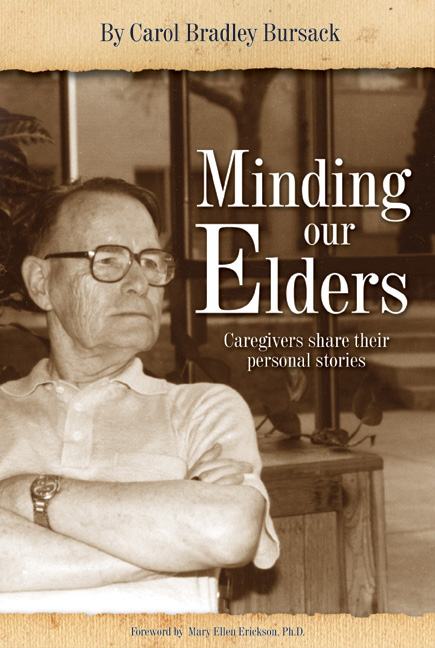 Minding our Elders: Caregivers Share Their Personal Stories
This book is a portable support group
, a reminder that you aren't alone. Minding Our Elders is an intimate and powerful resource for caregivers, filled with true stories about seniors and aging parents.
This book can be your own teddy bear to hold on to when the going gets rough.
May you also find some shared humour and pass on any comfort you can. There is great need of it.
Whether you are a baby boomer, part of the sandwich generation, a spousal caregiver or any combination of the three, you will find help on this site, and on the Minding Our Elders Blog. Give caregivers you know a copy of this book. It's a way to show that you, too, understand.
Another way to break caregiver isolation is to secure outside help so the primary caregiver can have time for some self-care. There are good agencies in nearly every area of the country that can deliver care to the home. There are also adult day services and other care options
A loving approach to dementia care : making meaningful connections with the person who has Alzheimer's disease or other dementia or memory loss by Laura Wayman
Laura Wayman's program of care emphasizes communication, affirmative response, and empowerment—transforming the caregiving process from a burden into a fulfilling journey. Her true stories of caregiving illustrate the principles of this loving approach, giving readers essential tools for connecting with people who have dementia.
In addition to offering valuable lessons on how to provide the best possible care, Wayman urges caregivers not to neglect themselves: take care of yourself so you will have physical and mental energy to share with your loved one. The practical tips included here will help you balance your own needs with those of your loved one, creating a more positive experience for you both.
A Loving Approach to Dementia Care is a special guide, filled with respect, calmness, creativity—and love
My Bonnie : how dementia stole the love of my life
For three years John personally cared for his beloved wife, keeping her condition secret from all but family and close friends. But in the middle of September this year, over 26 years after his life with Bonnie began, John made the agonising decision to move his wife to a full-time care home.
Written in passionate and vivid prose, that captures both the warmth of the good times and the utter despair of the bad times, John weaves together a series of moving and heartfelt stories. In this combination of present day descriptions of life with Bonnie, as her carer, and memories of the romantic years they shared together...
And still the music plays : stories of people with dementia
... by using 22 stories, the author draws on his memories of people with dementia he has met to bring the reader a greater understanding of the condition and why some people behave in the way they do and how to work with that to solve difficult behaviours. The central theme is that everyone with dementia is unique, with a distinctive personality and experiences, and it is only by thinking deeply about each person individually that we can respond to their unique needs and give the best care possible.
To Love What Is

This memoir is a love story. It is inspirational, engaging and intimate. The writer shares the tumultuous events in her marriage which result when her husband, who has early signs of dementia, suffers severe brain damage after a fall.

The author openly shares her innermost feelings and struggles... but this is countered by a sense of striving to truly live fully as a couple and as individuals. They are forced by the unfolding new reality of "what is" to redefine their relationship.

The title conveys the strength of her determination – at first with her husband's needs being paramount and then, finding a precarious balance, as she rediscovers her own life.

Slow dancing with a stranger : lost and found in the age of Alzheimer's

A New York Times Bestseller
Emmy-award winning broadcast journalist ...Slow Dancing With a Stranger is a profoundly personal, unflinching account of her husband's battle with Alzheimer's disease that serves as a much-needed wake-up call to better understand and address a progressive affliction.

When Meryl Comer's husband Harvey was diagnosed with early onset Alzheimer's disease in 1996, she watched as the man who headed hematology and oncology research at the National Institutes of Health started to misplace important documents and forget clinical details that had once been cataloged encyclopedically in his mind.
Green vanilla tea
When Marie Williams' husband Dominic started buying banana Paddle Pops by the boxful it was out of character for a man who was fit and health conscious. Dominic, Marie and their two sons had migrated to Australia to have a life where they shared more family time -- when gradually Dominic's behaviour became more and more unpredictable. It took nearly four years before there was a diagnosis of early onset dementia coupled with motor neurone disease. Marie began to write, as she says, as a refuge from the chaos and as a way to make sense of her changing world. Her book, Green Vanilla Tea, has just been named winner of the Finch Memoir Prize.