These resources are available for loan to members of AANSW - if you would like to reserve them please email the Library on
nsw.library@alzheimers.org.au
The handbook of Alzheimer's disease and other dementias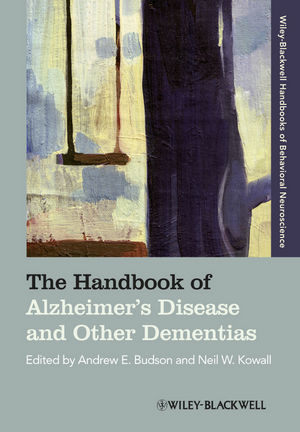 The reference is a broad-ranging review of Alzheimer's disease and other dementias from both basic and clinical neuroscience perspectives; it provides scientists and medical professionals with an extensive introduction and an up-to-date review of cutting-edge scientific advances.
Brings the reader up-to-date with cutting-edge developments in this exciting and fast-paced field
Summarizes the most recent developments in the fields of Alzheimer's disease and dementia
Brings together articles from a prominent and international group of contributors
Encompasses a unique range of topics, combining basic molecular perspectives and cognitive neurosciences
Contents

--

Part I Common Dementias 1
3 Dementia with Lewy Bodies 131
4 Frontotemporal Dementia 145
Part II Pathogenesis and Disease Mechanisms 195
6 Genetic Risk Factors for Dementia 197
7 The Neuropathology of the Dementing Disorders 235
8 Amyloid Beta Peptide and the Amyloid Cascade Hypothesis 262
9 Other Mechanisms of Neurodegeneration 277
10 Rational Therapeutics for Alzheimer's Disease and Other Dementias 301
Part III Cognitive and Behavioral Dysfunction 313
11 Memory Dysfunction in Dementia 315
12 Language Processing in Dementia 336
13 Executive Functioning 369
14 Emotion and Behavior in Alzheimer's Disease and Other Dementias 416
15 Visuospatial Function in Alzheimer's Disease and Related Disorders 457
16 Sleep and Circadian Rhythms in Dementia 483
Part IV Neuroimaging in Dementia 505
17 Glimpses of the Living Brain with Alzheimer's Disease 507
18 Functional MRI in Alzheimer's Disease and Other Dementias 535
19 Molecular Neuroimaging of the Dementias 557
20 Using EEG and MEG to Understand Brain Physiology in Alzheimer's Disease and Related Dementias 575
Positive Psychology Approaches to Dementia
Contents:
Foreword by Christine Bryden.

Ageing, Health and Positive Psychology.

A Positive Psychology Approach to Dementia

Wellbeing in Dementia

Hope and Dementia.

Humour and Dementia.

Resilience and Living Well with Dementia

Creativity and Dementia. John Killick.

Spirituality and Wisdom.

Positive Psychology and Relational Dementia Care: Creating an 'Enriched Environment'.

Positive Experiences in Dementia Caregiving.

the book focuses on a set of character strengths that contribute to human flourishing, but it has never been applied to deeply forgetful people. Herein we find chapters that for the first time carefully examine the experience of dementia with regard to well-being, hope, humor, creativity, resilience, spirituality and wisdom.

People with dementia really do draw on these strengths as they navigate their predicament, and they do so surprisingly deep into their illness.

Building on the tradition of Tom Kitwood, Steven Sabat, and myself, this book shows us with unmistakable clarity and good science that there is a deeper and more hopeful way of looking at the person underneath dementia that we often miss. This book is a work of genius.

All who care about the dignity of deeply forgetful people should read with excitement! I can assure the reader that this is a bold, necessary and compelling new pathway for future research and for sensitive caring. Bravo on a well-researched field-creating book! -- Stephen G. Post, PhD, Author of The Moral Challenge of Alzheimer Disease and Founding Director of the Center for Medical Humanities, Compassionate Care, and Bioethics, Stony Brook University School of Medicine Whilst not underestimating the challenges dementia throws at the individual, this book highlights the crucial benefits of positive approaches in helping us to face those very challenges, as opposed to the medical view which is often very negative. -- Wendy Mitchell, living with dementia and blogger at Which Me Am I Today.
Person-centred dementia care : making services better with the VIPS framework
What is person-centred dementia care, and how can it be used to improve care for people from diagnosis to end of life? How can we improve services in people's own homes, in care homes, in supported housing and in hospitals? This substantially updated second edition considers recent developments in person-centred care, presenting refreshed guidelines for practice.

Dawn Brooker and Isabelle Latham explain the evolution of the key principles of person-centred care that comprise the VIPS model. They describe how it has been applied in diverse service settings, and show how to put the model into practice. A new chapter dedicated to culture of care will help service managers to get to grips with this slippery concept, and includes important information on how to guard against neglectful practice. Case studies from the CHOICE programme, a research project on culture of care, demonstrate the key factors that are important for people living with advanced dementia and complex needs to live well.
The best friends approach to dementia care
Successfully implement this relationship-centered approach to dementia care that builds on the essential elements of friendship—respect, empathy, support, trust, and humor.

For decades the acclaimed Best Friends™ approach has been widely recognized for helping people with Alzheimer's and other dementias experience meaningful engagement and dignity in all aspects of their lives. In this completely revised and expanded second edition, care partners learn how to apply the core principles of the approach through practical tips and instructive examples of Best Friends in action. An all-new section also provides a roadmap for creating and sustaining a Best Friends program.

Become familiar with:
•The building blocks of the approach, including the Dementia Bill of Rights and the concept of relationship-centered care
•The core tenets of Best Friends: the Life Story, skilled communication, and caregiving Knack
•New approaches to minimizing challenging behaviors and to creating activities that produce true engagement
•How to use Best Friends in a variety of care settings
•Effective ways to involve families and volunteers
•An approach that's embraced around the world!

Make each day reassuring, enjoyable, and secure for the people in your care with this simple, compassionate approach to dementia care.
When someone you know has dementia : practical advice for families and caregivers
Forward by Dame Judi Dench is an award-winning is an English actress and author. Her role as Iris Murdoch in the film Iris (2001) won critical acclaim for her moving portrayal of the writer's journey into dementia. Dame Judi is a patron of the Alzheimer's Society and an ambassador for those who help people with Alzheimer's and Dementia.

Providing practical information and support for people living with, or caring for someone with, dementia. It also provides insight into what is happening when a person has dementia as well as describing what dementia is, how you can deal with it, and what you can do to keep dementia at bay.
Around the world, almost 50 million people have dementia, and hundreds of millions of people are affected by dementia in their family and community. Unlike the many other books that look at this condition purely from the perspective of caregivers, this guide, by one of the world's leading experts, provides insight into what it feels like to have dementia while giving attention to the needs of caregivers and families. Packed with practical tips for providing what people with Alzheimer's disease or other forms of dementia want and need, this book will go a long way toward helping them stay well and happy as long as possible.
Iris DVD
for more Judi Dench
Based on the book Elegy for Iris by John Bayley, this movie tells the true story of English novelist Iris Murdoch's descent into Alzheimer's disease and the unconditional love of Bayley, her partner of 40 years. Jim Broadbent won an Academy Award and a Golden Globe for Best Supporting Actor for his portrayal of Bayley in his later years; Judi Dench and Kate Winslet received both Academy Award and Golden Globe nominations for Best Actress and Best Supporting Actress, respectively, for their portrayal of Murdoch in her older and younger years.
These resources are available for loan to members of AANSW - if you would like to reserve them please email the Library on
nsw.library@alzheimers.org.au