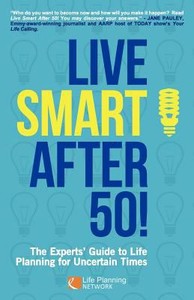 Live smart after 50! : the experts' guide for life planning in uncertain times
... offers friendly, focused, forward-thinking and action-oriented help with the challenges of aging in the 21st century. Rich in practical experience and wisdom, self-exploration exercises, and diverse resources, it's a companionable guide for planning and preparing for the second half of life.

In a unique collaboration, thirty-three of the nation's top experts in life planning and positive aging distill the most critical issues.
From finding work, community, creativity, purpose and legacy to financing your dreams, making sure your voice is heard, anticipating the challenges of aging, and living with purpose and vitality, LIVE SMART AFTER 50! will help you get the big picture, identify and reduce risks, expand choices, and prepare to take advantage of - rather than fear - the future.
The Mayo Clinic handbook for happiness : a 4-step plan for resilient living
Discover 4 simple steps to live a resilient, joy-filled life.

... offers a straightforward plan anyone can implement across 10 weeks.
four-step self-help process is a joy to undertake and offers you wonderful rewards:
•In Step One, you'll learn how to better regulate what you think and perceive. This step is actually so enjoyable, it to "adding chocolate powder to your glass of milk."

•Step Two is truly powerful. It will "
enhance your inner strength by making you emotionally resilient and happier."
•Step Three produces results that users say range from "momentary calm" to "ecstatic bliss."

•Step Four is designed to "help you decrease your stress and increase the energy available to you each day."
The new 3 minute meditator
by David Harp
The New 3 Minute Meditator provides you 30 simple ways to unwind your mind anywhere and anytime. It expounds on ways of integrating the use of meditation into real-life situation. The book deals with six specific problem areas: tension, anger, self-acceptance, fears, phobias, loss, grief, and feelings of loneliness and emptiness.
Spiddal road
Annie Quinn made a promise to her mother, Kate. "If, God forbid, you should ever suffer from Alzheimer's, I will return, from whatever corner of the world I'm in, and I will take care of you."
The rights of the children, both moral and legal, of a parent who suffers Alzheimer's, are tested when Annie's returns to Dublin and opens a can of worms. Annie had no idea that the promise to her mother would reach the Four Courts in Dublin, and subsequently tear her family apart. There are no winners in this riveting story of deceit, deprivation, humanity and courage.