Louise Hallinan author of Smart Brain, Healthy Brain wins another award - received a "Highly Commended" for "Practitioner of the Year" Award
These resources are available for loan to members of AANSW - if you would like to reserve them please email the Library on
nsw.library@alzheimers.org.au


This resource is available for loan to members of AANSW - if you would like to reserve them please email the Library on
nsw.library@alzheimers.org.au
Smart brain, healthy brain
by Louise Hallinan
Contents: Step1 identifying the causes of memory problems -- medical – lifestyle -- step 2 -- avoid foods -- you are what you eat -- step 3 -- let's do some testing -- step 4 -- prevention -- vitamins -- food and supplements for the brain -- give your brain a workout -- homeopathy -- step 5 -- lifestyle -- smart brain life style -- where to from here -- endnotes -- about the author
other awards:
Announcing the 2015 Living Now Book Awards Results -& Amazon.com has selected "Smart Brain, Healthy Brain" as one of the "BEST BOOKS OF THE MONTH" !!!
Health / Wellness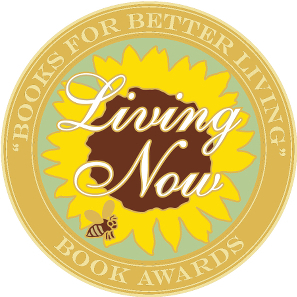 The amazing results of Louise's studies have been compacted into this 5 Step Guide that will enable you to improve your overall brain health and also address those occasional memory lapses that may occur in yourself or loved ones.
Based on nine years of research, Smart Brain, Healthy Brain is packed with practical, easy to follow information.
The knowledge imparted in Smart Brain, Healthy Brain will help
anyone wanting to improve their brain health

anyone who may be concerned about their memory or that of a loved one who has become a little forgetful.
Unfortunately, memory problems are on the rise. The best thing you can do for yourself is to stay 5 Steps ahead!
Prevention is the key to a Smart Brain, Healthy Brain.
Recognizing the Year's Best Books for Better Living!!!
Experts at the Mayo Clinic survey the most important and popular therapies, remedies, procedures and practices of natural medicine, delivering you the facts, based on clinical experience and current research and testing. From acupuncture to yoga, Echinacea to St. John's wort, and meditation to healing touch, Mayo Clinic provides answers to the most pressing questions people have about the effectiveness of complementary and alternative medicine, and when it's appropriate to use natural remedies in place of or in conjunction with traditional medicine. This guide also offers practical advice for treating common ailments and incorporating alternative treatments into your and your family's life. The book covers areas as diverse as simple products that can be worked into your daily menus (i.e. drinking green tea), to more specific natural practices like massage therapy and traditional Chinese medicine that can help address a specific health condition or improve your quality of life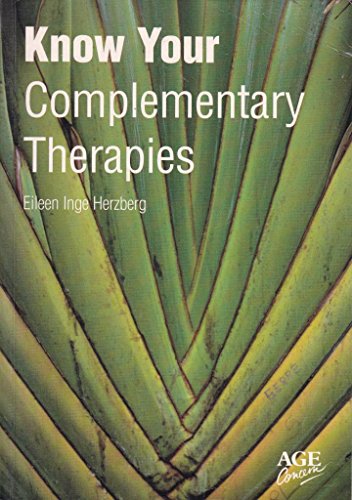 Know your complementary therapies
People who practise natural medicine have many different ideas and philosophies, but they all share a common basic belief: that we can all heal ourselves – we just need a little help from time to time.
Written in clear, jargon-free language, the book covers an introduction to complementary therapies, including acupuncture, herbal medicine, aromatherapy, spiritual healing, homeopathy and osteopathy. Uniquely focusing on complementary therapies and older people, the book helps readers to decide which therapies are best suited to their needs, and where to go for help.
Complementary and alternative medicine : an evidence-based approach
This popular, evidence-based overview of complementary and alternative medicine (CAM) emphasizes clinical research, analyzes the effectiveness of each therapy, and presents practical information on how these therapies can be used to treat health conditions and diseases. It not only acquaints the reader with information about CAM, but provides evidence for the effectiveness of various therapies used to treat medical conditions ranging from allergies to psychiatric conditions in all populations relevant to CAM including children, women and the elderly. Summary tables embedded throughout highlight clinical data, statistics, and major research findings. More thorough documentation in this edition is achieved through new tables and added commentary on the quality of studies, making research findings more relevant and useful.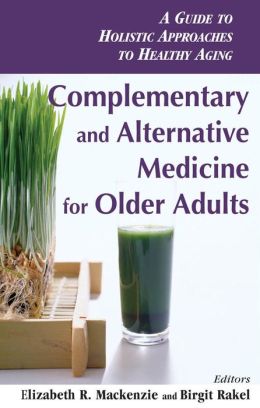 Complementary and alternative medicine for older adults :a guide to holistic approaches to healthy aging
The field of Complementary and Alternative Medicine (CAM) is expected to grow tremendously in the next few years. In addition to an increase by the general population, the baby-boomer generation, many of which have utilized CAM in their younger years, is also quickly entering retirement and thus is foreseen to utilize CAM increasingly as it ages. Although CAM research as applied to aging is just beginning and health professionals receive no special training in CAM and aging, the United States population still continues to employ it. For diagnoses that accompany aging such as cancer, neurological diseases, psychiatric disorders, and physical disabilities, CAM has been noted to be used in addition to or in place of unsuccessful conventional methods of treatment. This new and up-to-the-minute compendium of reliable and authoritative information on complementary and alternative therapies seeks to provide information that older adults may use as they seek to improve their health and quality of life. Covering dietary means; physical, mental, and spiritual methods of treatment; and various types of therapies, this handbook is the most comprehensive and up-to-date resource on complementary and alternative medicine available today.
Each chapter or article includes:
Brief definition of modality
Anecdotal reports of usefulness
Discussion of scientific evidence for and against modality
List of resources that reader can use to find further information
How I rescued my brain
As a forensic psychologist, David Roland often saw the toughest, most heartbreaking cases. The emotional trauma had begun to take its toll and then the global financial crisis hit, leaving his family facing financial ruin. When he found himself in an emergency ward with little idea of how he got there, doctors wondered if he had had a nervous breakdown. Eventually they discovered the truth: David had suffered a stroke, which had resulted in brain injury. He faced two choices: give up or get his brain working again. Drawing on the principles of neuroplasticity, David set about re-wiring his brain. He embarked on a search that brought him into contact with doctors, neuroscientists, yoga teaches. Musicians, and a Buddhist nun, and found the tools to restore his sense of self: psychotherapy, swimming, music, mindfulness, and meditation. This is the story of David's neurological difficulties and of his remarkable cognitive recovery. It is also an account of a journey to emotional health. How I Rescued My Brain is an amazing tale of one man's resilience, and his determination to overcome one of the most frightening situations imaginable -- the fear that he had lost his mind and might not get it back.

Clean Gut
Clean Program, delivers a complete toolkit for reversing disease and sustaining life-long health.
Digestion begins in the mouth but it doesn't stop there. Digestion is actually a long process through the body involving many factors. If something is amiss in your digestive tract, it can have far-reaching negative effects in the body and the mind. If digestion effecting the mind surprises you, consider this: A large percentage of serotonin is actually produced in our guts, or what is commonly referred to as our "second brains." So when your gut isn't functioning properly and serotonin isn't being produced, or it isn't reaching the "first brain" in your head, depression, seasonal-affective disorder, mood swings, lowered immunity, and nerve issues are quick to follow.
Toxic foods and chemicals are not the only causes of gut damage. Toxic thoughts can cause trouble, too. Stress has a major effect on your health overall, and it can really do a number on your gut. You may notice changes in your digestion or elimination when you're stressed, and this is just the tip of the iceberg. Chronic stress may lead to larger gut problems like IBS, GERD or ulcers. Some studies have shown that stress slows digestion and elimination, encourages overgrowth of bad bacteria, and even compromises the intestinal barrier – making it difficult to properly absorb foods and keep foreign invaders out – and can make you more susceptible to illness and disease by weakening the immune system