How To Get People With Dementia To Take Pills
One particular frustration is getting important medications into their loved ones who either can't or won't cooperate when it comes to taking pills.





The ability to understand one's world disappears, understandably being replaced by fear and suspicion.

To complicate issues, loss of appetite is common. Disliking once favored food is also common. Swallowing can be a problem, as well as stubbornness about taking pills.
Therefore tricks become the norm in the quest to sneak pills into a loved one's food, often with limited success. Sweet treats are often the chosen method since people with dementia seem to like sweets, but this method often fails when medication is added. Why?



Teepa Snow, an acclaimed dementia-care education specialist, reminds us that the sense of taste changes with the progress of the disease.

Unfortunately, the ability to detect bitterness remains strong. This is one reason why it becomes more difficult to sneak medications into food. The other reason is that people with the disease can still detect texture.

Apple sauce and pudding are two foods that caregivers instinctively go to for as carriers for the needed medications. Apple sauce eventually becomes a failure because it tastes bitter to a person who no longer detects the sweet taste efficiently. Pudding, which is sweeter than apple sauce, also has its issues.





Pudding fails for many people because of the texture problem. It's impossible to crush a pill to such a fine powder that a certain amount of texture isn't present in the pudding. While your loved one probably likes the pudding, he or she may spend time picking – or spitting – out the very thing you are trying to sneak into them. The medication.



What does Snow suggest? Jam. Not jelly, which is smooth, but sweet, lumpy jam. This is, in my opinion, sheer brilliance. It's both sweet and textured. Most people who like sweets will not bulk at a spoonful of their favorite jam. If the pill is one that can be crushed, make it as fine as possible and then add it to a spoon of jam.



Teepa Snow is usually spot on.
DVS from Teepa Snow
The Journey of Dementia
Learn how to make the most of doctor's visits, get proper screenings, and when and if facility placement is the best choice.
Teepa Snow teaches about appropriate levels of care needed during different stages of dementia, which behaviours to expect and how to handle them, how to reduce the risk of falls, and much more..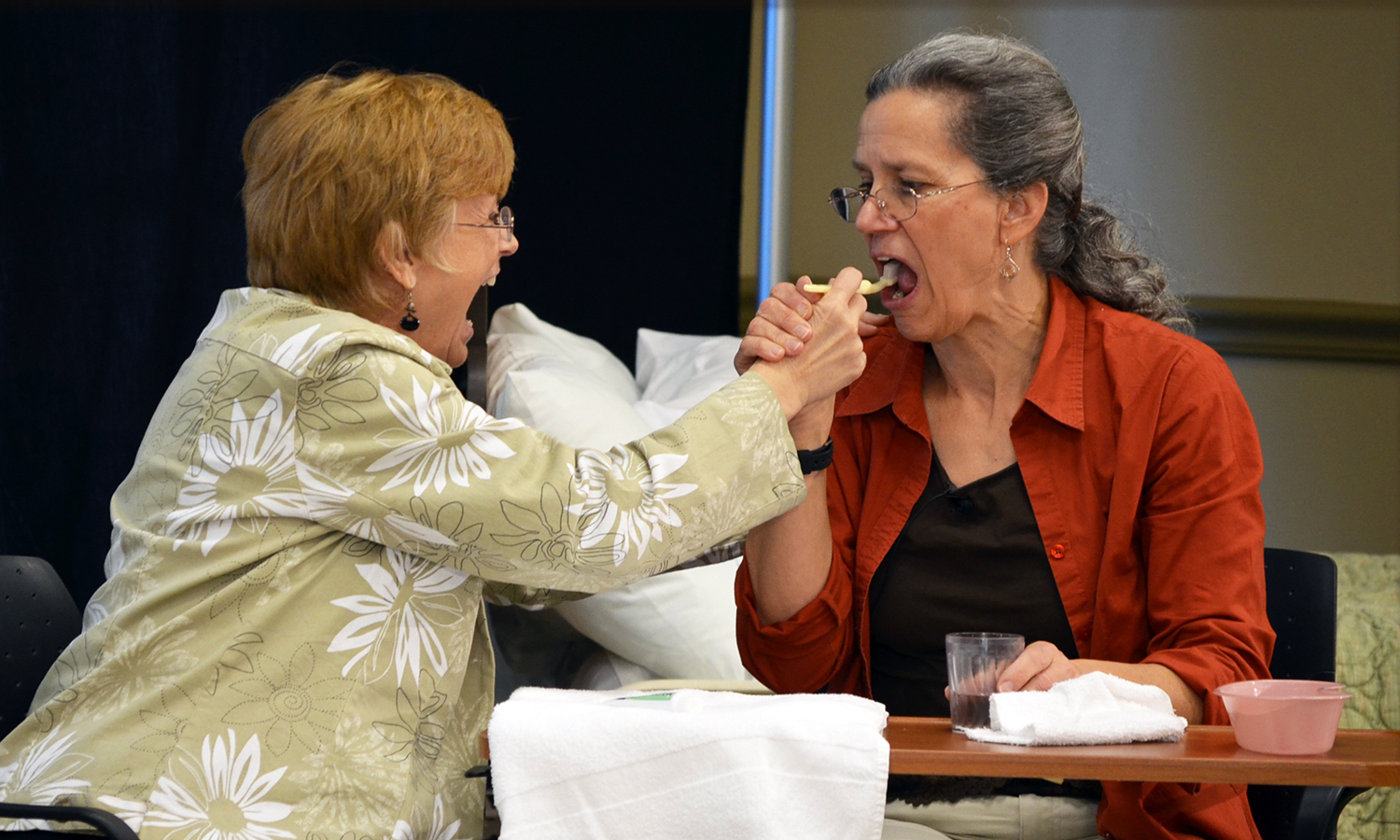 Progression of dementia : seeing gems - not just loss
In "Progression of Dementia" Teepa explains
- how to tell apart different disease stages to better adapt your caregiving techniques
- why patients in later stages can't relax their muscles and how to safely handle them to avoid bruising
- how to reduce the risk of falls
- how to safeguard your relationship with the patient as the disease progresses
- how to reduce unwanted behaviors by controlling the environment and effectively shifting their focus
- about appropriate activities (for an in depth activity program also see "Filling the Day with Meaning")

- 2 hours of tips and techniques from a seasoned caregiving expert
Filling the day with meaning : facilitated by Teepa Snow

- tips, techniques and advice from a seasoned caregiving expert
-

-the difference between simple entertainment and engaging projects that stimulate brain activity

- how to create engaging and affordable activities to give back moments of joy and happiness to patients with special challenges, such as those with younger onset, tendencies for elopement, falls, and more

- how to build care partner skills

- how to create an inviting & safe environment

- which key activities to consider at different disease stages

- how a person with dementia perceives his/her environment and understand unusual behaviors and memory problems

- about key principles of caretaking

- better strategies to offer help when the person with dementia doesn't seem to be aware of any changes or difficulties

- Teepa's "Positive Physical Approach" to decrease the risk of distress

- about commonly occurring behaviors and recommended and preferred responses

- about the cueing sequence of Visual-Verbal-Touch especially important during later stages of the disease

- to improve communication and mutual understanding
and much more

Understanding Frontotemporal Dementias
Frontotemporal Dementias, an umbrella term for a range of disorders affecting the frontal and temporal lobes of the brain, are particularly challenging for families and professional caregivers.

Odd, often impulsive behaviours and a potential loss of language are just a few of the symptoms causing frustration and anxiety.

"They might think they understand Alzheimer's, but this isn't Alzheimer's.
So this training helps people better understand why people with FTDs are doing what they're doing, and more importantly, how we can help instead of getting in the way."

Improving Communications in Dementia Care
After watching this program you will know

- How to partner with a person living with dementia when change is needed

- How to best approach for screening or medical attention

- How to best communicate when there is a need to stop driving

- How to relate so a person is more likely to accept help

- How to help family members near or far recognize symptoms and move past denial of changing needs

- How to communicate and work more effectively with professional and care partners

- How to help friends and neighbours maintain or regain relationships when dementia changes abilities

- Misunderstandings and conflict easily arise when dementia is involved",