email
nsw.library@alzheimers.org.au
to borrow resources
A Creative Toolkit for Communication in Dementia Care

How can carers and relatives support a person's identity, relationships and emotional wellbeing through changes that occur in the later stages of dementia?
... tested creative activities to support communication and relationships. .. a thougth provoking book!!!
Activities for the family caregiver : Vascular dementia : how to engage / how to live
this tiny book

... offers information and insight to enhance quality of life through improved social interactions as well as activities of daily living, safety and general caregiver information.
Learn new communications and activities strategies to improve time spent with your loved one.
Gain new insights as you learn the "how to's," "why's," and techniques of activities - daily living and leisure.
Discover how to turn daily activities and routines into opportunities to start some joy. ...
Activities for the family caregiver : caregiving 101
with this this tiny book

... Let us help you make things a little easier with common sense and proven ideas.
The book offers information and insight to enhance quality of life for family caregivers and their loved ones.
TOPICS COVERED IN THIS BOOK Lewy Body Dementia Overview Family, Friends and the Benefits of Activities Know Your Loved One-Information Gathering and Assessment Communicating and Motivating for Success Customary Routines and Preferences Planning and Executing Activities Leisure Activity Categories - Types, Topics, and Tips Activities of Daily Living - Tips and Suggestions Home Preparation Personal History Form
Mindfulness for carers : how to manage the demands of caregiving while finding a place for yourself
This tiny book

shows how simple mindfulness techniques can help caregivers to manage the stress, anxiety, depression and burnout that too often accompanies the care of people with physical, psychological or emotional needs. The enjoyable mindfulness exercises will help caregivers to regain control and maintain a positive outlook.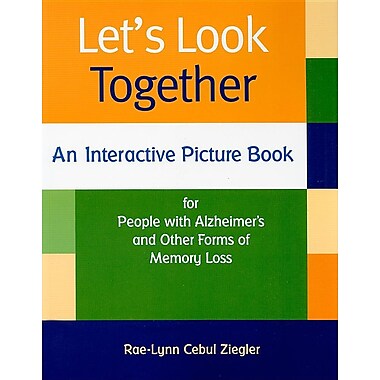 Let's look together : an interactive picture book for people with Alzheimer's and other forms of memory loss
Wake up" someone's brain with every turn of the page in this delightfully engaging resource.
Featuring fun images of children, this picture book for adults is to be shared between a family (or professional) caregiver and a person with memory loss to encourage meaningful emotional connections and conversations through therapeutic brain stimulation.
Users of
Let's Look Together
are encouraged to
Relate to the feelings suggested by the photos
Tell a story about the child or image
Find pleasure in sharing the book together