Barbara's Story : her whole journey
Training guide for staff - DVD and Resources CD + training briefing cards
Abstract
Barbara's Story is a DVD about the experience of a person with dementia in hospital. Produced by older people's specialist at Guy's and St Thomas' hospital in London, it forms part of a package of awareness raising and training that is aimed at the trust's 12,500 staff. By following the journey of an older person with dementia through hospital, it paints a meaningful picture for all staff, even, according to Mala, moving some people to tears as they watch.
Barbara faces many challenges during her stay, including staff failing to recognise when she needs help. However, the interventions of a compassionate nurse ensure that what could be a portrayal of a catalogue of wrongs – of which nurses have heard plenty lately – is in fact a positive illustration of the power of nurses to get care right.
Secretary of state for health Jeremy Hunt has highlighted the film as gold standard practice in raising awareness of dementia among staff and it is hoped that it may be used nationally to support knowledge of dementia.
By following the journey of an older person with dementia through hospital, the film paints a
An evaluation of Barbara€™s story : final report
The initial Barbara's Story film shows the experience of an older woman (Barbara) through her eyes, as she attends a hospital appointment and is admitted for investigations. The film was shown regularly from September 2012 to April 2013 and attendance was mandatory for all Trust staff: a total of 11,054 clinical and non-clinical staff attended. Barbara's Story was also embedded into the corporate induction programme for new Trust staff. At each session, Barbara's Story was shown, along with some group discussion and distribution of Alzheimer's Society resources, Trust safeguarding and dementia and delirium information, and the Trust values and behaviours framework.
Safeguarding team members facilitated a discussion after the film and highlighted key learning points the, DVDs, additional resources and facilitator guides is freely available for both Trust staff and externally and has been distributed widely: nationally and internationally.
Freedom to learn
This is the text that championed a revolutionary approach to education that changed the way we teach. Now, in the Third Edition, it's challenging the status quo with twenty years of evidence that defies current thinking. Five exciting new chapters focus on issues of importance now and in the future--learning from those who love learning; researching person- centered issues in education; developing the administrator's role as a facilitator; building discipline and classroom management with the learner; and person-centered views of transforming education. Freedom to Learn, Third Edition is written in the first person, with two goals in mind--to aid the development of the minds of students, and to encourage the kinds of adventurous enterprises being carried out daily by dedicated, caring teachers in creative classrooms and supportive education.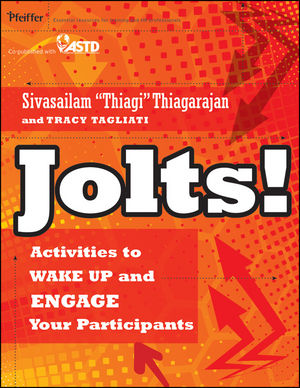 Jolts! : Activities to Wake Up and Engage Your Participants
In Jolts! master trainer Thiagarajan introduces a brand-new set of powerful training activities specially designed to get participants to sit-up, listen, and learn. These interactive experiential games and activities give participants a powerful wake-up call, startling them into re-examining their assumptions and habitual practices, and encouraging self-reflection, problem solving, and fresh perspectives. The activities in Jolts! are interactive and emotionally charged--carefully chosen for their ability to make participants think, and think differently. Written for trainers at all levels and HR professionals"
Understanding brain aging and dementia : a life course approach
The life course method compares an individual's long-life and late-life behaviors to gauge one's mental decay. Arguing the life course approach is the best and simplest model for tracking mental development, Lawrence J. Whalley unlocks the mysteries of brain functionality, illuminating the processes that affect the brain during aging, the causes behind these changes, and effective coping strategies. Whalley identifies the genetic factors that determine the pace of aging and the behaviors, starting in childhood, that influence how we age. Through vignettes, charts, and tables, he composes an accessible book for patients, family members, and caretakers struggling to make sense of a complex experience.
These resources are available for loan to members of AANSW - if you would like to reserve them please email the Library on
nsw.library@alzheimers.org.au
Dementia, culture and ethnicity : issues for all
This book explores the relationship between dementia, culture and ethnicity, looking at the latest evidence and research to determine the impact of diversity on dementia care services. By examining the key issues and providing suggestions for change, this book shows how dementia professionals can provide culturally appropriate care for all.
With contributions from experienced dementia practitioners and care researchers, this book examines the impact of culture and ethnicity on the experience of dementia and on the provision of support and services, both in general terms and in relation to specific minority ethnic communities.
Mindfulness-based elder care : a CAM model for frail elders and their caregivers
Drawing on years of experience as a geriatric social worker and mindfulness-based stress reduction practitioner, the author has taken Jon Kabat-Zinn's Mindfulness-Based Stress Reduction program and adapted it to the particular needs of elders, their families, and professional caregivers. Mindfulness practices focus on abilities, rather than disabilities, in order to provide paths to the inner strengths and resources that we all possess. McBee's Mindfulness-Based Elder Care conveys the benefits of mindfulness through meditation, gentle yoga, massage, aromatherapy, humor, and other creative therapies to this special population. She provides clear, concise instructions for her program, as well as a wealth of anecdotal and experiential exercises, to help readers at all levels of experience. Hers is the first book to fully explore the value of mindfulness models for frail elders and their caregivers. This innovative book is suitable for use with a variety of populations such as nursing home residents with physical and cognitive challenges, community-dwelling elders, direct-care staff, and non-professional caregivers.
Dementia beyond disease : enhancing well-being
Focusing on seven essential domains of well-being, G. Allen Power, challenges readers to evaluate their attitudes, expectations, and approaches and to embrace new ways of thinking that will lead to better solutions to problems encountered in all types of care settings. Learn how to overturn the prevailing disease-based care practices by emphasizing well-being and the many ways it can be enhanced in people with dementia. See how current care practices chronically erode individual well-being and then discover more dignified and strengths-based alternatives that build it up.
Dementia beyond drugs - changing the culture of care
Embracing humanistic, enlightened practices that address all the common challenges in dementia care, this book describes culture change within residential care settings while reducing the administration of psychotropic drugs.
a critical look at medication use

experiencing the institutional model

deeper look at institutionalization

introducing the experiential model

deinstitutionalizing care environments
Bingo and bird funerals : meaning and activity in daily life

Death of the nursing home?

basic interpersonal approaches

language and communication

general advice for anxiety and agitation

""I want to go home"" :

"They're poisoning the food"" : nondrug approaches to paranoia, hallucinations and delusions