* multiple copies of these resources are available for loan to members of AANSW - if you would like to reserve them please email the Library on
nsw.library@alzheimers.org.au
While there is an existing body of research looking into the quality of life and wellbeing of people caring for someone with dementia, there are few resources voicing the thoughts, views, and opinions of people

with dementia and their carers in terms of living well with a diagnosis of dementia. The research identified

issues with the predominant model of assessing quality of life. By adopting the seven domains of wellbeing of Allen Power

1

, the research sought to understand perspectives on wellbeing as described by people with dementia. Power's seven domains of wellbeing are:
Identity

Meaning

Connectedness

Growth

Security

Autonomy

Joy
also to help live well with dementia
Dementia and nutrition in the home

Our research found a high level of concern about the nutrition needs of people with dementia living at home, with 85% of service providers who responded to our survey indicating that this is a concern for them. Nutrition risk and malnutrition in people with dementia is not identified early though and many participants suggested that these issues should be addressed by health professionals before a crisis point is reached. People living alone with dementia are particularly vulnerable and require monitoring to ensure risk of malnutrition is mitigated.
"Because eating is such an 'every day' occurrence its importance is being overlooked, but if you are living with dementia it's often the 'every day' things that matter most. Poor nutrition can lead to much worse outcomes in people with dementia who may, as a result of malnutrition, enter residential care earlier and require longer and more frequent hospital stays."
The benefits of physical activity and exercise for people living with dementia
While people with dementia and their carers have reported several benefits of remaining physically active, it is often difficult to do so.
Declining confidence in their abilities, inappropriately designed residential aged care facilities or risk averse cultures are some of the many barriers people with dementia face.
The paper urges health and aged care providers and governments to act to ensure people with dementia are able to remain physically active as regular exercise and physical activity can help improve things like coordination, balance, functional ability, cognition and create a better sense of wellbeing.
Recommendations in the discussion paper include the Federal Government funding a series of pilot exercise programs in residential aged care and community aged care; mandate private health insurance rebates for gym memberships and exercise physiologist sessions for people with dementia and their carers; and that the Federal and State Governments encourage the delivery of exercise programs for people with dementia by offering funding incentives to aged care providers.
There are also recommendations for aged care providers to put in place exercise programs to improve the social and emotional wellbeing of people with dementia and that they ensure their environments enable mobility and freedom of movement.
An introduction to yoga : improve your strength, balance, flexibility, and well-being
Y
oga may be the antidote for what ails you. And we're not just talking about a single problem like back pain or insomnia. According to research, up to 90% of all doctor visits can be attributed to stress-related complaints. In our always-plugged-in, stressed-out lives, yoga provides the respite to make you feel better—not just physically, but mentally and emotionally, too.
It is arguably the one tool that we have that simultaneously improves strength, balance, and flexibility, while helping to dial back negative selftalk and ruminations as well as stress from deadlines, financial issues, relationship struggles, and other problems.
No pill has the power to improve so many areas of your life at once. Imagine what could happen if you used yoga like you use your toothbrush—for routine self-care, on a daily basis. In contrast to the daily pressures and demands of modern life, yoga gives you an opportunity to step back and simply be present in the moment—and science is discovering a myriad of benefits to doing that. Here are some of the demonstrated ways that yoga can help you:
•
Improved health.
Yoga works on multiple systems of the body at once, so its effects are widespread. Among other things, it can reduce your risk of heart disease and boost your immunity, while easing back pain and helping to conquer stress eating.
•
Greater well-being.
Several studies show that the more frequently you practice yoga, the more you experience positive emotions, along with greater satisfaction in life, joy, energy, improved quality of life, and an enhanced sense of well-being.
•
Savings in health care costs.
According to a 2015 Harvard study in the journal
PLOS One
, when researchers compared medical costs for 4,400 people before and after relaxation training, which included meditation and yoga, they found that people used 43% fewer medical services and reaped estimated savings ranging from $640 to $25,500 per person each year. And yoga is easier to do than you might think. Photographs of advanced yogic practices may intimidate you, with their gravity- defying postures and pretzel-like contortions. However, basic yoga is accessible to almost everyone and can even be done in a chair. In fact, the more physical limitations you have, the more important it may be for you to try yoga, with its many benefits.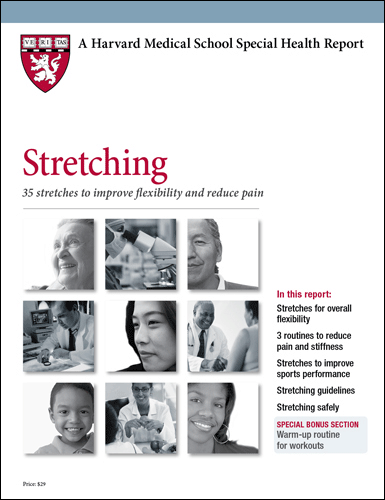 Stretching : 35 stretches to improve flexibility and reduce pain
Stretching is an excellent thing you can do for your health. These simple, yet effective moves can help you limber up for sports, improve your balance and prevent falls, increase your flexibility, and even help relieve arthritis, back, and knee pain.
Whether you're an armchair athlete or a sports enthusiast, this Special Health Report from the experts at Harvard Medical School will show you to create effective stretching routines that meet your needs and ability.
Inside the Stretching Special Health Report, you'll find color photos and instructions for how to do 35 stretches, including:
•10 moves to improve flexibility and ease tight muscles
•9 stretches that help ease aching backs
•8 ways to loosen up stiff, sore knees
•The best stretches to improve posture and ease neck and shoulder pain
•Tips to help you customize any routine to make it easier or more challenging
•5 stretches that target key leg and upper body muscles vital for walking, running, and reaching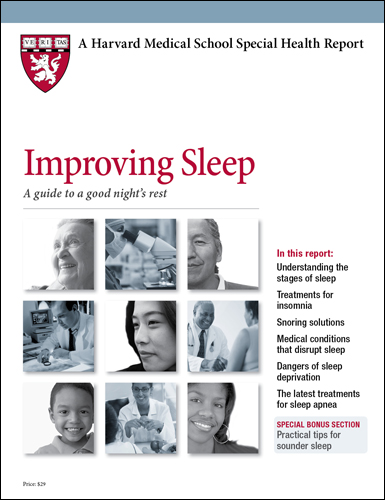 Improving sleep : a guide to a good night's rest
Do you have trouble falling asleep? Trouble staying asleep?
Remember when you could fall asleep as soon as your head hit the pillow and not wake up until the alarm went off?
Do
you or your spouse snore? There are hundreds of devices marketed as aids to stop snoring
. But do any work? The report will sort them out and will brief you on new procedures that are restoring quiet to the bedroom. Have you ever been screened for sleep apnea? The report gives you a six-question test that will help you determine if you need to be tested for this life-threatening condition.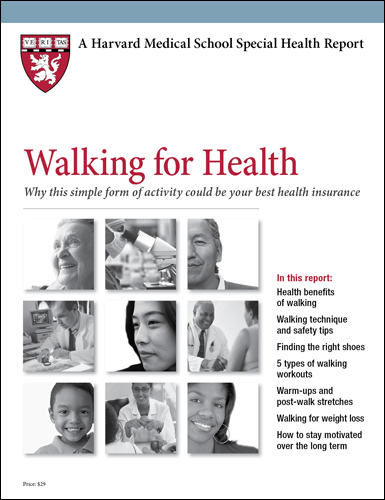 Walking for health : why this simple form of activity could be your best health insurance Harvard Medical school...
In this report:
*Health benefits of walking
*Walking technique and safety tips *Finding the right shoes
*5 types of walking workouts
*Warm-ups and post-walk stretches *Walking for weight loss
*How to stay motivated over the long term
Mindfulness for carers : how to manage the demands of caregiving while finding a place for yourself
by Dr Cheryl Rezek
This book shows how simple mindfulness techniques can help caregivers to manage the stress, anxiety, depression and burnout that too often accompanies the care of people with physical, psychological or emotional needs. The enjoyable mindfulness exercises will help caregivers to regain control and maintain a positive outlook.