Nearing forty, Dr. Wendy Suzuki was at the pinnacle of her career. An award-winning university professor and world-renowned neuroscientist, she had tenure, her own successful research lab, prestigious awards, and international renown.
That's when to celebrate her birthday, she booked an adventure trip that forced her to wake up to a startling reality: despite her professional success, she was overweight, lonely, and tired and knew that her life had to change. Wendy started simply—by going to an exercise class. Eventually, she noticed an improvement in her memory, her energy levels, and her ability to work quickly and move from task to task easily. Not only did Wendy begin to get fit, but she also became sharper, had more energy, and her memory improved. Being a neuroscientist, she wanted to know why.
These resources are available for loan to members of AANSW - if you would like to reserve them please email the Library on
nsw.library@alzheimers.org.au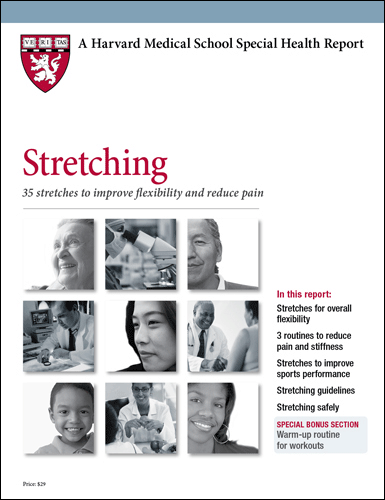 Stretching : 35 stretches to improve flexibility and reduce pain
Stretching is an excellent thing you can do for your health. These simple, yet effective moves can help you limber up for sports, improve your balance and prevent falls, increase your flexibility, and even help relieve arthritis, back, and knee pain.
Whether you're an armchair athlete or a sports enthusiast, this Special Health Report from the experts at Harvard Medical School will show you to create effective stretching routines that meet your needs and ability.
Inside the Stretching Special Health Report, you'll find color photos and instructions for how to do 35 stretches, including:
•10 moves to improve flexibility and ease tight muscles
•9 stretches that help ease aching backs
•8 ways to loosen up stiff, sore knees
•The best stretches to improve posture and ease neck and shoulder pain
•Tips to help you customize any routine to make it easier or more challenging
•5 stretches that target key leg and upper body muscles vital for walking, running, and reaching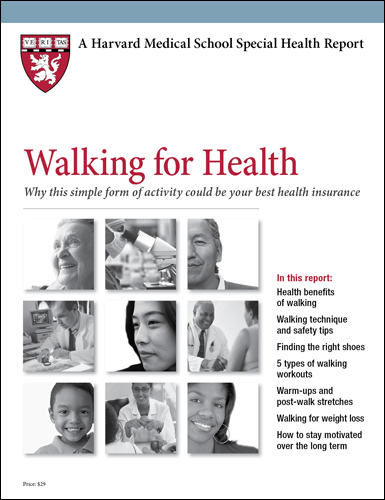 Walking for health : why this simple form of activity could be your best health insurance
Harvard Medical school...
In this report:
*Health benefits of walking
*Walking technique and safety tips *Finding the right shoes
*5 types of walking workouts
*Warm-ups and post-walk stretches *Walking for weight loss
*How to stay motivated over the long term