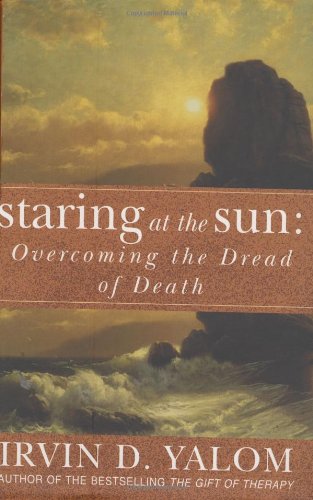 These resources are available for loan to members of AANSW - if you would like to reserve them please email the Library on
nsw.library@alzheimers.org.au
Staring at the sun : overcoming the terror of death
FICTION
The father of "existential psychotherapy" demonstrates that the fear of death can prompt an awakening to life and a realization that our connections to others and our influence on those around us are vital to our growth. Yalom also offers instructions for therapists seeking to help their patients overcome death anxiety
Author Atul Gawande speaks about his book
Being Mortal
"This is much more about dealing with the fact that I have many patients I just wasn't going to be able to fix no matter how perfect we tried to make things," he says. "I hadn't felt like I had become very competent at being able to deal with the unfixable problems, and then this was also significantly compounded by my father, who was also a surgeon, developing a brain tumour in his brain stem and spinal cord".
Gawande turns to his father a lot when talking about
Being Mortal
, his most personal example on his journey of understanding how we can support people in the ends of their lives.
"We have medicalised even the aging experience, we have made it so that the number one goal is your safety and health, and that's a very thin thing to live for, being safe… and it has caused us unexpected tremendous amount of suffering as people enter the last phases of their lives," he says.
For his father, the most important thing was that he be able to still have dinner and conversation with his family at least once a week, so he decided to undergo an invasive nine hour surgery as well as radiation for his tumour, but did not have chemotherapy. Others will have different priorities, and simply prolonging life until the bitter end may not be compatible with the type of life they want.
Counseling people with early-stage Alzheimer's disease : a powerful process of transformation
Robyn Yale
In her new and easy-to-follow protocol, Robyn Yale—an internationally renowned expert on early-stage support groups—explores topics that include identity and self-esteem, resilience, relating to and educating others, stress management, and more. You will come away with an expanded repertoire of specialized skills and support roles—including coach, care planner, mediator, communications specialist, and problem solver—that will dramatically improve your ability to assist people with early dementia to
• work through complex emotions
• tap into useful coping mechanisms
• focus on capabilities
• adapt to practical circumstances in their day-to-day activities
• retain maximum autonomy over lifestyle preferences
• find new ways to move forward with their lives