These resources are available for loan to members of AANSW - if you would like to reserve them please email the Library on
nsw.library@alzheimers.org.au
Stretching : 35 stretches to improve flexibility and reduce pain
Stretching is an excellent thing you can do for your health. These simple, yet effective moves can help you limber up for sports, improve your balance and prevent falls, increase your flexibility, and even help relieve arthritis, back, and knee pain.
Whether you're an armchair athlete or a sports enthusiast, this Special Health Report from the experts at Harvard Medical School will show you to create effective stretching routines that meet your needs and ability.
Inside the Stretching Special Health Report, you'll find color photos and instructions for how to do 35 stretches, including:
•10 moves to improve flexibility and ease tight muscles
•9 stretches that help ease aching backs
•8 ways to loosen up stiff, sore knees
•The best stretches to improve posture and ease neck and shoulder pain
•Tips to help you customize any routine to make it easier or more challenging
•5 stretches that target key leg and upper body muscles vital for walking, running, and reaching
OR if you prefer a DVD
Stretch away stress : gentle exercises with deep breathing and relaxation
This dvd offers you two half-hour self nurturing sessions. You are gently guided through stretches and yoga postures with meditative pauses and constant attention to deep breathing and the release of tension. The sessions include some shiatsu massage and each one ends with a deep relaxation practice.
Presented by Dr Gillian Ross these sessions are designed to complement one another and work as a tonic for the whole body, including the internal organs. Practised on a regular basis they can bring significant relief to asthma and arthritis
Controlling your blood pressure
An alarming many adults have high blood pressure. Known medically as hypertension, many people don't even know they have it, because high blood pressure has no symptoms or warning signs. But when elevated blood pressure is accompanied by abnormal cholesterol and blood sugar levels, the damage to your arteries, kidneys, and heart accelerates exponentially. Fortunately, high blood pressure is easy to detect and treat. Sometimes people can keep blood pressure in a healthy range simply by making lifestyle changes, such as losing weight, increasing activity, and eating more healthfully. This report details those changes, including a Special Section that features numerous ways to cut excess salt from your diet — a policy strongly recommended by new federal guidelines. This report also includes tips on how to use a home blood pressure monitor, as well as advice on choosing a drug treatment strategy based your age and any other existing medical issues you may have.
Prepared by the editors of Harvard Health Publications in consultation with Randall M. Zusman, M.D., Associate Professor of Medicine, Harvard Medical School and Director, Division of Hypertension, Massachusetts General Hospital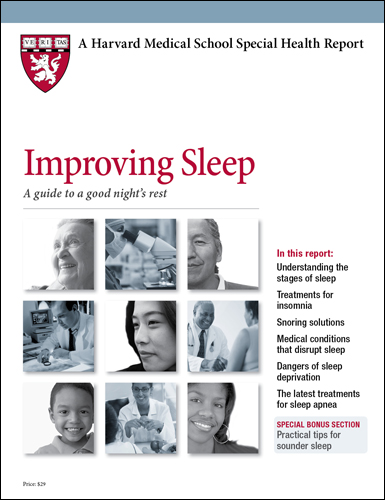 Improving sleep : a guide to a good night's rest
Do you have trouble falling asleep? Trouble staying asleep?
Remember when you could fall asleep as soon as your head hit the pillow and not wake up until the alarm went off?
Do
you or your spouse snore? There are hundreds of devices marketed as aids to stop snoring
. But do any work? The report will sort them out and will brief you on new procedures that are restoring quiet to the bedroom. Have you ever been screened for sleep apnea? The report gives you a six-question test that will help you determine if you need to be tested for this life-threatening condition.
Walking for health : why this simple form of activity could be your best health insurance
Harvard Medical school...
In this report:
*Health benefits of walking
*Walking technique and safety tips *Finding the right shoes
*5 types of walking workouts
*Warm-ups and post-walk stretches *Walking for weight loss
*How to stay motivated over the long term
Mindfulness for carers : how to manage the demands of caregiving while finding a place for yourself
by Dr Cheryl Rezek
This book shows how simple mindfulness techniques can help caregivers to manage the stress, anxiety, depression and burnout that too often accompanies the care of people with physical, psychological or emotional needs. The enjoyable mindfulness exercises will help caregivers to regain control and maintain a positive outlook.
The Mayo Clinic guide to stress-free living
Examines the causes of stress in everyday life and presents such strategies for overcoming it as the practice of acceptance and gratitude, the use of relaxation and meditation techniques, and the cultivation of closer relationships with others --
this book will show remarkable improvements in stress, anxiety, resilience, happiness, well-being and quality of life.
•In Part 1 of the book, will lead you on a fascinating "behind the scenes" tour of your brain and mind. You are likely to be very surprised about the reasons behind the thoughts that cause you stress.
•In Part 2 discusses the single most important skill for your success and happiness. This skill will help you discover that the present moment has more novelty and meaning than you could have ever imagined.
•In later sections, you'll learn how to exchange negative thoughts for time-honored principles. You'll enhance your focus on gratitude, cultivate compassion, creatively accept what is, and discover life's deeper meaning.
With these skills, peace will no longer be a distant goal; it will light your entire path.
In the end, you'll walk away with simple solutions for complex problems, and you'll know how to apply these skills to most life situations.
The Mayo Clinic handbook for happiness : a 4-step plan for resilient living
Discover 4 simple steps to live a resilient, joy-filled life.
The Mayo Clinic Handbook is like a treasure map that leads you step-by-step along a clearly marked path to an incalculable reward. Your reward is not a diamond mine, not a pirate's booty, but something far more valuable — a lifetime of joy and contentment.
... offers a straightforward plan anyone can implement across 10 weeks.
four-step self-help process is a joy to undertake and offers you wonderful rewards:
•In Step One, you'll learn how to better regulate what you think and perceive. This step is actually so enjoyable, it to "adding chocolate powder to your glass of milk."
•Step Two is truly powerful. It will "enhance your inner strength by making you emotionally resilient and happier."
•Step Three produces results that users say range from "momentary calm" to "ecstatic bliss."
•Step Four is designed to "help you decrease your stress and increase the energy available to you each day."