if you would like to reserve these DVDs please email the Library n

sw.library@alzheimers.org.au
more DVS from Teepa Snow
The combination of Teepa Snow's been-there-done-that skills and her formal training as an Occupational Therapist give Teepa the credibility and experience to help caregivers with tried-and-true solutions.
***The Journey of Dementia
Learn how to make the most of doctor's visits, get proper screenings, and when and if facility placement is the best choice.
Teepa Snow teaches about appropriate levels of care needed during different stages of dementia, which behaviors to expect and how to handle them, how to reduce the risk of falls, and much more
Her teaching style integrates facts about the brain and how it works, or doesn't work in the case of dementia, while going in and out of character as a typical person with Alzheimer's who has anxiety and behavioral problems.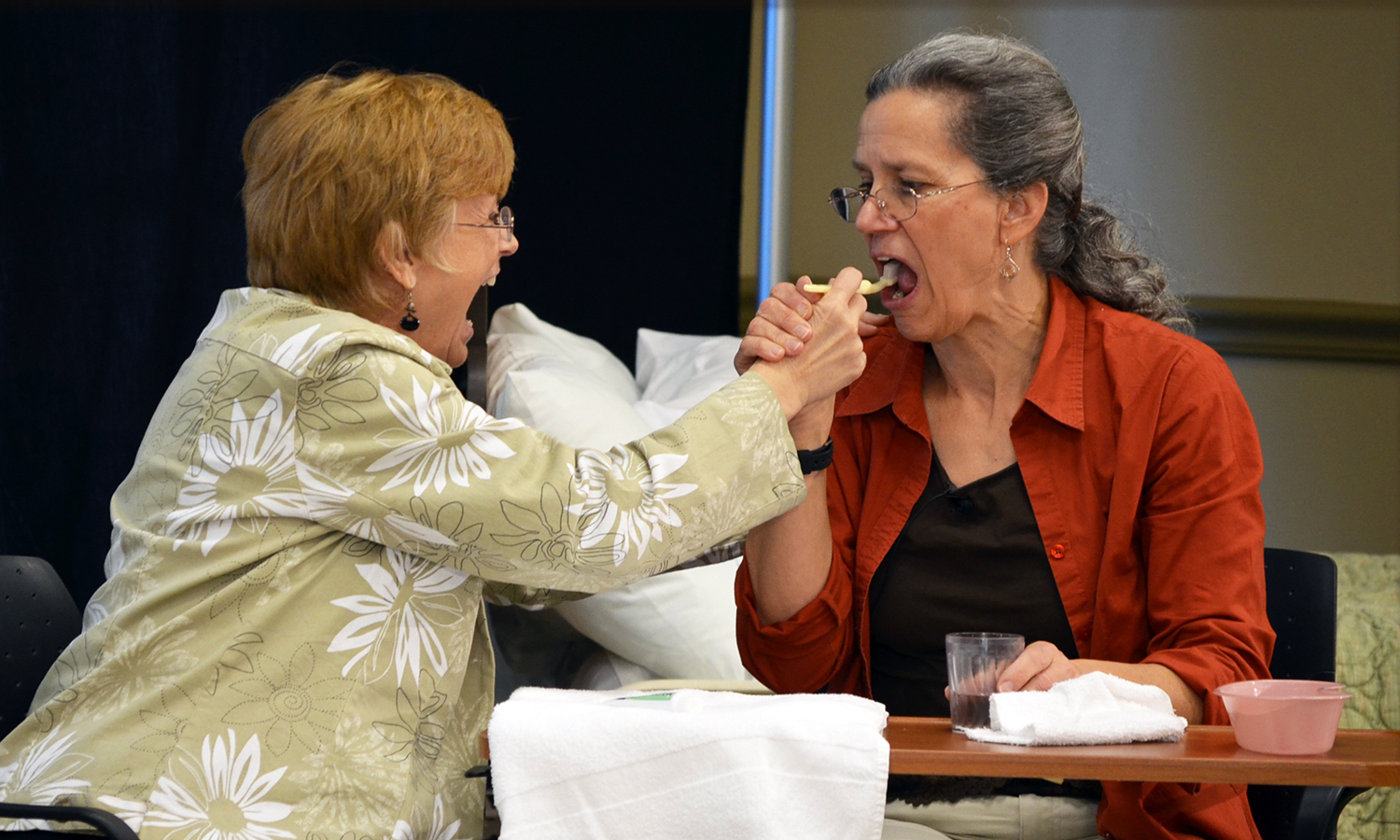 Progression of dementia : seeing gems - not just loss
This program is designed to help those offering support and assistance to reframe the changes that come with the progression of dementia. The goal is to begin to recognize, and then use the retained and preserved skills that are remaining, while acknowledging what is not available to the person as they are in that moment. When care partners have a better understanding of the common changes in function and ability that occur when someone has dementia it is possible to provide the 'just right' fit in environmental support and care to optimize performance and foster positive interactions and care outcomes.

Appreciating what is possible and what abilities that person has available to them will promote safe and meaningful life experiences for all involved. A very quick review of brain changes and accompanying changes in abilities, needs, interests, and communication skills will start the session. Then there will be a focus on looking for signs and symptoms of changing skill sets and needs with the primary focus for the learners being how to recognize the changes and help the care providers modify their help and the environmental supports for a better match and fewer catastrophic events or acute hospitalizations and improved daily life experiences for both the person with dementia and their care providers. This program is approximately 2 hours in length In "Progression of Dementia" Teepa explains
- how to tell apart different disease stages to better adapt your caregiving techniques
- why patients in later stages can't relax their muscles and how to safely handle them to avoid bruising
- how to reduce the risk of falls
- how to safeguard your relationship with the patient as the disease progresses
- how to reduce unwanted behaviors by controlling the environment and effectively shifting their focus
- about appropriate activities (for an in depth activity program also see "Filling the Day with Meaning")

- 2 hours of tips and techniques from a seasoned caregiving expert
Filling the day with meaning : facilitated by Teepa Snow [DVD]
DVD Features:
- 2.5 hours of tips, techniques and advice from a seasoned caregiving expert
- individual workshop chapters for quick access
- link to downloadable presentation slides for quick information recall when you're on the go
In "Filling the Day with Meaning" Teepa explains
- the difference between simple entertainment and engaging projects that stimulate brain activity
- how to create engaging and affordable activities to give back moments of joy and happiness to patients with special challenges, such as those with younger onset, tendencies for elopement, falls, and more
- how to build care partner skills
- how to create an inviting & safe environment
- which key activities to consider at different disease stages
It's all in your approach [DVD]
Teepa Snow
Learn:
- how a person with dementia perceives his/her environment and understand unusual behaviors and memory problems
- about key principles of caretaking
- better strategies to offer help when the person with dementia doesn't seem to be aware of any changes or difficulties
- Teepa's "Positive Physical Approach" to decrease the risk of distress
- about commonly occurring behaviors and recommended and preferred responses
- about the cueing sequence of Visual-Verbal-Touch especially important during later stages of the disease
- to improve communication and mutual understanding
and much more
Understanding Frontotemporal Dementias
Frontotemporal Dementias, an umbrella term for a range of disorders affecting the frontal and temporal lobes of the brain, are particularly challenging for families and professional caregivers.

Odd, often impulsive behaviors and a potential loss of language are just a few of the symptoms causing frustration and anxiety.

"They might think they understand Alzheimer's, but this isn't Alzheimer's. So this training helps people better understand why people with FTDs are doing what they're doing, and more importantly, how we can help instead of getting in the way."
Teepa Snow is an occupational therapist and noted speaker and consultant in the area of dementia. She has over thirty years experience in geriatrics.
Challenging Behaviors in Dementia Care: Recognizing & Meeting Unmet Needs
Challenging Behaviors in Dementia Care: Recognizing & Meeting Unmet Needs.
Anger, physical resistance, swearing, hallucinations, and sexually undesired or surprising actions are just a few examples of the challenging situations that can occur when a person is living with dementia.
As a care provider, any of these could leave you feeling distressed, hurt, embarrassed, or unappreciated.

Would you like to know how to best respond to challenging situations?

Would you like to be able to reduce the chance of future escalations and help the person living with dementia feel at ease?
Lewy body dementia : what everyone needs to know
Learn
- about common LBD symptoms
- how to get a good and complete diagnosis
- about commonly prescribed anti-psychotic medications that can have potentially harmful or even deadly side effects if given to a person suffering from LBD. Know which medications are safer alternatives
- how to adapt your caregiving skills to the needs of a person with LBD
- how to utilize visual and verbal cues to increase understanding and cooperation
- about hands-on skills for LBD