These resources are available for loan to members of AANSW - if you would like to reserve them please email the Library on
NSW.Library@alzheimers.org.au
Speaking dementia : making sense of it all
book review
I wish I could have read this book a couple of years ago. It would have saved me a lot of heartache. When dementia first shows itself your first reaction is to argue and correct them. As Frena says, "you will never win an argument". So true. I think we know that but sometimes cannot help ourselves. This book and Alzheimer's 911 have given me the skills and encouragement to do the right things with compassion and love. It's much easier that way! Thank you so much Frena for sharing your wisdom and experiences with us.

The first reason I really like this book is that there is no other book on dementia that is written in layman's terms--that I know of. This is an easy read--almost story-like. Because it is easy to read, the caregiver--whether professional or family--can learn a lot in a brief time. It flows well from subject to subject, from experience to experience. There are no difficult scientific medical terms that bore the reader dragging the reader from the importance of Speaking Dementia. This is a "must read" book for anyone who has a relationship--no matter how infrequent--with someone who has dementia. The fact of getting tons of very critical information in an easy to read format is worth the purchase--it is definitely worth the reading. I have this book on my Kindle.

The second reason I found this book to be valuable is that I learned that it is extremely critical for the caregiver to understand and be able to adjust to people with dementia. I had no idea to what extent that meant until the author told me in her book that it does no good to argue with the person who has dementia. Neither, says the author, can you explain that their reality is not so. By reading this book, I have learned a great deal about how to respond to the person with dementia. Using kind, courteous, and compassionate words ever lessens the pain and anxiety for the person. Using the right words in stressful situations will lessen the stress in their life and in your daily caregiver routine. Just think, by reading this book, you will learn how to reduce your stress, too. So, this book is also about you and your responsibilities when caring for a person with dementia.
also by the same author
Alzheimer's 911 : help, hope, and healing for the caregiver
by Frena Gray-Davidson

With humor, sensitivity, and clarity, Frena draws on her 20+ years as a hands-on caregiver taking the approach to look at the inner world of people with Alzheimer's (or any kind of dementia) similar to when she was a foreign correspondent in Asia and India— looking with fresh and curious eyes to understand the people from their perspective, without judgments.
She shares secrets of successful dementia caregiving and reveals the deep spiritual and emotion growth possible in dementia. Even within the losses of Alzheimer's, insightful caregivers can discover their possible radiance and humor. This journey of continuing inner growth can renew the purpose and courage of the caregiver, while bringing peace and resolution to the elder.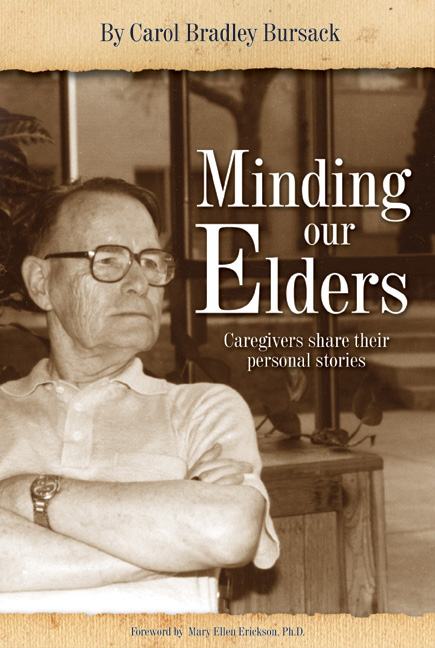 Minding our Elders: Caregivers Share Their Personal Stories
by Carol Bradley Bursack.
(Minding Our Elders" is used as a college text for gerontology and nursing home administration classes as a way to humanize, for students, the family caregiving experience. Bradley Bursack's award-winning Websites, www.mindingourelders.com and www.mindingoureldersblogs.com include links to helpful agencies, articles rich with information and comfort, links to chat groups, and resources for caregiver, boomer and senior needs. )
...is a portable support group, a reminder that you aren't alone. Each story about caring for the elderly is self-contained. Each person telling his or her story knows the pain you feel in watching a loved one suffer, the joy of giving of oneself, and the emotional and physical exhaustion of the whole experience. Minding Our Elders is an intimate and powerful resource for caregivers, filled with true stories about seniors and aging parents.
It's the hope of the author that Minding Our Elders will become wrinkled from use and stained by tears. This book can be your own teddy bear to hold on to when the going gets rough. May you also find some shared humor and pass on any comfort you can. There is great need of it.
Whether you are a baby boomer, part of the sandwich generation, a spousal caregiver or any combination of the three, you will find help on this site, and on the Minding Our Elders Blog. Give caregivers you know a copy of this book. It's a way to show that you, too, understand.
Another way to break caregiver isolation is to secure outside help so the primary caregiver can have time for some self-care. There are good agencies in nearly every area of the country that can deliver care to the home. There are also adult day services and other care options.