These resources are available for loan to members of AANSW - if you would like to reserve them please email the Library on
NSW.Library@alzheimers.org.au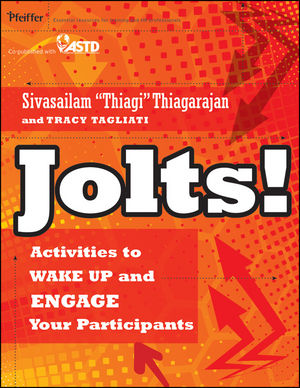 In
Jolts
! master trainer - introduces a brand-new set of powerful training activities specially designed to get participants to sit-up, listen, and learn. These interactive experiential games and activities give participants a powerful wake-up call, startling them into re-examining their assumptions and habitual practices, and encouraging self-reflection, problem solving, and fresh perspectives. The activities in Jolts! are interactive and emotionally charged--carefully chosen for their ability to make participants think, and think differently. Written for trainers at all levels and HR professionals"--
Dementia friendly communities environmental assessment tool
The DFC-EAT has been carefully constructed to help us
understand more about how our buildings can support,
or hinder, people with dementia. Your comments on your
experience in using it, and the spreadsheet available here,
would be very welcome.
NEW DVDS
Family carer group education program : a resource for health care professionals working in palliative care DVD
This DVD provides practical resource for educators of family carers of people diagnosed with a life threatening illness who require palliative care. It provides strategies to support them in what can be a very difficult but often rewarding experience. Providing the best support to a person who needs palliative care can be made easier by getting appropriate information and finding the relevant resources. This means knowing what questions to ask, when and who to ask, and importantly how to look after oneself. The DVD is made by experts, informed by the latest research. Most notably, it includes information from past family carers, who have been in a similar situation. We can learn valuable insights from first hand knowledge. The producers are confident that this significant resource will help, whether you are reading it just in case, or in those moments when the road ahead seems just a little too difficult to find.
I am me : Personal stories about living with physical disability
This DVD is a community resource that, through personal stories of empowerment, focuses on the unique supports for people with a physical disability and dementia and challenges the prevailing culture of client dependency.
Living with intellectual disability and dementia
People are living longer, and that includes people living with an intellectual disability. However, research shows that people living with an intellectual disability may begin ageing much earlier and have an increased risk of dementia. Warning signs and changes in memory can be harder to detect in a person with an intellectual disability and sometimes communication difficulties make common memory tests challenging. Getting a dementia diagnosis and support can be a difficult process.
Alzheimer's Australia New South Wales (NSW) has developed a new resource to support people living with dementia and intellectual disability, and the individuals and organisations working in the disability and aged care sectors who assist them. The DVD Living with Intellectual Disability and Dementia contains information on assessment and diagnosis, and the support available for people living with dementia and intellectual disability, enabling their ongoing involvement in the community.
It is also a resource for family members and friends who are concerned about signs of cognitive decline in a relative or friend who lives with an intellectual disability. The DVD includes real life experiences and perspectives from care and community workers providing valuable insight into challenges faced and how information on support services can be accessed to provide the best possible care.
Professor Julian Trollor, Head, Department of Developmental Disability Neuropsychiatry, University of NSW, provides expertise about the different forms of dementia and the difficulties associated with diagnosis, discussing some of the changes that a person, their family, carer or support staff may notice, prompting further investigation.
The DVD is an important education tool, says Danielle White, Alzheimer's Australia NSW Manager Education and Sector Development.
"With funding provided by the NSW Department of Family and Community Services, this resource aims to bring a higher level of awareness and understanding of dementia for those who are working and caring for people living with an intellectual disability," Ms White says.
"While improved access to quality health support, better living conditions and enhanced social engagement has seen the life expectancy of people with an intellectual disability increase significantly in the past 30 years, it has also led to an increase in age-related diseases and conditions including dementia, which is a significant and growing health issue in Australia."
Alzheimer's Australia NSW provides ongoing professional education to both the aged and disability sectors, and free carer education sessions to family members and friends of people living with an intellectual disability and dementia.
Homelessness & Dementia
The number of people diagnosed with dementia increases every week. Currently there are more than 332,000 people in Australia living with dementia. This number is predicted to rise by one third over the next decade. It is also estimated that more than 24,000 younger people are living with dementia.
At the same time significant numbers of Australians are experiencing homelessness. These are people in vulnerable situations who face great challenges in accessing good brain health interventions and access to robust and appropriate dementia services and support, at a time when they need it most.
The link between dementia and the social causes of the health of homeless people are highlighted in this resource.