These resources are available for loan to members of AANSW - if you would like to reserve them please email the Library on

nsw.library@alzheimers.org.au
Good practice in the design of homes and living spaces for people with dementia and sight loss
These guidelines are based on findings from a study which aimed to assess the research evidence around what works well for visually impaired people with dementia in terms of the design of their homes and the things in them. The guidelines are intended to be used to make people's 'living spaces' more supportive and accessible, whether those spaces are individual and family residences or the bedrooms, bathrooms and shared areas of care homes. The recommendations and suggestions can be used to modify and adapt existing homes to a person's changing circumstances or incorporated into new buildings. The research was funded by Thomas Pocklington Trust and was undertaken by the University of Stirling. To help develop these guidelines the study included a careful search for and review of reports of relevant research in this area, particularly focusing on research that involved people with both dementia and visual impairment. The study also included interviews with a number of people who have professional interests in providing care and support for people with dementia or sight loss or both. Finally, interviews and focus groups were held with a range of people, some of whom had either dementia or sight loss and some of whom experienced difficulties as a result of both dementia and visual impairment. Carers also attended the interviews and focus groups.
Quality of life for residents with hearing loss
This booklet discusses the issues faced within care homes around hearing loss and how you can better support residents to enjoy a good quality of life
Contents: Introduction -- How to identify hearing loss -- How can you support residents with a
hearing loss? -- The 'Hearing Aid Queen'! -- Supporting people with hearing aids -- Top Tips for supporting people with hearing loss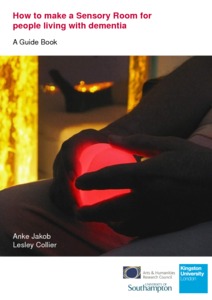 How to make a sensory room for people living with dementia : a guide book
The guide has been developed on the basis of a research study carried out in sixteen care homes in South England in 2013. The study looked into multi sensory facilities and environments currently offered by these care homes. This involved observation of sensory sessions and conversations with staff including managers, activity coordinators and care staff. Examples of good practice and useful suggestions were recorded in order to compile this good practice guide. Comments from many of the care homes are also documented in the section on What care practitioners said.
Book review - Multisensory rooms and environments : controlled sensory experiences for people with profound and multiple disabilities
Multisensory rooms and environments : controlled sensory experiences for people with profound and multiple disabilities


by Susan Fowler
Does your facility have a sensory room but it's a bit of a white elephant? Or would you like to see one set up at your facility? Then this book is what you need first. Fowler's book is very practical and well resourced and takes an open view about what a multi-sensory room or environment can achieve. While this book is written for professionals and carers of people with cognitive disabilities, most of the material presented is relevant and can be easily adapted by those who work with clients who have been diagnosed with dementia. Providing leisure and enjoyable experiences for these clients is a challenge for all care staff and family carers. In many dementia-specific aged care facilities much investment may have been made to provide a sensory room. This book describes the types and uses of appropriate equipment. However since many facilities may not have space or the finances for a special room, this book suggests ideas that are also cheaper and found as everyday alternatives. The book describes the development of a multisensory room, the method of setting up and using the room in part 1, while part 2 describes how the equipment can be used to enhance the five senses. The stories and themes in chapter 6 can be easily adapted to clients in a dementia setting. Fowler emphasises the importance of profiling the client before using the room eg. Does the client use self -engagement behaviour? The therapist needs to have a care plan for the client and evaluate and record the sensory experience -Appendices 4-6 are forms that can be copied for record keeping. Fowler also stresses the importance of using one sense at a time- not using many sensory items at the one time that would overload the client and defeat the purpose of having a sensory room or environment – this is what she means by controlled experiences. I thought that Appendix 2 called Community sensory activities is excellent for ideas for simple sensory activities that therapy staff can use for effective and enjoyable programs. I commend this valuable resource to nursing and therapy staff as well as students and educators working with people who are living with dementia.
Book review by Lauretta Kaldor