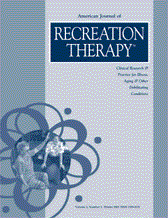 "Vorrei Prendere Il Treno!" (I Want to Take the Train): A narrative about how one Inclusive Recreation Services study abroad course helped students to understand challenges people with disabilities confront while traveling abroad
Compared to most study abroad programs that focus on art and culture, the Inclusive Recreation Services course, taught in Miami, FL; Florence, Italy; and Paris, France, focused on challenges people with disabilities confront while traveling. In addition to learning about disability groups, attitudes about disabilities, accessibility and recreation programming, and the Americans with Disabilities Act, this class included a review of, and comparison to, Italian and French disability laws, as well as hands on experiences designed to give students a perspective gained from experiencing challenges associated with accessing buildings, roads, and public transportation in cities with extensive histories. This article provides a description of select learning activities and information learned presented in a narrative format.
An exploration of recreational therapy in the Veterans Health Administration polytrauma system of care
Polytraumatic injuries, defined as two or more injuries sustained in the same incident that affect multiple body parts or organ systems and result in physical, cognitive, psychological, or psychosocial impairments, emerged during Operation Iraqi Freedom (OIF) and Operation Enduring Freedom (OEF). These injuries are complex and require special care. In response, the US Veterans Health Administration established the polytrauma system of care (PSC) in 2005. Current research identifies recreational therapy (RT) is a primary healthcare service within the PSC; however, given its recent creation, little is known about the role and function of RT in this setting. This study explored the role and function of RT in the PSC using a Delphi design across five PSC sites in the United States, with special emphasis on RT assessments used, diagnoses seen, RT interventions applied, RT outcomes targeted, RT discharge planning processes, and team collaboration. Seven of a possible 30 recreational therapists participated yielding a 23 percent response rate. The results may serve as a springboard for identifying best practices, strengthening evidence-based practice, and advancing RT research in polytrauma care.
The recreational therapy faculty shortage: A crisis for the profession
Pages: 35-42


A national shortage of doctorally prepared faculty is threatening the health and longevity of the field of recreational therapy. As more faculty reach retirement age, there are few new doctorally trained recreational therapists available to fill this gap. In 2014 alone, more than 15 faculty positions were available, and there was only one new PhD on the market. When existing faculty move to fill these positions, gaps are created in university recreational therapy programs across the country. This article reviews how substantial and potentially damaging this shortage is and provides a number of suggestions for addressing the shortage. These suggestions include retaining senior faculty, increasing the number of doctorally prepared recreational therapists, and recruiting new faculty.