These and other similar resources are available for loan to members of AANSW - if you would like to reserve them please email the Library on
nsw.library@alzheimers.org.au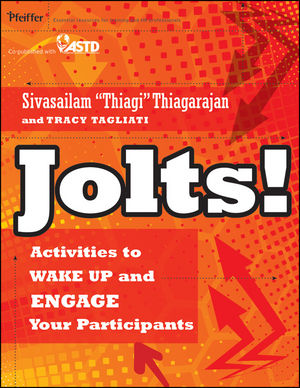 Jolts! : Activities to Wake Up and Engage Your Participants
In Jolts! master trainer Thiagarajan introduces a brand-new set of powerful training activities specially designed to get participants to sit-up, listen, and learn. These interactive experiential games and activities give participants a powerful wake-up call, startling them into re-examining their assumptions and habitual practices, and encouraging self-reflection, problem solving, and fresh perspectives. The activities in Jolts! are interactive and emotionally charged--carefully chosen for their ability to make participants think, and think differently. Written for trainers at all levels and HR professionals"
Walking for health : why this simple form of activity could be your best health insurance
Harvard Medical school...
In this report:
*Health benefits of walking
*Walking technique and safety tips *Finding the right shoes
*5 types of walking workouts
*Warm-ups and post-walk stretches *Walking for weight loss
*How to stay motivated over the long term
Improving sleep : a guide to a good night's rest
Harvard Medical school...
In this report: Understanding the stages of sleep
*Snoring solutions *
Medical conditions that disrupt sleep *
Dangers of sleep deprivation *
The latest treatments for sleep apnea *
SPECIAL BONUS SECTION Practical tips for sounder sleep
The Mayo Clinic guide to stress-free living
Examines the causes of stress in everyday life and presents such strategies for overcoming it as the practice of acceptance and gratitude, the use of relaxation and meditation techniques, and the cultivation of closer relationships with others --
this book will show remarkable improvements in stress, anxiety, resilience, happiness, well-being and quality of life.
•In Part 1 of the book, will lead you on a fascinating "behind the scenes" tour of your brain and mind. You are likely to be very surprised about the reasons behind the thoughts that cause you stress.
•In Part 2 discusses the single most important skill for your success and happiness. This skill will help you discover that the present moment has more novelty and meaning than you could have ever imagined.
•In later sections, you'll learn how to exchange negative thoughts for time-honored principles. You'll enhance your focus on gratitude, cultivate compassion, creatively accept what is, and discover life's deeper meaning.
With these skills, peace will no longer be a distant goal; it will light your entire path.
In the end, you'll walk away with simple solutions for complex problems, and you'll know how to apply these skills to most life situations.
The Mayo Clinic handbook for happiness : a 4-step plan for resilient living
Discover 4 simple steps to live a resilient, joy-filled life.
The Mayo Clinic Handbook is like a treasure map that leads you step-by-step along a clearly marked path to an incalculable reward. Your reward is not a diamond mine, not a pirate's booty, but something far more valuable — a lifetime of joy and contentment.
... offers a straightforward plan anyone can implement across 10 weeks.
four-step self-help process is a joy to undertake and offers you wonderful rewards:
•In Step One, you'll learn how to better regulate what you think and perceive. This step is actually so enjoyable, it to "adding chocolate powder to your glass of milk."
•Step Two is truly powerful. It will "enhance your inner strength by making you emotionally resilient and happier."
•Step Three produces results that users say range from "momentary calm" to "ecstatic bliss."
•Step Four is designed to "help you decrease your stress and increase the energy available to you each day."